Andy Kaufman's Best Lies
This week's hoax over his supposedly continued existence pales in comparison to what the comic accomplished at the height of his powers.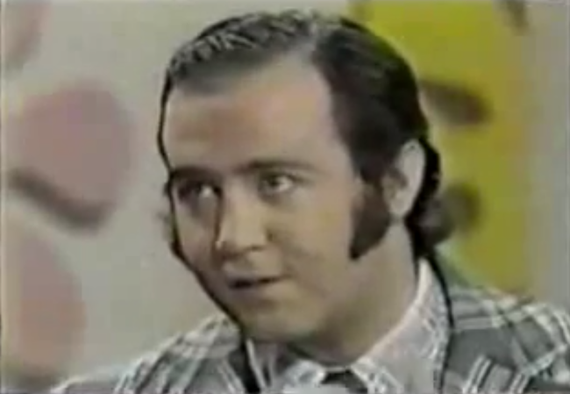 This week, Andy Kaufman made headlines when his brother claimed he was still alive. At this year's Andy Kaufman Awards at Gotham Comedy Club, he introduced Andy's supposed daughter, 24—who explained that the late comedian/performance artist faked his death 27 years ago. 
No one with a passing familiarity with Kaufman could have been surprised that the news of his reincarnation turned out to be greatly exaggerated. Or to be more precise, fabricated: The Smoking Gun revealed that the woman introduced as daughter Kaufman was actually an actress named Alexandra Tatarsky (whose theater bio states that her work is inspired by "Russian absurdism"). Kaufman's brother now says he'd been duped.
The stunt evoked a Kaufman-esque mixture of confusion, skepticism, and credulity. But Kaufman himself would have probably done it better. He remains in the public imagination as a hoaxter, but for those born after his death, it might be difficult to understand just how effectively he messed with people's minds.
I myself got suckered by Andy Kaufman back in 1982. I vividly remember watching a professional wrestling show as a kid when the Taxi star appeared at the Mid-Atlantic Coliseum in Memphis, Tennessee. "I'm from Hollywood," he sneered, pointing at his cranium as he mouthed off about his higher intelligence and how southerners were stupid. After he went too far with his shtick, I cheered when wrestler Jerry Lawler stepped in and shoved him to the ground.
"Lawler, you think you're really being smart," Kaufman ranted. "Look, I'm from Hollywood. That's where we make movies and TV shows. ... I'm not from down here in men-fus ten-uh-see, okay?" What a total jerk, I thought. Kaufman kept needling the crowd about how his matches with women were real and that professional wrestlers were phonies. I seethed. Andy Kaufman is such a jerk, and I really, really hate him. I even stopped watching Taxi because of it.
Eventually, this ugly display overflowed into another favorite show of mine. "On April 5th, 1982, in Memphis, Tennessee," David Letterman said, introducing the Late Night segment, "Andy Kaufman—the actor-comedian and Intergender Wrestling Champion—had his first wrestling match with a member of his own sex." In true Kaufman form, the segment descended in chaos. Lawler eventually slapped him across the face, which unleashed a torrent of expletives and coffee thrown in the direction of the wrestler.
I had never seen anything like that on television, and my adolescent mind was blown wide open. In my defense, I only knew Kaufman as the affable Latka Gravas character on Taxi and had no clue about his previous history of trickery. I was too young to have seen his offbeat Saturday Night Live performances in the 1970s, nor did I witness his other surreal televised acts.
It took me years to catch on, and only then did I realize Kaufman's hijinks had body-slammed my consciousness. It all came into focus long after his death, when his friend and collaborator Bob Zmuda finally confirmed that Lawler had conspired with them. "Jerry is quite the gentleman," Zmuda wrote in his 1999 book Andy Kaufman Revealed!, "and a helluva good sport."
Early in Kaufman's career as a stage performer, he sometimes opened for musicians—including, implausibly, schlock-popper Barry Manilow and R&B greats the Temptations. His inept Foreign Man routine certainly did not win over the latter group's predominantly black fan base, who mercilessly booed him in 1972. Kaufman wept uncontrollably, pulled out a large cap gun, walked behind the curtains, fired it into the microphone, and thudded to the ground. Deafening silence followed. The audience came to hear "My Girl" and "Just My Imagination," so this was not exactly what they paid for. The Temptations reportedly "sang extra hard that night to make up for it."
Kaufman caused a similar stir when warming up for Barry Manilow's white-bread audience a couple of years later. He had such an effect on the crowd that the crooner said it was all he could do "to try to bring them back from the edge of revolution." A Barry Manilow audience on the edge of revolution!
When Kaufman appeared as the boorishly unfunny lounge lizard Tony Clifton, he was unrecognizable in a fat suit, sunglasses, wig, and prosthetic makeup. And in 1981, hell broke loose when he opened for comedian Rodney Dangerfield. After arriving 25 minutes late, the crowd grew irritated when Clifton insisted he would not perform until all cigarettes were extinguished.
When he finally swaggered onstage, Rolling Stone reported that Clifton lit up a cigar, blew smoke at the audience, and warbled "I Left My Heart in San Francisco." Tomatoes and eggs rained down as he plodded on with the next number, "Yankee Doodle," and then a banana cake splattered on his shoulder. On cue, Clifton shouted, "Drop the net!" A protective barrier came down as someone screamed, "you suck!"
A coin flew through the net and barely missed Clifton's face, so he donned San Francisco Police Department riot gear—complete with a microphone mounted on the helmet. After an apple ripped through the net and exploded on his helmet, he spent the remainder of the show berating everyone from the wings. Promoter Bill Graham, who previously had booked the chaotic final Sex Pistols gig, had never seen anything like this.
When Kaufman was offered a posh job on Taxi, he refused to sign on unless Clifton was given a guest-star turn. After the show's producers caved, they discovered Clifton could not act, was rude to other actors, and strutted around the set with a prostitute on each arm. Clifton was escorted off the studio lot, screaming, "I'll sue your fucking asses! You'll never work in Vegas again!" Kaufman showed up to work the next week as if nothing had happened, which further incensed the cast.
Clifton was also ejected from The Dinah Shore Show after a cooking demonstration gone awry. The rogue performer nearly caused a fire when he threw a whole stick of butter into a hot frying pan, and then he crushed a dozen eggshells in Shore's hands. "Do you know who I am?!" Clifton yelled as security dragged him out. "I'm a big star!"
Tony Clifton was an anomaly in the pantheon of Kaufman characters. Andy mostly exuded a sweet, naive charm—particularly his earnest Foreign Man character. He confounded nightclub audiences by transforming from a bumbling entertainer to a spot-on Elvis impersonator. "I come down tonight from downtown Wisconsin," Foreign Man would say in faintly Slavic-sounding accent. When the crowd tittered nervously, he shot back, "No, no. Wait teel I give you thee punch."
Catch a Rising Star comedy club owner Rick Newman told the New York Times, "I really didn't know he was putting me on. … He did Foreign Man until the audiences were booing and walking out. Then, suddenly, he broke into his incredible Elvis imitation and caught us so completely by surprise that we ended up crying, we were laughing so hard." Audiences returned for the act—not so much to watch Kaufman as to see the crowd trying to process what was happening.
Soon, television producers began inviting Foreign Man on the air. His 1978 appearance on The Dating Game pitted the hapless character against two quintessential '70s studs: a bearded man with a wide-open lapel exposing his hairy chest, and another who was tanned, permed, and dressed to the nines. "How ya doing, Patrice," Studs #1 and #2 said with smooth confidence, while Foreign Man let out a meek, "Hee-lo Pat-reese." After Patrice picked Stud #2, Kaufman burst into tears and protested that he correctly answered all the questions. It was just one of many moments in a long line of televised insanity.
During Kaufman's 1981 appearance on a short-lived Saturday Night Live rip-off named Fridays, he broke character and mumbled that he couldn't play along anymore. Anarchy ensued during the live broadcast after Michael Richards—one of only two people who were in on the prank—got up and threw a stack of cue cards at him. After Kaufman got into a shoving match with the cast and crew, the show abruptly cut to commercials.
When invited back next season, he took a different tack. Kaufman was now a clean-cut born-again Christian engaged to Kathie Sullivan, a gospel singer from The Lawrence Welk Show. Sullivan (an actual Lawrence Welk cast member who inexplicably played along) spoke of his religious conversion and her love for him. She enthused, "We'll probably end up with a bunch of little kids running around saying tenk you veddy much!"
So it makes sense that after this health-food nut and nonsmoker was diagnosed with a rare form of lung cancer at the age of 35, it seemed like another one of his stunts. "Andy, come on, man," people said to the wheelchair-bound entertainer. "This dying thing is just too much!"
---
Portions of this post are adapted from the forthcoming book Pranksters: Making Mischief in the Modern World.