Why Kanye West Acts That Way
A chat about impolite tweets and Jimmy Kimmel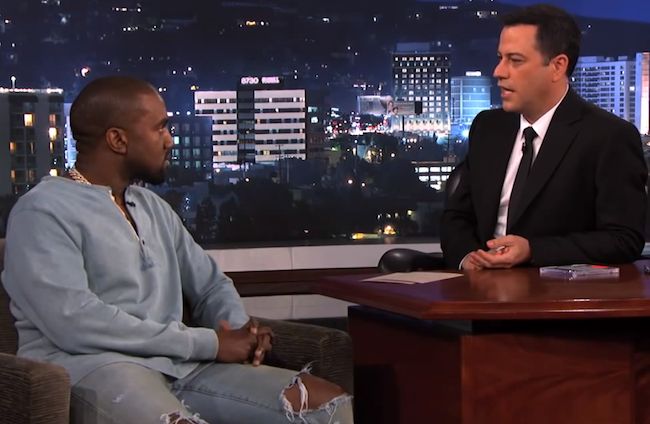 Kanye West became upset last month after a segment aired on Jimmy Kimmel Live, which showed children re-enacting a West interview with the BBC. Then West attacked Kimmel on Twitter, and called him on the phone, threatening him that he must apologize. According to Kimmel, he said on the phone, "I am the most powerful voice in media." Some of West's tweets:
JIMMY KIMMEL IS OUT OF LINE TO TRY AND SPOOF IN ANY WAY THE FIRST PIECE OF HONEST MEDIA IN YEARS [...] JIMMY KIMMEL, I DON'T TAKE IT AS A JOKE…. YOU DON'T HAVE SCUM BAGS HOPPING OVER FENCES TRYING TO TAKE PICTURES OF YOUR DAUGHTER [...] SHOULD I DO A SPOOF ABOUT YOUR FACE OR YOU FUCKING BEN AFFLECK…#NODISRESPECTTOBENAFFLECK#ALLDISRESPECTTOJIMMYKIMMEL!!!! [...] I LIKE YOU, YOU KNOW ME, I WENT TO YOUR FAMILY'S WEDDING [...] WHO YOU MADE IT CLEAR TO ME WASN'T YOUR FAMILY WHEN I WAS ON THEN PHONE WITH YOU 5 MINUTES AGO, YOU MANIPULATIVE MEDIA MUTHERFUCKER. [...] SARAH SILVERMAN IS A THOUSAND TIMES FUNNIER THAN YOU AND THE WHOLE WORLD KNOWS IT!!!
Public reaction was polarized. Some said Kanye was out of line, taking the sketch too seriously. Others did not:
this isn't just a silly sketch it's emblematic of a reaction Kanye has received his entire career [...] they didn't even change his words, they literally replaced him with a child. thats how White America sees Kanye and thats his battle [...] theres a way to satirize pop culture icons and then theres 'come look at the black man trying to art! everyone look, ha ha'

— Ayesha A. Siddiqi (@pushinghoops) September 27, 2013
Then Wednesday night, West went on Jimmy Kimmel Live, where they talked for 25 minutes.
---
Hamblin: Spencer, let's get to the heart of this right away. Should Ben Affleck be offended?
Kornhaber: No! Kanye said no disrespect. Why can't you people just listen to him?
Hamblin: Apparently #Nodisrespecttobenaffleck was the No. 1 trending hashtag on twitter that night.
Kornhaber: Right, of course. Because Kanye is pretty influential! Maybe not a god.
Hamblin: He is the most powerful voice in media. If that's what he truly thinks, why does he need to worry about a sketch on Kimmel?
Kornhaber: Well, he explained this Wednesday night. He felt like he'd done a brave thing by opening up in that long interview with the BBC, and the next thing he knows he sees this guy he thought was his friend making fun of it. And it reminded him of all the other times his words have been taken out of context: "I was like, this is the one person I know. So I can get out everything that I feel about every single bogus weekly cover, every single bogus skit, every single rumor in a barbershop, everything that people feel is OK to treat celebrities like zoo animals, or act like what they're saying is not serious or their life is not serious or their dreams are not serious."
Now, would it be normal be expect a professional comedian to make jokes about an interview in which one says things like "I'm just the espresso"? Yeah. But Kanye's whole thing is rejecting the expected, normal, etc. He felt hurt. So he did something about it. That it was what people don't usually do is kind of the point.
Hamblin: He says "For me to say I wasn't a genius, I would just be lying to you and to myself"—as he often does—seeming at the same time insecure and arrogant. Like referring to his BBC interview as "the first piece of honest media in years." I mean, his job is writing words, so he knows what he's saying. It's not so much that he's building up himself with statements like that, but he's also putting all other media down. I don't think many people argue that he isn't extremely talented, but the way he expresses his confidence implies that he doesn't respect or value the work of his contemporaries and the people who went before him. And you can take serious issue with a comedy sketch, but, no matter how egregious you thought it was, there are more tactful ways to express it.
Why does he insist that he is so much more than a great musician? Is it, like Ayesha Siddiqi seems to be saying, racist to say that he's not more than that? In the interview, Kanye says Steve Jobs is a hero of his. Maybe an apt comparison, in that he was brilliant at tech but not socially well adjusted? The difference I guess would be that Jobs didn't purport to be all things to all people.
Kornhaber: I think you're right that his insistence on being an ubermaster of all trades is pretty hard to take. The couture thing I can understand; people laughed at him saying, "Who do you know that's known more for clothes than me?" but it's true the dude is a hugely influential fashion icon. (Frat bros still have him to thank for their summertime eyewear). But when he starts talking about, say, being qualified to redesign school curricula because his parents were educators, his can-do spirit does start to seem a tad delusional. There are people who've dedicated their lives to these fields he wants to swoop into and dominate.
You're also right about there may be more effective ways to take issue with a comedian's sketch than throwing a public tantrum. Jimmy points out in the interview that Kanye brings misunderstanding on himself, and he's correct to an extent. Kanye has so many valid and interesting things to say, but here we are talking more about how he says it.
Yet part of the reason his music's great, part of the reason he's been so successful, is the same as the reason he's so shocking in his public statements. He's not going to filter himself. And it's not just his ego that won't allow him to filter himself; as he articulates again and again in his songs and in his interviews, there's a political motive. A black man saying what he thinks all the time is a radical, important thing. It makes people uncomfortable. One big reason for that is because of the difficult stuff he has to say about being black in America. Another reason is that he's rejecting rules of decorum that most people live by. But I think he'd argue those rules are oppressive and make the world a worse place. And his outspokenness is not just racially motivated; as he says on Kimmel, it's also about class and about how the world treats creative people. His spiel about how artistic types get relegated to the back of the classroom was even touching.
But you're the doctor. People tend to talk about Kanye as if he has a mental illness. If a narcissist knows he's a narcissist and has stated—if controversial—reasons for being one, is he clinically a narcissist?
Hamblin: Ha, I'm not a psychiatrist. But, here's what I think about people armchair-diagnosing Kanye with narcissistic personality disorder. And, please correct me because I'm a casual fan. All of this hype he creates about what the world thinks of him comes back to him caring so much about his music. Like, Sheryl Crow was on Colbert the other night, and he asked her why she decided to do a country album, and she said it's because Brad Paisley told her it would make her a lot of money. Honesty. Kanye loves money, and, I mean, his take on a country album would definitely be interesting, but he doesn't do that stuff. He is, as he made very clear last night, a creative whose platform and work are immensely important. His public identity is tied to his ability to continue making the music he wants to make and living the material life he loves. He has to care what people think of him. Everything is tangled together, personally and professionally.
An everyday civilian who talks about himself nonstop and consistently likens himself to a god, yes, that's narcissism. For Kanye, though, there are too many variables.
Kornhaber: Oh, the Kanye country album is definitely coming. Middle America will flip, and he'll have succeeded again.
You bring up a good point, that he's walking the line when it comes to courting the public. There's this lyric on Yeezus that's been kind of his thesis statement lately: "Soon as they like you, make 'em unlike you." In this Kimmel interview, he's clearly not trying to be liked, but he is trying to be heard. "Most people just bow down to TV or these cameras," he says. "I could care less about these cameras." But for nearly the entire time, he's not looking at Jimmy—he's staring straight into the lense. As you said, he thinks platforms are important. He's not on TV to joke around and show how personable he is. He doesn't have time for that; there's too much he needs to get out of his head first. That's why those final eight minutes were a string of loosely related minispeeches about fashion, classism, Jesus, paparazzi, etc. He's checking off a list of what he believes to be urgent talking points. Yeah, it kind of looks like the ramblings of a crazy person to some. But as I wrote the other day about Fiona Apple in relation to Kanye and Sinead O'Connor, it's not good to reflexively label artists who take themselves seriously as "crazy." It discourages interestingness and honest expression.
Hamblin: I prefer earnest self-seriousness to too much irony. And not caring about pissing some people off is endearing. I guess it's just the apparent lapses in self-awareness.
Kornhaber: See, I'd argue this is all about how he is self aware! Almost every criticism people make of him, he has answered. It's right there in that interview, right there in his songs. Like you said he said, he calls himself a genius because he is one—he's changed the sound of popular music multiple times and is responsible for what a lot of people believe to be some of the best hip-hop of all time. He knows he's not supposed to say that he knows that; he knows it'll get him seen as a whacko, a jerk. He makes art out of that, out of the universal curiosity about what would happen if everyone started communicating in truly authentic ways: "Let's have a toast to the douchebags," "We're all self-conscious I'm just the first to admit it," etc.
Kanye's real problem isn't self-awareness or self-confidence. If anything, he has too much confidence in other people. He thinks he can keep making great art, speaking his mind, and people will start to change their attitudes about what people are and aren't supposed to say and do. This may end up being the one thing he fails at accomplishing, but it's fascinating to see him try.
Hamblin: Having too much confidence in others doesn't seem to make sense to me in the context of his penchant for dramatic scenes. George Bush, Taylor Swift, Kimmel. He may have been very wronged in all of those situations, I'm not saying he was or wasn't, but the person with confidence in others wouldn't be so quick to feel so clearly wronged, would he? It's more like he's seen so much injustice, he's just ready to publicly call someone he thought was a friend a manipulative motherfucker at a moment's notice. Again, though, I don't know, and I just want you to tell me how to feel.
Kornhaber: I can't do that. I'm finding myself in the perennial Kanye-fan position of having to twist and turn to make him sound like an incontrovertibly good guy. It's certainly difficult to excuse many of the insensitive, misogynistic things he says in his songs. And like I said, the fact that he feels so misunderstood speaks at least partly to the fact that the way he presents himself publicly isn't accomplishing what he wants to accomplish. But I just wish more people understood that there's a logic behind his arrogant-and-angry shtick, and it's the same logic that makes him one of the most important musicians working today. And that he's right about Sarah Silverman.