Vote for 1book140's November Book: Spies and Surveillance
Choose from one of three works recommended by readers.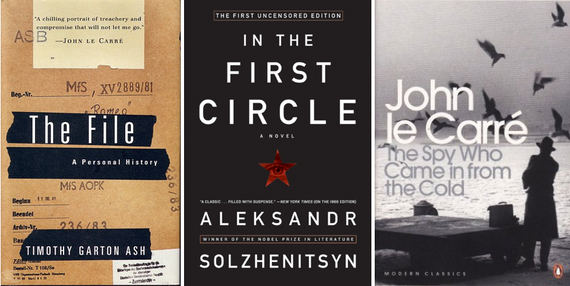 November is our month for the complex ethics of secrets, surveillance, and intrigue at @1book140, The Atlantic's Twitter book club. Readers suggested nearly a dozen books ranging from futurist drone sci-fi to a thriller by Hugh Laurie. I've narrowed your suggestions to three finalists: The File by Timothy Garton Ash, In the First Circle by Aleksandr Solzhenitsyn, and The Spy Who Came In From the Cold by John le Carré.
Vote below to choose what to read this month. Voting closes Wednesday at noon, Eastern time. On Wednesday, I'll announce the results and post a schedule to The Atlantic and our Twitter hashtag, #1book140.
What motivates people to spy on their friends, and what kind of records are kept by a surveillance state? In The File, Timothy Garton Ash traces his own file held by the Stasi, East Germany's domestic and foreign intelligence service. He then interviews the people who spied on him, exploring their motivations and the power held by the surveillance state over the people he thought he knew. It's an amazing story, which the New York Times review praises for its "poetic insightfulness" and "generosity of spirit."
The dilemmas of collaboration with a totalitarian state also run through Nobel Prize winner Aleksandr Solzhenitsyn's In The First Circle. When a mathematician is imprisoned in Moscow alongside other brilliant intellectuals, he is given the option to develop voice recognition technology for Stalin in exchange for his freedom. Harrison Salisbury, writing in 1968, called it "an astounding piece of political journalism as well as a literary work of art." The uncensored version of this masterpiece was published in English for the first time in 2009.
The Spy Who Came In From the Cold, a classic spy novel by John le Carré, shocked Western audiences with its cold portrayal of the calculating business of espionage. When British intelligence officer Alec Leamas's last operative is shot, he's brought home for one last desperate job: a fake defection to East Germany. Richard Burton, Claire Bloom, and Oskar Werner star in the excellent 1965 film.