The Tao of Bobby Orr
The former hockey star offers a conservative, dutiful, nostalgic, and practical memoir—a product as wholly Canadian as he has always been.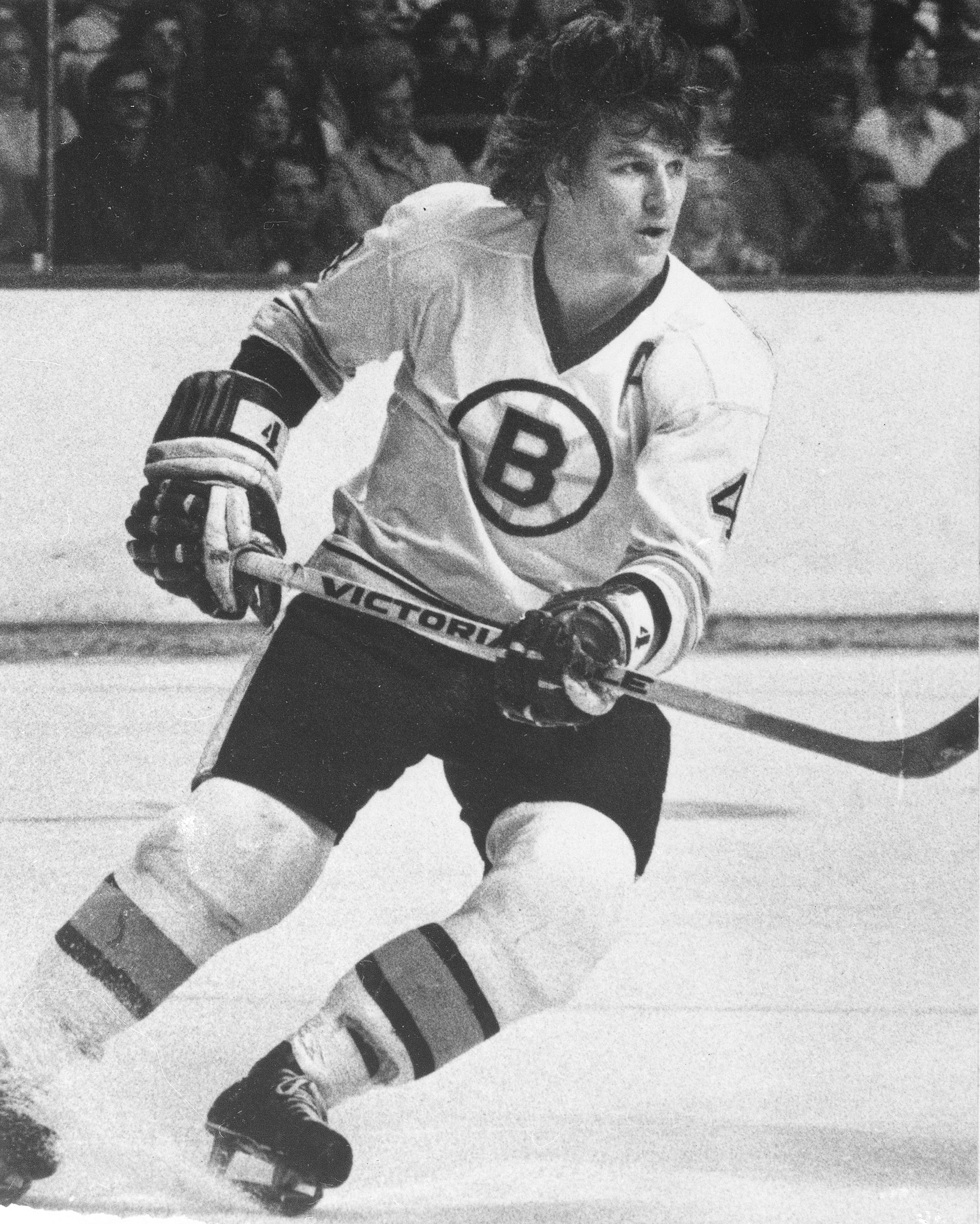 If you were a hockey-loving kid in Montreal in 1972, especially if you were an Anglophone, there were fewer heroes available than you might imagine today. Jean Beliveau, "Le Gros Bill," one of the greatest Canadiens (and Canadians!),  had retired a year earlier. His heir apparent, Guy Lafleur, "The Flower," still wore a helmet and had not yet blossomed into the superstar he would become. Henri Richard, the "Pocket Rocket," Maurice's little brother, by that time looked like a grandfather. And even though the team from Toronto had that gorgeous, patriotic leaf on the front of its sweater, you really couldn't be seen wearing the blue and white (the bleu et blanc, I mean) on the streets of La Belle Province.
That left only two reasonable options. You could swoon over the young Cornell University graduate, Ken Dryden, the rookie goalie hero of the 1971 Stanley Cup playoffs, which my sister and seemingly every other girl in the city did. Or you could root, covertly of course, for Bobby Orr, the great, puck-rushing defenseman for the Boston Bruins. Both were brilliant on the ice. Both were handsome and humble off it. Dryden was eloquent. Orr was stoic. I chose Orr. He was simply beautiful. I rooted for him when he wasn't playing the Habs and I never rooted against him when he was. You could get away with that in Montreal—rooting for Number 4, I mean—because it had been Beliveau's number, too.
I was too young to remember Orr's immortal game-winning goal in the 1970 Stanley Cup final. But I wasn't too young to appreciate the Bruins' 1972 Cup win. They were such a great foil for our hometown Canadiens. And Orr himself was such a great foil for the "big, bad" Bruins—the hero among the antiheroes. That fall, I remember feeling a great sense of loss, for Canada and myself, when Orr was unable, because of an injury, to play for Team Canada against the Soviet Union in the 1972 Summit Series. That eight-game passion play produced one of the happiest and most dramatic moments in the history of the Dominion.  Dryden played in the series, not always so well, and said later that "nothing meant so much." Orr didn't, couldn't, and regrets it to this day.
My dad, who watched an awful lot of hockey in his day, used to tell me that I never saw the best of Orr because by the time I was old enough to appreciate him his knees were shot. But what I saw, what I was able to see in those pre-cable days, was spectacular. Orr was Wayne Gretzky before there was a Wayne Gretzky. He utterly transformed his position and the game itself. He was so much better than the other players around him, and played with such artistic majesty, that he could take your breath away. He was an athlete, rare then and now, who lived up to the incredible hype that had been built up around him as he made his way from Parry Sound, Ontario, into the National Hockey League. And then, in 1978, after a 12-year NHL career trimmed by injury, he was gone from the ice onto a career as a spokesman and, ultimately, player agent.
This fall, more than 40 years after his last Cup, after decades of a rich life filled with charity work, a national icon now even to the generations who never saw him play, Orr at last (with the help of Vern Stenlund) has produced a memoir, titled Orr: My Story. Like many other hockey fans, I rushed to buy and read it. It explains an awful lot about Bobby Orr, it's true, but in ways that I think most readers, and most of his fans, would find surprising and perhaps even a little disappointing. It is a book as dull as he was creative, as plodding as he was fast, as conservative as he was liberal in the way that he played the game.
Mozart lived like the music he composed. Shakespeare's life was as dramatic and mercurial as was his work. In his prime, Muhammad Ali talked like he boxed and boxed like he talked. Sinatra? Please. But Robert Gordon Orr, forever Number Four, as much an artistic genius as any man dead or alive, doesn't try to recreate the glory here, doesn't seek to resurrect his craft. Instead, modestly, he tells us that he hopes his memoir "will hit a chord with you about some of the important things in your own life as you continue along the journey." In this bland, dutiful offering, in this earnest effort to help, in this paean to hearth and home, in this as in everything else, he is as eternally Canadian as it seems he always has been.
***
When Ken Dryden—there he is again—wrote his book about hockey, The Game, it instantly became the best the sport (or any sport) had ever seen.  Thirty years later, people in and out of hockey still read it for the insight if offers into the details of team play, life on the road, and all the other idiosyncrasies that make up professional sports. Orr's book in many ways is precisely the opposite. It's not the worst book ever written about hockey, I don't mean that. I mean that Orr uses the world of hockey as a foil to offer his philosophy of life whereas Dryden used the arc of his life to explore the philosophy of hockey.  The result is this paragraph from Orr's introduction:
I only committed to sitting down to write this book when I was sure I had something worth sharing. Not because I scored a famous goal, or because I won this or that trophy, or because I hold this or that record. Parents have things worth sharing, as do coaches and other mentors. I am a parent, and a grandparent, and it is in that spirit that I think I have a story worth recording and lessons worth passing along.
So this really is a book about life as much as it is a book about hockey,  although Orr finally (and quite angrily) tells his side of the story of his famous falling out with Alan Eagleson, the since-defrocked lawyer and agent. It isn't a book about the dynamics of team sports, although Orr takes us back to his salad days with the Oshawa Generals. It isn't a book about the promises and perils of celebrity, although we get a cute story about a skinny, young Orr being tossed about by a floor-polishing machine at a hotel at which he worked. And it doesn't remotely make us feel like we are on the ice at the old Boston Garden in the spring of 1970, even though the book begins with the story of "the Goal."
Orr makes the point clearly, over and over again:
Sometimes we are reminded that there are things far more important than hockey. But there is probably not much that is more important than the things a life in hockey can teach you...
Indeed, this is a book written by an obviously good and decent man, a very private man who has borne the brunt of being famous practically his entire life, who has decided after all these years to use his international renown to suggest ways in which people, and not just hockey-loving people, might want to consider looking at the rest of their lives.  I can't imagine Bobby Orr sitting down in an ESPN studio to talk about this book. I can imagine him sitting down with Ellen, or Oprah if she still had her show, and doing so. And saying things like this:
If you want to answer questions about where you have ended up in this world, it is important to understand first where you came from and where you have been.
Or this:
Parents today might be surprised to discover what kids can do if they are left to their own devices.
Or this:
I'm not trying to tell anyone not to watch TV, but if you've ever spent a long winter afternoon playing shinny with the whole neighborhood, or a summer playing softball with anyone who shows up at a diamond, you will know that kids who don't have the chance to organize themselves and solve their own problems and feel the exhilaration of sport for its own sake are missing out on something irreplaceable.
Or this:
In my experience, I've come to realize that there are very few "self-made men" in this world. While you have to work hard to become successful, the truth is that most who have gone far received a whole lot of backing from friends and family at key moments.
And so on. Ball Four this isn't. The first 50 pages or so are devoted to Orr's upbringing and family life. The last 50 pages or so are devoted to a chapter titled "State of the Game," in which Orr offers several ideas about how to improve upon hockey and how the parents of young players ought to maneuver through the shoals of amateur hockey.  There is even a chapter about Don Cherry, the Rush Limbaugh of Canada, the former Bruins' coach and now routinely divisive analyst on Hockey Night in Canada, whom Orr clearly admires and appreciates (so much so that he wants Cherry admitted in the Hockey Hall of Fame). Only about one-fifth of the book, maybe 50 pages or so, are devoted to the core of Orr's career, his glory days with the Bruins.
Disappointing, yes. Surprising, no. Over and over again, in both the introduction and the afterword, we read how reluctant Orr was to write the book, how he feared he had nothing to say. He never became a coach, he candidly tells us, because he never really had to think about playing the game of hockey. So great and instinctive were his talents, in other words, that never needed to become a student of the game (the way, for example, Dryden did). And it shows in this work. Here's one such way in which Orr chooses to explain why this is less a memoir and more a manifesto:
If this book were just about nostalgia, or highlights from my career, it would just reinforce a version of the story I never found particularly interesting. The trophies, the scoring titles, the Stanley Cups—that's all in the history books now. But like that famous photo, or the statute outside the TD Garden, they don't tell you much. They don't speak to values or to motivation...
***
So what exactly has Bobby Orr, the man who has been the face of Canada since before he could shave, done here? The blessed man, he has used nostalgia to write a book that asks readers to limit their nostalgia toward the more important things in life. The charitable man, he has used the power of his fame to urge a nation to lighten up on the young athletes in its care. The private man, he has tactically refused to give his fans the gossip they may have wanted; besides, who is going to complain (and who would listen?) to a lament that Bobby Orr was too earnest in wanting to leave the world a better place than he found it?
This is a book more about a man than about a hockey player. Its best passages are not about Orr's many and great successes, or about his many colorful teammates, but about his heartbreaking failure to overcome the knee injuries that doomed him. Orr's knees might be the most famous knees in the history of the world—they certainly were back in the 1970s—and it's fascinating to read today just how bad it was for him then, near the end, as he was struggling to play for the Chicago Blackhawks. It's also fascinating to know the details of how the Bruins could have let him get away (not his fault, he says, blame Eagleson).  But you get the sense, throughout, that Orr learned his lessons, both the easy and the hard ones, the way you would hope a young player, or a young man, would.
And that's why one could argue that this is a heroic book despite its lumbering tone and lack of drama or detail. There is something entirely epic and noble about a grandfather sitting down to impart some wisdom on those he will leave behind. It is the effort of a hardworking man, the product of a humble man, the offering of a man whose life was preternaturally marked by self-assuredness. Who says that a great artist always has to display his gift of genius to contribute to the world? Bobby Orr can no longer clear a crease or run the power-play. He can no longer fly through the air like he did in May 1970. This book is what he can offer now, today, to make things easier, perhaps, for the next Bobby Orr. Of course, we know, even if he doesn't, that there can never be another Bobby Orr.
It will be interesting to see over the next few weeks and months how this book is received in the hockey world and whether Canada appreciates it differently from the rest of the world. Unlike Gretzky, who left 25 years ago for California, Orr has stayed a huge part of the Canadian landscape. And there is, as I said, something wholly Canadian about this work. Not the Canada that Americans often perceive—the liberal, multicultural, multilingual hodgepodge of nations—but the Canada that most Canadians still acknowledge as their own. The Canada that is always just a little self-restrained, always just a tad worried, always a little more sensitive about context and perspective. The ever-humble Canada. The self-deprecating one. The one that wants to please.
And that's another contrast here. By downplaying his role as hockey legend, Orr in these pages reminds us that he long ago became bigger than hockey. In America, were an athlete to write a memoir so lacking in dish and dirt he might be ridiculed as pompous or pretentious—as a self-righteous scold. That's not going to happen here because if Bobby Orr has earned anything through his life of showing up on time and helping people in need he's earned the right to speak his mind. Bigger than hockey. At times even bigger than Canada. But not too big for his own britches. People like that. Canadians, I think, especially.
So you don't need to be a hockey fan to appreciate this book. And if you are a hockey fan there are plenty of other books that will help you understand how good the Bruins were, and how dominant Orr was, when his knees were sound. Our heroes should be allowed to change, to evolve, to grow old. Our artists and geniuses should be allowed to be multidimensional. They no longer need to be great men in our eyes so long as they are still good men. And Bobby Orr here is reminding us all how good a man he has remained through the decades.
When he played, and he scored, he often did not raise his stick in the air the way other hockey players did (and do) to celebrate their achievement. Bobby Orr was too modest, too secure in his own talent, to do that regularly. Instead, he would sometimes just bow his head as he skated away  so as to not embarrass the players and coaches (and fans) on the other team. This book is precisely that. Gods don't answer letters, John Updike wrote, but if they did we might be surprised to discover their words to read a lot like those that Orr offers here: Be good to your children, be good to your parents, play fair, work hard, appreciate the little things, and have fun.