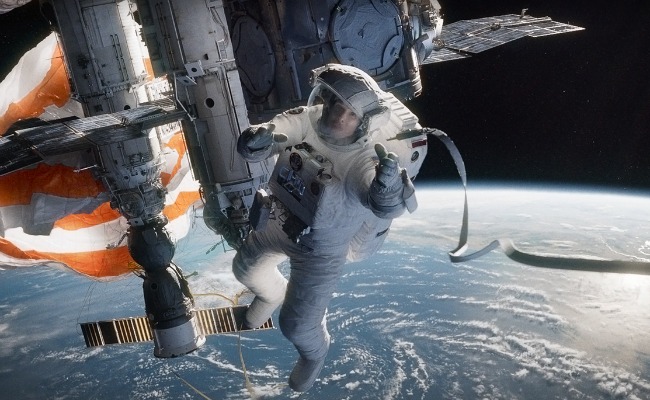 Is Gravity the smallest big movie in recent memory? Or the biggest small movie? One can make the case for either, but regardless, director Alfonso Cuaron's latest film--his first since the remarkable Children of Men in 2006--is a fascinating experiment in hybrid filmmaking, an awesome display of cutting-edge special effects deployed in the service of a compact character drama.
The movie opens with a shot that plays like a deep-space variation on Sherif Ali's iconic entrance in Lawrence of Arabia: in place of the shimmering sands of Al Madinah, we have a supernal slice of blue-white Planet Earth; in place of the speck gliding above it that expands into a camel, we have one that instead gradually reveals itself to be a space shuttle; and there, clinging to its back as it approaches, not Omar Sharif, but Sandra Bullock and George Clooney.
Bullock and Clooney play, respectively, Dr. Ryan Stone, a medical engineer and rookie astronaut, and Matt Kowalski, a yarn-spinning space veteran on his final mission. The two have undertaken a routine spacewalk to tinker with the Hubble Telescope--along with a colleague who, ahem, will not figure prominently in the remainder of the film--but they are soon interrupted. The detonation of a Russian satellite hundreds of miles away has led to a chain reaction of collisions, and a massive debris field is now hurtling toward the shuttle. It is this host of inadvertent projectiles, rather than "gravity" in the most direct sense, that serves as the primary antagonist of Cuaron's film, though one can see how he found the latter to be a more elegant title than Flying Space Junk.