The Norman Mailer Fan Who Became Norman Mailer's Editor
J. Michael Lennon wrote to his hero in 1972 and became his pen pal, friend, and collaborator before writing the revealing new biography Norman Mailer: A Double Life.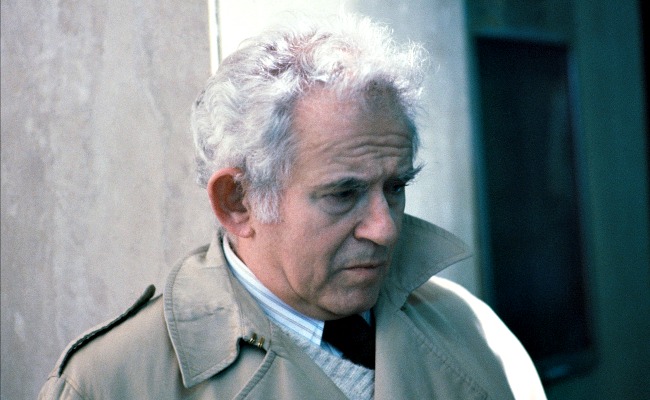 Author fan mail most often invites one of two results: 1) a generic note from the author (or publicist) accompanied by a bookmark or other promotional item; or, 2) no response. So it may seem unusual that when J. Michael Lennon wrote to his literary hero, Norman Mailer, a lifelong friendship and business partnership arose from the simple letter. Yet this is precisely what happened and, over the years, has kept Lennon busy writing and editing works about—and with—Mailer.
Lennon's authorized biography, Norman Mailer: A Double Life, out today, may be the pinnacle of their relationship. At 947 pages, the biography takes a microscope to Mailer's complete life, inclusive of his politics, lovers, family, and writing—which he referred to as "the spooky art." At age 25, Mailer stepped into the national spotlight with his World War II novel The Naked and the Dead. He wrote 10 more bestsellers and won the Pulitzer Prize for The Armies of the Night and The Executioner's Song. He died in 2007.
J. Michael Lennon became Mailer's authorized biographer in 2006. He is Emeritus Vice President for Academic Affairs and Emeritus Professor of English at Wilkes University in Pennsylvania, where he is also on the advisory board of the MFA program co-founded by Mailer. Lennon is the past president of the Norman Mailer Society, and his work has appeared in The New Yorker, the Paris Review, and the Chicago Tribune, among other publications. He corresponded with me via email.
Responses have been edited for clarity and length.
---
Your relationship with Mailer began in 1972, when he was the subject of your doctoral thesis at University of Rhode Island. You wrote a letter to Mailer after seeing him argue with Gore Vidal on The Dick Cavett Show; Mailer wrote back. How did you introduce yourself, and how did Mailer respond to you?
I was among many people who wrote letters of support to Mailer after the disaster of the Cavett Show. I also sent him ideas about his books, especially his turn to nonfiction. He remembered what I had written to him when we met just before the 1972 elections. We had a memorable night at Ski's Grin-and-Beer-It Bar in Macomb, Illinois. Closed it up. He invited me to visit him in the summer when I was back in New England, and my wife and I did. That started a series of summer visits. At the time, I was amazed by how approachable he was, how candid and generous.
It seems you approached Mailer first as an interested writer, a curious student. But you very soon developed a collegial relationship and, really, a friendship. Apart from the writing, what kept your relationship going? At what point did you feel like a peer and friend?
Not for a long time. I was a junior acolyte for 10 years. But over time, he saw that I was a serious student of Norman Mailer. I edited his 1982 collection, Pieces and Pontifications, and in 1986, put together a collection of essays on his work. I gave him a copy in Elaine's restaurant in New York City that fall. He leafed through the introduction, and asked me to be one of his executors.
Did your friendship ever get in the way of your projects and, specifically, in the telling of this biography? What personal challenges or conflicts arose?
Being a friend was an advantage. Being a friend who lived in the same town—Provincetown, Massachusetts—and seeing him several times a week, as I did for several years, was a larger advantage.
I had Boswellian aspirations, and kept track of what he said at the dinner table, the poker table, and sitting on his deck overlooking Provincetown Harbor. He enjoined me to "put everything in," not to glide over his misdeeds. He was pretty hard on himself about some of them—the stabbing of his second wife, and the Jack Abbott affair, and wanted those stories told in full.
One problem I faced was how to present myself as a minor character in the last quarter of the biography. Finally, I just described myself in the third person, just as he had done in several of his books—The Armies of the Night, most notably.
Of the many literary friendships Mailer had over the years, one was with Gay Talese who, upon reading an advanced copy of your manuscript, said:
I knew Mailer for more than a half-century; he was the most prolific and wide-ranging literary intellect of my lifetime. Thanks to Lennon's biography, I am learning a lot that I never knew.
Is this part of Mailer's double life? That he was ambitious in his role as a public figure, but also very much a private man?
Mailer believed that we all have two complete personalities in our psyche, and this was manifested in his own oppositions: family man-philanderer, activist-observer, leftist-conservative, rationalist-transcendentalist—the list goes on.
But I wouldn't describe Mailer as a private man. He was always mining his experience for his books, and always seeking more. His curiosity was huge. He did keep certain early experiences secret, but not many. He said he used them as "crystals," and shined a light through them to illumine later experiences. Most of these were from his childhood and adolescence. He called experience "the church of one's acquired knowledge." For him, the best experiences were unforeseen, experiences that hit you like a brick tossed over a fence.
After The Naked and the Dead was released, Mailer worried his loss of anonymity would condemn him in some way, even while the praise fueled him. It seems he was concerned about protecting his personal identity. Yet when it came time to work on the biography, Mailer laid everything on the table for you. Do you think he'd be pleased with the end result?
Impossible to say. My hunch is that he would like parts of the biography that I never would have fingered, and disliked others that I had worked over carefully. I would like to think that he would have approved of the chapters covering the 1950s and 1960s, chapters that contain a lot of previously unknown material from his unpublished journals, letters, and interviews. Chapter Six, "General Marijuana and the Navigator," has a good deal of new material in it.
You not only knew Mailer for decades, but were essentially an extended family member and continue to be. During the research phase, what most surprised you about Mailer? Is there anything you learned that you wish you had known when he was alive?
Nothing really big. I interviewed Mailer scores of times, but there were many moments in the writing when I wanted to ask him about some detail—who was at this dinner party, who was "Bob G." or "Betty T." mentioned in a letter. Luckily, his sister Barbara filled in many such details. She is the only person to have read all of his major books before publication. She was a tremendous asset and a wonderful editor.
Tell me about working on the biography. With decades of resources, 45,000 letters spanning 70 years, ongoing interviews with more than 80 people, and daily conversations with Mailer in the last year of his life, how do you decide what goes in and what gets shelved for another time or another project?
I held nothing important back, which is not to say that I didn't exclude material for one reason or another. All biographies are selective, of necessity. Mailer lived a long life, wrote more than 40 books, got into numerous scrapes, and was fully engaged as a public intellectual. So there will be other books about him, to be sure. His archive at the University of Texas is huge—500 cubic feet—and scholars will be trolling there for a long time to come.
Surely you enlisted the assistance of others to help organize and gather material?
A biographer rides with a posse of assistants who help round up information, and run down and lasso rumors and factoids. I had a wonderful posse. I had six graduate researchers from Wilkes University. I had Bob Bender, my editor; my agent "Ike" Williams; my brother Peter; a wonderful colleague from Wilkes, Bob Heaman; Mailer's ex-wives and nine children; Barbara Mailer Wasserman and her son Peter; and many friends, including several who teach with me at Wilkes. I interviewed Norman's good friends: Larry Schiller, Doris Kearns and Dick Goodwin, Don DeLillo, Dotson Rader, Richard Stratton, Barbara Probst Solomon, William Kennedy, Gay and Nan Talese, Tina Brown and many more—85, all told. My wife, Donna Pedro, was with me from day one, edited every chapter, and did some prodigious research.
Prior to this biography, when you first took on the role of archivist and authorized biographer, you were editing Mailer's letters. Will you be returning to the letters project? What might that offer readers that the biography doesn't reveal?
There is no way to summarize the material in the letters. Let's just say that the mosaic will be a bit more tessellated.
Let's talk about your writing life. Of the twelve books you've written, contributed to, or edited, ten are tied to Mailer one way or another. What was life like before Mailer? Would you ever have imagined the subject of your doctoral thesis becoming the primary subject of your livelihood? Was this focus intentional?
I read The Naked and the Dead in high school, and was marked. But reading Advertisements for Myself around 1970 really got me hooked. I was going to write my dissertation on Hawthorne, but someone anticipated my approach, and I dropped it. In 1971, I switched to Mailer, but with some difficulty. My advisor told me I could not write about a living person, so I switched advisors, and from that time on, Mailer and his work have been a constant in my life. I was very fortunate to meet and become friends with my literary hero.
Did you ever feel like you abandoned other aspirations as a writer?
Never.