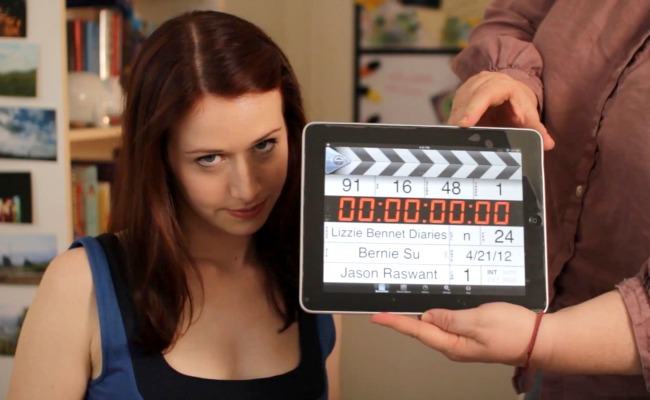 Watching The Lizzie Bennet Diaries—a YouTube show that uses a video diary to retell a contemporary version of Pride and Prejudice—is like opening a bag of potato chips: You can't stop at just one. The series purports to be the "real" video diary of Lizzie Bennet, a 24-year-old grad student studying mass communication (naturally), living at home with her parents and sisters, and completely caught up in the social media world. At just three to five minutes long, each vlog teases you into the next, and the next, and the next. Then, once you've scarfed down half the episodes and discover all the other delights that accompany the show—the Twitter feeds, the Facebook pages, the fan art, the Instagrams and Tumblrs—it's a full-blown binge.
Ten hours and 100 episodes later, you've experienced the perennially adaptable classic like never before. When younger sister Lydia elopes (whoops—in keeping with the times, substitute "unwittingly makes a sex tape" for "elopes") with Lizzie's former flame, Wickham, you can trot over to Twitter to witness Lydia's desperate pleas to Wickham and then tweet her your sympathy. You can post questions to Lizzie in the comments, and have her address them in a later episode. If you make a cool Tumblr for the show, you just might get it tweeted by the official LBD account. The show's producer, Alexandra Edwards, explained in a recent interview that even though the videos are filmed well in advance, contributions from the fan base are part of the creative process:
If a lot of fans are talking about something, I can and do tailor updates based on that. It's about having characters react in the moment. It works a lot like improv, actually: a character might start the scene, so to speak, with a certain Twitter update. Then fans will respond, and how the conversation goes really depends on that interaction.
This mastery of multiple platforms to cultivate audience engagement garnered The Lizzie Bennet Diaries this year's Emmy Award for Original Interactive Program. A follow-up, Emma Approved, has just been launched, and it promises even more audience interaction.