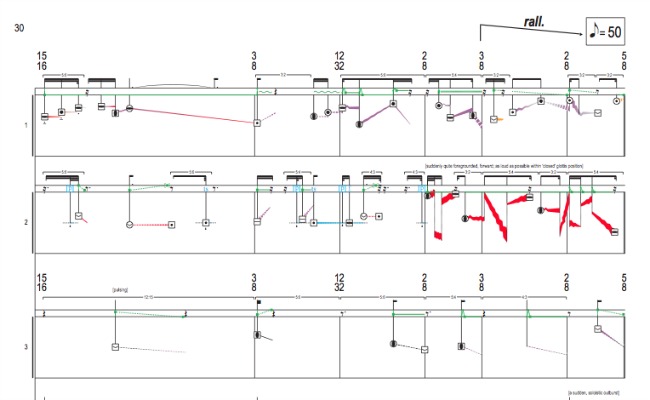 Aaron Cassidy
Most professional classical singers are able to perform music written in the five major languages of opera: French, German, Italian, English and Russian. But Aram Tchobanian, a singer who lives in Brooklyn, has performed in 25 languages, including Chinese, Hindi and Yoruba.
And recently, he's been learning more musical languages—ones with no names, that are written in mysterious symbols instead of words, with unfamiliar shapes, colors, and squiggles instead of quarter notes and treble clefs.
These languages are created by contemporary classical composers like George Crumb, Beat Furrer, and Aaron Cassidy, the last of whom is the composer of a new work that Tchobanian will perform with the experimental Ekmeles ensemble this fall. When Tchobanian first sees the music, he says, he is unable to read it as a musician normally reads a score.
"It's not written in music notation. Not at all," says Tchobanian, a tenor with experience ranging from opera classics to contemporary works. During rehearsals for the American premiere of the Furrer piece "Fama" earlier this year, the composer himself taught the ensemble how to interpret his score.
"Graphic notation," as it's sometimes called, is becoming the new normal in the world of contemporary classical music—a genre also sometimes called new music, art music, or experimental music. Musicians and composers working in this space often eschew labels, yet many feel their work is very much in the lineage of classical music, following in a coherent trajectory from Mozart to Stravinsky to John Cage to present-day composers; Cage's 1969 book Notations first brought ingenuity in musical scoring to a wider audience, and the movement has continued to develop ever since.