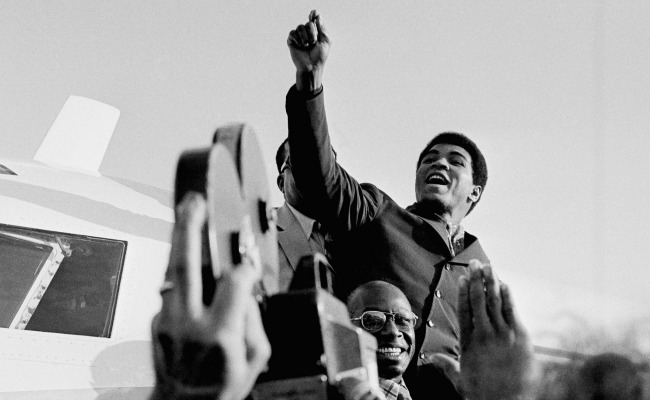 AP
The Trials of Muhammad Ali, Bill Siegel's superb new documentary, opens with a staggeringly ironic image: President George W. Bush presenting the Parkinson's-ravaged former champion with the Medal of Freedom in 2005.
To understand the paradoxical nature of that moment, though, one must go back more than four decades, back to when Ali was the most controversial and divisive figure not merely in sports but possibly in all of America—and another new film about Ali, Stephen Frears's Muhammad Ali's Greatest Fight, does just that.
When Cassius Clay burst onto the scene in 1960—and burst is about the only word to describe it—he was an 18-year-old amateur boxer who lit up the Summer Olympics in Rome with his brashness and youthful exuberance, to say nothing of his breathtaking ability. (He easily captured the light heavyweight gold medal.) Ali turned pro a few months after the Olympics, and within two years, he became more of a media star than the reigning heavyweight champion, Floyd Patterson, or Patterson's successor, Sonny Liston. From the beginning he transcended boxing, making bold predictions—usually correct—about what round he would stop his opponents in; his hilarious doggerel poetry was recited by school kids who had never seen a boxing match. He cut a record (a cover of Ben E. King's "Stand By Me"), appeared in a movie (as a heavyweight contender who knocks out Anthony Quinn in the opening moments of Requiem for a Heavyweight) and, in February of 1964, shocked everyone but himself by whipping the fearsome Sonny Liston, a 7-1 favorite for the heavyweight title.