Muhammad Ali's Most Formidable Opponent Was the U.S. Supreme Court
A new HBO film remembers when Ali was the most controversial figure in America—an anti-war icon who nearly lost his heavyweight title for resisting the draft.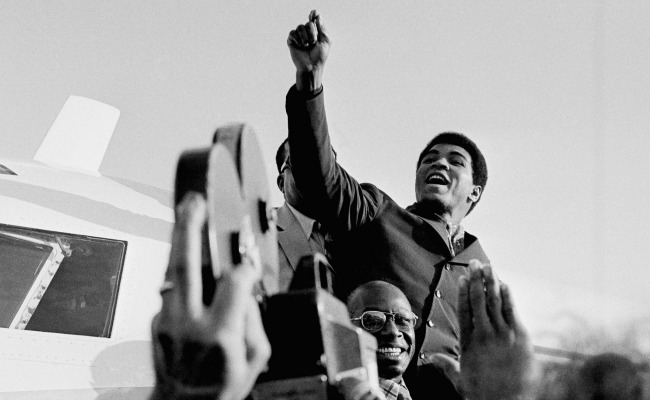 AP
The Trials of Muhammad Ali, Bill Siegel's superb new documentary, opens with a staggeringly ironic image: President George W. Bush presenting the Parkinson's-ravaged former champion with the Medal of Freedom in 2005.
To understand the paradoxical nature of that moment, though, one must go back more than four decades, back to when Ali was the most controversial and divisive figure not merely in sports but possibly in all of America—and another new film about Ali, Stephen Frears's Muhammad Ali's Greatest Fight, does just that.
When Cassius Clay burst onto the scene in 1960—and burst is about the only word to describe it—he was an 18-year-old amateur boxer who lit up the Summer Olympics in Rome with his brashness and youthful exuberance, to say nothing of his breathtaking ability. (He easily captured the light heavyweight gold medal.) Ali turned pro a few months after the Olympics, and within two years, he became more of a media star than the reigning heavyweight champion, Floyd Patterson, or Patterson's successor, Sonny Liston. From the beginning he transcended boxing, making bold predictions—usually correct—about what round he would stop his opponents in; his hilarious doggerel poetry was recited by school kids who had never seen a boxing match. He cut a record (a cover of Ben E. King's "Stand By Me"), appeared in a movie (as a heavyweight contender who knocks out Anthony Quinn in the opening moments of Requiem for a Heavyweight) and, in February of 1964, shocked everyone but himself by whipping the fearsome Sonny Liston, a 7-1 favorite for the heavyweight title.
Within days of his victory, though, he created an even bigger shock when he announced that he had become a Black Muslim and changed his name to Muhammad Ali. And that was just the beginning. In 1965, he failed a mental aptitude test for the draft. But early in 1966 the war in Vietnam was escalating and resistance to it was gathering momentum, so the standards for induction were lowered and Ali was classified as eligible for the draft. His lawyer presented a letter to the draft board requesting deferment as a conscientious objector. Three days later, the request was denied, and in 1967 he was arrested, convicted of draft evasion, and stripped of his heavyweight title by New York and other powerful state athletic commissions. In 1971, his appeal was heard by the U.S. Supreme Court.
Frears's literate and concise film, which premieres Saturday night on HBO, takes a closer look at the Supreme Court case that would become the backdrop of the greatest controversy of a controversial career.
Opinion polls at the time indicated that the vast majority of older whites believed Ali should have been sent to jail, while an overwhelming number of blacks and younger white college students, many of whom had gone to see Ali on one of his campus appearances, vehemently supported his anti-war stance. Public sentiment about Ali pretty much followed the same lines as public opinion on the war in Vietnam, and as more people turned against the war, more supporters flocked to Ali's corner. But much of the film focuses on the Supreme Court itself. Scenes in which actors play the eight Supreme Court Justices who decided the case are interspersed with archival footage of Ali in and out of the ring. In this way, Muhammad Ali's Greatest Fight serves as a sort of companion to Siegel's documentary, which is currently playing in select theaters.
Frears has all the right actors in the Supreme Court Justice roles, including Frank Langella as Nixon-appointed Chief Justice Warren Burger, Christopher Plummer as John Harlan, Harris Yulin as William O. Douglas, and Peter Gerety as William Brennan, Jr. (The film could use more of Danny Glover's performance as Thurgood Marshall, the only black justice on the court. But Marshall, in reality, recused himself from the case, having been the solicitor general on Ali's conviction.) In a key supporting role, Benjamin Walker is convincingly idealistic as Harlan's chief clerk Kevin Connolly, whose dogged pursuit of justice helps turn the Court's decision around.
Plummer's Harlan is, of course, the linchpin to the story: Harlan, who was dying of cancer and would resign from the Court later that year, was finally convinced of the sincerity of Ali's religious and anti-war beliefs and, against the wishes of his close friend Chief Justice Burger, shifted his vote to even the balance at 4-4. He eventually made such a convincing argument to the other conservatives on the court that the decision became unanimous.
But it's difficult to single anyone out as the star. Muhammad Ali's Greatest Fight is a sensational piece of bravura ensemble acting. The skepticisms and sympathies built up over years of legal battle after emotionally draining legal battle are conveyed in the subtlest ways, like a raised eyebrow or a sudden change of inflection. The justices are all sly pros, too, well aware that they are eight conservative old white men—their average age was 71—deciding the fate of a young, radical black man ushering in an era of profound change that would soon render them anachronisms.
Whenever Muhammad Ali's Greatest Fight threatens to turn into Eight Cranky Old Men, though, Frears inserts film clips of Ali himself. In an early sequence, Ali's breathtaking speed is on display in his victory over Liston, and he is later seen on a 1970 broadcast of The Ed Sullivan Show in costume, replete with an enormous Afro wig, reprising his role from the Broadway musical "Big Time Buck White." Frears also includes Ali's now-famous reply to an interviewer, which crystallized his anti-war views: "No Viet Cong ever called me nigger." Ali was so charismatic and kinetic that no actor (with apologies to Will Smith in Michael Mann's Ali) could capture him on film. As screenwriter Shawn Slovo put it to an interviewer, "Why get someone else to play Ali when he plays it so well himself?"
Possibly for fear of bogging the viewer down in legal-ese, Frears pushes the story along a bit quickly: Clearly he and Slovo made a decision not to over-dramatize key incidents in the interests of factual authenticity. (When the justices vote to exonerate Ali, Frears doesn't give us the official announcement; we find out through the waiting clerks, who have bet among themselves on the outcome.)
Still, Muhammad Ali's Greatest Fight takes on an important decision in Supreme Court history concerning perhaps the most famous man in the world without ducking any punches. Let's call it a unanimous decision rather than a knockout.