How I Met Flannery O'Connor's Mother
A longtime editor of America's oldest literary magazine recalls his quest to publish O'Connor's early stories.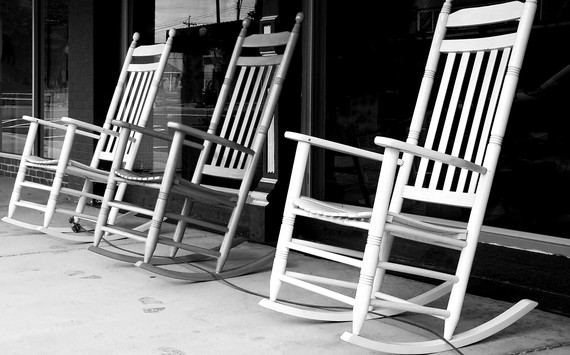 Editor's note: Earlier this week, TheAtlantic.com republished "The Barber," one of six stories from Flannery O'Connor's graduate school thesis. Here, Robley Wilson, former editor of the North American Review, remembers his own quest to print three of those stories for the first time.
In late 1969 or early 1970, in my first year as editor of the North American Review, Jean Wylder submitted a memoir chronicling her friendship with Flannery O'Connor at the University of Iowa, a piece we published in the spring of 1970. She also showed me three stories from O'Connor's thesis: "The Barber," "Wildcat," and "Geraniums."
I wrote immediately to O'Connor's agent, Elizabeth McKee, and asked if we could publish the three stories. She said that decision would have to be made by O'Connor's literary executor, Robert Fitzgerald. I wrote to him with the same request. He said no, on the grounds that those stories did not show the writer at her best. I asked if he would permit us to publish only one of them, specifically "Wildcat," which I thought the best of the three. He said no again, on the same grounds.
I'm afraid I badgered him, arguing among other things that he was depriving O'Connor scholars of early material necessary to their work. Finally, he agreed we could publish "Wildcat," and we did, in the same issue that contained the Wylder reminiscence.
At around that same time, my first wife and I were headed to Milledgeville, Georgia, to visit her mother and older brother. While there, we managed an introduction to "Miss Regina," O'Connor's mother; sat one Sunday afternoon in her mansion (one of the few Milledgeville homes not destroyed by Sherman on his march to the sea), drinking sherry and nibbling dainty, thin mints; then joined her the next morning at Andalusia, where we met the famous peacocks and an old couple Regina referred to as "my darkies." I asked if she had a photo of O'Connor that we could use to accompany the story, and she gave us one showing O'Connor in her early 20s.

It wasn't until that same year's October Atlantic arrived that I learned Fitzgerald had decided to lift his objections to publishing the other two stories.
I retired from the NAR 13 years ago, but just for the record, it was the North American Review that surfaced the first of O'Connor's thesis stories.