ESPN: No Comment on Talent 'Wearing the Native Equivalent of Black Face'
This is not how you honor Native American heritage.
We are supposed to be having a particularly earnest conversation with each other (and ourselves) this autumn about whether the continuing use of the nickname "Redskins" for Washington's professional football team perpetuates stereotypes against Native Americans. Of course it does. If you want to better understand why,  if you want to better appreciate the enormity of the problem, if you want a sense of the challenge American Indians face as they seek to fight back against these hoary symbols, watch this clip from Saturday's "College Gameday" on ESPN.
This unseemly episode is the result of two traditions. The first has to do with Florida State University, which has taken the nickname "Seminoles" from the Native American tribe with a long and unfortunate history in Florida. The university's tradition, since 1978 anyway, is to have a man, dressed up like a tribal "chief" named Osceola (né William Powell), ride out atop a horse named "Renegade" onto Doak Campbell Stadium in Tallahassee before home games and throw a flaming spear into the ground at midfield while the crowd goes wild. Here is the list of "Osceolas" (and "Renegades") over the years.
The second tradition has to do with ESPN and this particular show. Each week, Lee Corso, a nationally known college football commentator, dons the garb of the team he is picking to win the feature game of the weekend. Sometimes, Corso wears a mascot head. Sometimes he dresses up. The college kids eat it up. It's great fun and great for the show's ratings. On Saturday, Corso, an alum of FSU, happened to pick his alma mater to beat Clemson (which FSU did, by a lot), which is why he was dressed up like Osceola. (Update: I don't mean to suggest this is the first time he has done this. Here is how he did it last year)
It's nothing personal against Native Americans, ESPN wants you to know. It's strictly business and entirely part of the show's routine. So a white man dresses up like an American Indian "chief," dances around the set like a clown, gets tackled by Bill Murray, the spear gets tossed into the crowd at Clemson, and everyone has a grand old time, including the on-air talent and ESPN's own online tribunes. See, for example, from Saturday afternoon's Twitter feed: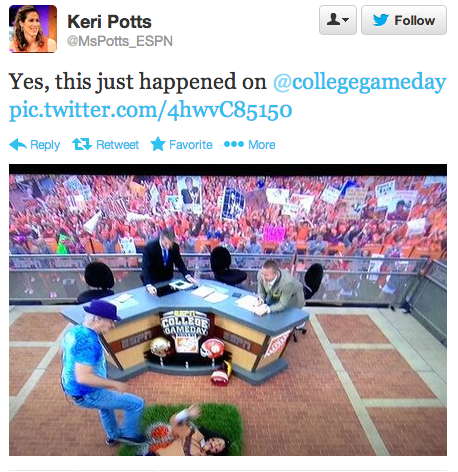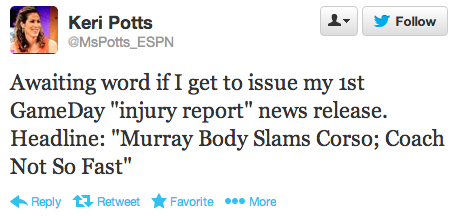 Evidently, no one at ESPN stopped to think: "Hey, maybe some folks might consider Corso's dance inappropriate" especially for a network that has covered the "Redskins" controversy and has a huge stake in the success and reputation of the National Football League (and college football, for that matter). And clearly no one afteward at the network seemed inclined to offer any sort of explanation or rationale for what had just aired.
But the fact is that many people did consider the episode highly offensive. Here is what a spokeswoman for the National Congress of American Indians told me Saturday evening:
This is a perfect example of how Native Americans are ridiculed in the course of sports entertainment. Good-natured rivalries are one thing. Wearing the native equivalent of black face is quite another. The Eagle Staff carried by Mr. Corso and thrown into the crowd by Mr. Murray is a sacred symbol of leadership and today is used to honor our Native veterans who have served this country. That it was used as a prop in this mockery and shown such disrespect is proof that our heritage and culture are not honored or respected by the slurs and caricatures used by sports teams.
In response to this statement, ESPN, through a spokesman, declined on Sunday to comment. But here's how it works. ESPN defends the actions of its on-air talent by pointing to the FSU tradition and its "Gameday" tradition. FSU, in turn, defends itself by claiming that
some members of the Seminole tribe support
the "Osceola and Renegade" show (even while other members of the tribe call it a "
minstrel show
.") And a whole new generation of college students learns the lesson that it's okay to denigrate Native American traditions and symbols—to think it's all great fun and a big joke.
No one, including the executives at ESPN, would ever tolerate a show today in which a white man donned black face and pranced around a set. And yet no one, including ESPN, seems to have a problem with a white man goofing around in a similar fashion as a Native American tribal chief. The disconnect between those two realities is the disconnect today in America between what whites and blacks think is insensitive to Native Americans and what Native Americans think is insensitive to them. In a perfect world, the victims of stereotypes, and not the perpetrators of them, would get to decide what is and is not offensive. But of course no one needs to tell the American Indian that this is not a perfect world.