The Testament of Mary Isn't Really About Jesus' Mother at All
Colm Tóibín's Man Booker Prize finalist re-imagines Biblical events from the perspective of Jesus' mother, but her narration reveals just as many of Tóibín's thoughts as Mary's.
This post is part of a weekly series in which Atlantic staffers offer their takes on the six novels shortlisted for the Man Booker Prize.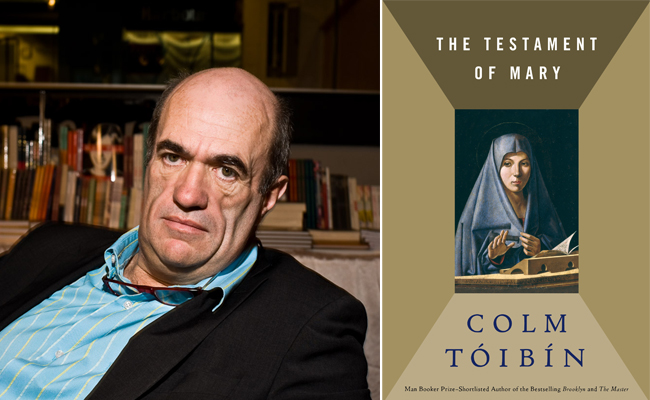 Proclaimeth the book jacket: "[T]he docile, loving, silent, long-suffering, obedient worshipful mother of Christ becomes a tragic heroine with the relentless eloquence of Electra or Medea or Antigone." Well, that's ambitious. Colm Tóibín says he writes in a chair that's "one of the most uncomfortable ever made," one that "causes pain in parts of the body you did not know existed." It's not hard to imagine that The Testament of Mary would grow from time in that chair.
Testament is Mary's first-person account of watching her son turn from a child into a revered godhead. It is recorded years after the crucifixion, when disciples are visiting her regularly, eager to collect tidily divine stories as fodder for the Gospels. Testament is Mary's actual version of events, the more earthly side of the story that her visitors refuse to write down. Mary relates some of Christ's most well-known plot points—the raising of Lazarus, turning water to wine, the crucifixion—all the while waxing nostalgic on simpler days, back when her son wasn't The Son. By her account, Christ's most well-known acts were far from providential, and Mary herself isn't as demure as myth would have it: Halfway through the book, she threatens two disciples at knifepoint.
Tóibín's premise, then, is to turn to Christ's mother to get the straight story. Unlike the pure, meek woman found on votive candles, this Mary is empowered, and above all, honest. She flees the crucifixion scene before her son has died, and does so, she confesses, because it was "her own safety [she] thought of." Tóibín seems to strive for emotional fidelity: How might it actually have felt for Mary to witness her son's trajectory? To Tóibín's Mary, Christ and his disciples aren't the varnished figures you'd see in a da Vinci painting; instead, they're awkward, slightly unruly outcasts—more like a group of gangly, cargo-shorted teens who skipped the Homecoming dance to go cliff-jumping at the quarry.
The way Tóibín pursues this fidelity, however, isn't so straightforward. The voice he provides Mary with is curiously modern—dark and filled with heavy, articulate language. She is prone to phrases like "the bird all sharp beak and indignant gaze" and "they were figures of substance, grandeur, immense dignity," and she's surprisingly self-conscious about her role in correcting a myth that she sees is in the making.
So maybe Tóibín didn't intend The Testament of Mary to read as "The Bible: Uncut." Perhaps the most dogmatic review of it out there is from The Catholic World Report, and while it spends most of its time getting ruffled about the blasphemy of Tóibín's work, it does contain an important bit of truth: "Colm Tóibín's book won't tell you anything about Mary. It will tell you plenty about its very sad and very angry author." In other words, Tóibín might be putting his own words into Mary's mouth less to evoke the state of her soul than to expound some of his own views.
There's enough self-aware winking in the text to suggest that Tóibín's real interest lies in exploring a narrative's inability to capture the truth. This idea comes up early, on page two: Impatient with the disciples who have come to record her story, Mary bemoans their "earnest need for foolish anecdotes and sharp, simple patterns in the story of what happened to us." Later, she says of one disciple, "I know that he has written of things that neither he nor I saw." Tóibín wasn't there either, so what is he doing if not inventing another equally contrived history from Mary's point of view—and making sure that we see what he's up to?
At 81 pages, Testament—an adaptation of his play of the same name, which would go on to be featured on Broadway this past spring—is quite short. But it's not hard to see why the Booker Prize committee decided to count it as a novel: At times it's a slog, and it feels more like 250 pages. If it wins, the decision would more likely be a nod to Tóibín's critically acclaimed oeuvre than to his achievement in this single book. I'd predict a different fate, though—one that by now must seem familiar to Tóibín. The same day in April when he was notified that the Broadway version of The Testament of Mary had been nominated for three Tony awards, he also learned that the play's run was going to be cut short due to poor ticket sales. Whatever happens next week when the committee announces the winner, a writer whose Booker run has lasted this long can count himself very lucky.