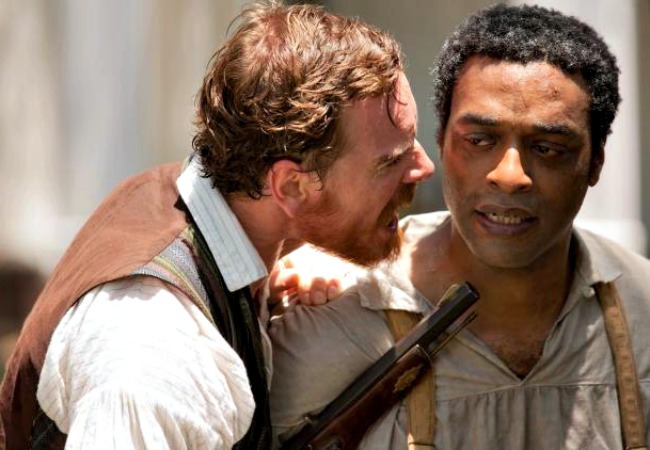 Fox Searchlight
Hollywood is in general uncomfortable with race, but it likes heroic masculinity. It's no surprise, then, that films about slavery often end up being about men becoming men. Django Unchained is a basic revenge story, with Django taking up the phallic gun to blast the evil forces that have held him down and captured his wife. Glory is a standard military parable, with the weak and undisciplined black troops learning to be a deadly fighting force even as their boyish white commanding officer proves himself. "We're men," Denzel Washington declares before the final battle, for all the world as if, before they joined the regiment, they were something else.
Remarkably and honorably, 12 Years a Slave, based on Solomon Northup's 1841 autobiographical narrative, has a different story to tell. When the film opens, Northup (Chiwetel Ejiofor) is a free musician, living in Saratoga, New York with his wife, son and daughter. He's a success and a grown-up; he doesn't need to learn to become a man. The narrative arc of the film isn't from powerlessness to power. It's the reverse.
Northup is courted by two men who promise him a touring gig, and then, after they've lured him to Washington, slip him a drug, knocking him unconscious. He wakes up in a cell, where he is viciously beaten on all fours while the slaver hits him with a stick from behind. Northup loses his former life, his dignity, even his self, as he is forced to take the name of a runaway slave, Platt. The entire sequence is a violation and unmanning—it's presented as a symbolic rape.