'We Felt Like We Were Above the Law': How the NCAA Endangers Women
A new report on Oklahoma State's use of "hostesses" to lure in recruits reveals yet another instance of the NCAA normalizing sexism. But there are ways it can change.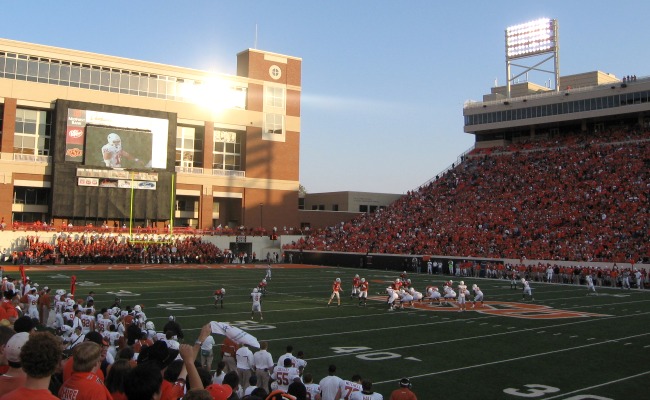 Historically, when college sports programs, especially football, have needed to convince young, athletic men to choose their school, they've used women to do so. Ever since the days when legendary football coach Bear Bryant coached at Alabama in the 1960s, large Division I athletic programs at major universities have been organizing groups of "hostesses"—college women with pretty, smiling faces who assist high-caliber potential student-athletes when they visit campus.
But hostesses play a larger role in the overall recruiting process than simply being tour guides. The hostesses, according to Deadspin, also "answer questions, and—in the evening when the parents go back to their own hotels—provide entertainment."
College football is big business. According to Forbes, the minimum that the top 20 most lucrative football programs bring in is in the tens of millions of dollars in profits. The richest—The University of Texas—has a profit of $78 million each year. For teams like these, convincing the best football players to play for them is imperative. But the NCAA severely restricts what schools can use to lure players to their campus; according to the NCAA Division I Manual, programs cannot give recruits "any financial aid or other benefits," including cash, clothing, or merchandise. In place of these financial benefits, programs use the recruits' official 48-hour visit to show them a good time, an implicit promise of what their years on campus will be like if they choose to attend that university.
"The only inappropriate thing we did was lead on 17- and 18-year-old guys just to get them to come to the school," Lacey Pearl Earps, a former hostess at Tennessee, told Jeff Benedict and Armen Keteyian, the authors of the new book The System: The Glory and Scandal of Big-Time College Football. "We are not the only ones who do that. That goes on with hostesses at lots of schools. And no one tells us to do that. We just did it."
Benedict and Keteyian argue that leading these young men on with "the promise of an intimate relationship is the sort of thing that can trump sold-out stadiums, state-of-the-art facilities, Nike deals and schedules packed with nationally televised games." Even though Earps says that no one in college football programs tells hostesses to "lead on" recruits, programs are well aware of how instrumental these women are in helping them land top athletes.
The publication of Benedict and Keteyian's new book on the seedy side of big-time college athletics coincides with Sports Illustrated's release of the fourth part in a five-part series that focused primarily on the Oklahoma State University football program. After covering money, academics, and drugs, reporters George Dohrmann and Thayer Evans (with help from Melissa Segura) turned their attention to sex and the Orange Pride, the OSU hostess group.
Members of the Orange Pride are, according to their website, "required to attend and work each home football game for the 2013 Football season, raise $300.00 in sponsorship money, attend weekly meetings, and work recruiting official visits, Junior Days, Coaches Clinic, etc." The SI piece alleges that between 2001 and 2011, a small number of women in Orange Pride slept with recruits while the recruits were visiting campus. It also says that members of the OSU football staff "decided which hostess to pair with which recruits" and "were aware that certain Orange Pride members were having sex with visiting prospects," and that "Oklahoma State football personnel played a central role in vetting Orange Pride candidates." According to Dohrmann, Evans, and Segura, the NCAA "passed legislation [in 2004] that, in part, prohibited 'the use of alcohol, drugs, sex and gambling in recruiting.'" The scandal here, then, is that if the reporting is correct (and there are many, many questions about the veracity of the reporting), the football program did not do enough to prohibit sex during recruiting and thus broke NCAA rules.
Michael Felder, a writer for Bleacher Report and a former college football player at UNC, weighed in on Twitter after reading Sports Illustrated's report:
Hostesses are about putting the universities best foot forward, not banging people. A smiling face w/ pertinent program information.

— Michael Felder (@InTheBleachers) September 13, 2013
It's someone that your mom will see & think she's a nice girl & that can talk to your dad & give him some info on facilities.

— Michael Felder (@InTheBleachers) September 13, 2013
But overall, the response to the Sports Illustrated series has been something like one long, collective shrug. Part of that can be attributed to the ongoing scrutiny over the facts in the articles, but another part is that many people just think corruption like this at a Division I football program is old and unsurprising news. They aren't wrong: This isn't the first time allegations have been made that women in hostess groups are being used for sex. This known tradition of corruption, however, is not an excuse to ignore the evidence that the culture of men's Division I sports can be harmful to women. Rather, the Sports Illustrated report and the publication of The System come at a moment when the use of women by college football programs and the sexual abuse of women at the hands of college football players deserve as much attention as ever.
In 2002, former members of the University of Oregon hostess program alleged that sex between recruits and the women in the program was not uncommon. Similar claims were made about the Arizona State hostess program the following year. The list goes on. Many of these allegations surfaced following the revelation of horrific events that took place at the University of Colorado. In 1997 and again in 2001, women said that they were raped at parties hosted for football recruits. The later instance involved both football players and high school recruits who, together, allegedly sexually assaulted three women. No charges were filed in either case. The 2001 case, though, led to multiple lawsuits that went through the courts for years, finally ending in a settlement in 2007.
Currently, there are two Division I football programs that have multiple now-former football players charged with rape. Vanderbilt University has recently dismissed five football players. Four of them have been charged with five counts of aggravated rape and two counts of aggravated sexual battery for allegedly participating in a gang rape of an undergraduate in a dormitory on campus this past June. One of the men accused, Jaborian McKenzie, enrolled at a different university—Alcorn State in Mississippi—after getting out of jail on bail. He played in their September 7 game against Mississippi State. (When news broke the following week that the accused rapist was still playing football only at a different university, Alcorn dismissed McKenzie, and its president admitted that the university had "made an error in judgment.") The fifth player, Chris Boyd, helped to cover up the alleged crime but pleaded guilty and took a plea of a lesser charge. He will testify against his former teammates.
And at the Naval Academy, three players are on trial for allegedly raping a female midshipman at an off-campus party in 2012. The Navy case is almost identical to an incident that happened there in 2001: Three football players were accused of gang-raping a woman off campus but no charges were pressed. Instead, the men were "kicked off the team" and "avoided criminal prosecution by agreeing to resign from the academy."
Added together, these cases illustrate how all too often, the protective culture of men's college athletics in Division I can be harmful to women. Perhaps the best example is that of Nigel Clay, one of two Oklahoma football players found guilty of gang-raping a woman in a dormitory in 1989. In 1992, Clay told the Los Angeles Times, "I don't know how to say it, but, bottom line, I just felt that sometimes, walking around . . . Well, speaking for myself and a lot of other people, we felt like we were above the law," he said, "like OU would protect us from anything."
That's an ominous statement in a space that is already unsafe for many women. One in five women on a given college campus will be raped, 85 percent of those women will know their attackers, and 90 percent of those rapes will go unreported.
Melissa McEwan, who has written extensively at her site Shakesville about sexual assault and sexual assault prevention, says that one of the bigger problems in men's sports culture is that women are "treated by athletic programs as prizes to be handed out to male athletes." Doing so removes their humanity, and dehumanization is often a prerequisite for sexual assault. Women in hostess programs, by their own admission, function as potential prizes for recruits.
"Any solution to [the problem of sexual assault] starts with identifying how women are dehumanized within the culture of male collegiate sports," McEwan says, "and then taking steps to challenge that dehumanization."
The humanity of athletes themselves is also often stripped away by sports culture. This is true of both male and female athletes, but it's a particular issue for male athletes who play in high-profile, big-money Division I sports programs. Many have argued that the NCAA participates in this commodification of athletes' bodies by refusing to allow universities to pay players for the work they do while simultaneously making money itself off the backs of those players. These players and their bodies have often been "treated like objects or commodities" for others' consumption, says Heather Corinna, a sexuality activist and founder of Scarleteen, a site dedicated to providing sex education and resources to young adults. When recruits visit a university and are rewarded with access to women's bodies, she says, whether it's in the form of sex partners or as eye candy, they probably understand the implicit messaging.
But there are steps that the NCAA can take to make the culture surrounding D1 sports less dangerous for women. "If we want to keep making progress reducing—and hopefully, eventually eradicating—sexual abuse and assault," Corinna says, we need to educate people to "understand that sex or women aren't things to take." Which means that first, the association should revisit and revise its rules on what can and can't be offered to athletic prospects in recruiting.
The national reaction to the events at Colorado led the NCAA Board of Directors to "approve a package of recruiting reforms aimed at limiting the perks for prospects" in 2004, according to an Associated Press report dated August 6, 2004. Perks that were to be prohibited included "underage drinking, sex, drug use, gambling or gaming activities and the use of strippers during campus visits."
The press release from the NCAA, however, published a day before the AP report, was more vague:
Campuses must develop written policies that specifically prohibit inappropriate or illegal behavior in recruiting. Policies must be approved by campus presidents or chancellors by December 1, and be on file with conference offices.
(It's worth noting, though, that the AP report appears to be referring to an earlier press release from the NCAA, released the month before the Board of Directors met, that detailed which "emergency" legislative measures they would be considering when they met in August.)
Despite what Evans, Dohrmann, and Segura reported in their Sports Illustrated article, to this day, there is no specific mention of a prohibition of sex or strippers in the Division I Manual where the NCAA lays out many other aspects of recruiting, including other prohibitions, in painstaking detail. In 2004, the NCAA passed a few light regulations on hostess groups—like a stipulation that student hosts to the recruits may only be current student-athletes or students who provide campus tours to prospective students in general. Thus, some hostess groups have adopted men into their traditionally female ranks. Most, though, are still women—and, of course, male university students could be having sex with recruits, too. According to Benedict and Keteyian in The System, "Even the NCAA has very little in the way of regulations to keep hostesses in check.… For the most part, hostesses are a part of the system that gets very little scrutiny."
When I contacted the NCAA for comment, they said that the specific bylaw that covers prohibition of sex in recruiting is 13.6.1, which uses the following vague wording:
The institution is responsible for the development and enforcement of appropriate policies and penalties regarding specified areas, as identified by the NCAA Division I Board of Directors.
I asked the Public and Media Relations office of the NCAA whether a list of the aforementioned "policies," "penalties," and "specified areas" is available to the public. My query was not answered by the time of this piece's publication. The Associate Director for Public and Media Relations at the NCAA said that to find out "what policies individual schools and/or conferences have in place," I should "contact those directly for feedback on their specific policies." If individual programs are in charge of setting their own recruitment policies, as this response states, that leaves room for a wide range of interpretations of the rules.
How universities determine the appropriate policies and penalties, therefore, remains unclear. Most, though not all, of the compliance forms for student hosts that I could find online for major football schools have a clause prohibiting student hosts from using sex in recruiting. (The University of Texas, Texas Christian University, University of Iowa, and all have compliance forms that specifically prohibit sex with recruits. Louisville and The University of Colorado do not, though I approached none of these schools directly and there may be updated versions with different wording.)
Was there a no-sex policy to break at OSU? Does the NCAA actually care if recruits sleep with hostesses if they haven't even included that specific prohibition in the Division I Manual? None of this is clear. According to a video statement from the president of OSU that was released on the same day as the SI report on hostesses and sex in the recruitment process, the school will "review these accusations expeditiously, but thoroughly" in order to "determine the truth and take whatever measures are appropriate." The school will consult with "an independent expert in NCAA matters."
One action the NCAA could take to prevent future cases like this one is to put explicit language in their bylaws that says that student hosts are not allowed to have sex with potential student-athletes during the recruitment process. Undoubtedly there are cases where recruits and hostesses are both consenting partners, but those instances do not mitigate the larger issues that arise from failing to prevent sex between people in these two groups. And the NCAA has the jurisdiction to prohibit it; it already limits how many schools recruits can visit, how long their visits can last, who can talk to them (and for how long), and what kind of events they can attend. Another fact to take into consideration is that sex between 17-year-old recruits and older university students might actually break age-of-consent laws, depending on where the school is located. Taking an active and clear position against sexual activities between recruits and student hosts, then, would limit the legal risks for the university and their students. It would also show that the NCAA is committed to helping end practices that place women in particularly vulnerable positions.
More radically, the NCAA could call for the end of hostess programs altogether. That would take the burden off the actions of individual hosts and instead place the responsibility on the athletic programs themselves. The NCAA should suggest alternative programs that schools can implement to allow non-athletes to continue their active support of the athletics department.
The NCAA also needs to acknowledge the impact that its ban on financial compensation to players has on the way that hostess programs are used by athletic departments. On Sept. 16, once again, the president of the NCAA said that he still believes firmly that student-athletes should not be financially compensated. But for the last 50 years, certain NCAA schools have been using beautiful, kind hostesses as an example of what that recruit will gain by attending that particular university. These women are a stand-in for the financial compensation that the NCAA denies players. Many people have called for college athletes to get paid. Another reason to add to the list is that it will lessen the pressure on programs to use women as a substitute.
And finally, the NCAA needs to move beyond simply offering to host educational sessions and national summits on sexual-assault prevention. It should also spend its resources actually enforcing rules and levying sanctions on programs where players continue this harmful behavior and where other players, staff members, or coaches cover it up.
"The NCAA has explicit principles that relate to gender equity and non-discrimination," says Jill Gaulding, a former faculty member at the University of Iowa College of Law and co-founder of Gender Justice, a nonprofit law firm. Those principles "state that the NCAA shall 'promote an atmosphere of respect and sensitivity to the dignity of every person.'" It is under these principles that the NCAA claimed the authority to punish Penn State's football program following the Jerry Sandusky scandal. (Though news broke this week that the NCAA would be significantly lessening some of those sanctions.)
"When it wants to," Gaulding said, "the NCAA puts real teeth into its enforcement."
As Heather Corinna says, sports is an area that many consider "the most masculine of places." If the culture in football programs can be changed, even in small, incremental doses, to better respect the humanity of women, the effect of those changes will extend far beyond the perimeters of these campuses.