Two Tacos for A Moveable Feast: A Writer's Life-Changing Barter in Tijuana
In 1972, Daniel Woodrell traded part of his lunch for a copy of Ernest Hemingway's posthumous novel. After he read it, he became determined to be a writer.
By Heart is a series in which authors share and discuss their all-time favorite passages in literature.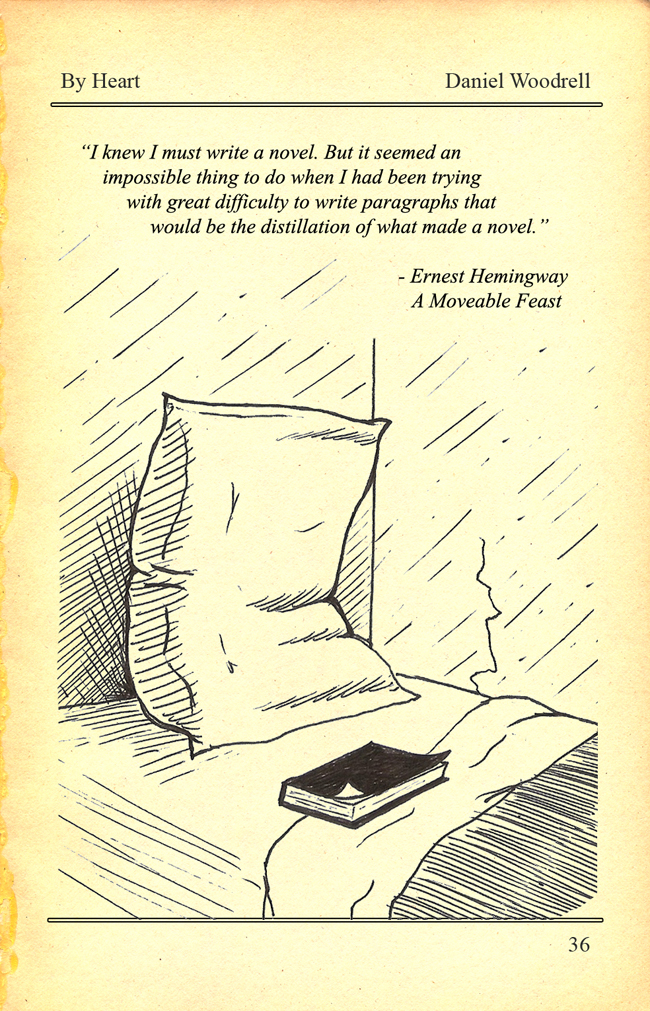 Doug McLean
Book discovery—the publishing industry's term for how readers find new things to read—can be an unpredictable process. Though book clubs and GoodReads and magazine reviewers try to codify our tastes, we often pick up books for mysterious and whimsical reasons: A conversation overheard on the subway, a beguiling title that stands out in a shelf of spines. Then there are the moments when a complete stranger hands you something new and life-altering and tells you, Just read this.
For Daniel Woodrell, author of Winter's Bone, this book was Hemingway's A Moveable Feast, its evangelist a ragged Tijuana alms-seeker.
Woodrell's stories, largely set in the hills and hollers of the Missouri Ozarks, are a long way from Hemingway's Paris. But as he describes in his essay for this series, the book's terse lyricism ensnared him so completely that Woodrell—then a high-school dropout and listless ex-Marine—decided he would give his all to try to be a writer.
Daniel Woodrell's new book, on shelves today, is his first novel since 2006's Winter's Bone (and the 2010 Best Picture Oscar-nominated film it inspired, starring a then-unknown Jennifer Lawrence). The Maid's Version is based on a forgotten historical tragedy: the fatal explosion in West Plains, Missouri that rocked a city block, turned a crowded dance floor into a blistering fireball, and made national news in 1928. Woodrell's novel uses this blast, which in real life occurred for unknown reasons, as its point of origin, and refigures it as a brutal crime of passion. Using a Faulknerian shifting-perspective narrative, he takes readers through the tangled lives of the victims towards a central story of attraction and betrayal.
---
Daniel Woodrell: In February of 1972 a snowstorm blew into Kansas City and I decided to hitchhike to California. The roads were icy, snowflakes howling, and nobody would drive me to the highway, so I humped through the snow and ice and caught a ride with a concerned cop to the Kansas Turnpike. I had my sea bag, a few shirts, socks, a sleeping bag, two notebooks I expected to fill with my observations of the world and the beatnik poetry (even high school dropouts think they can write beatnik poetry) that would spring from my observations. For sustenance I had $50 and a large jar of honey. The first night I stopped to visit a pal in Topeka who lived over a tavern, and the next day I had $28 and a large jar of honey. People were nicer to a hitchhiker in a snow-scape, plus my sea bag announced that I'd been in the military, and that attracted rides.
I was almost 19, out of the Corps for 60 days, and off on what felt like a mandatory hitchhiking trek to rejoin my generation. Three days later I hit Tijuana with an excited kid from Minnesota who'd never been anywhere famously nasty before. We lodged at Caesar's on Avenida Revolución, because I'd stayed there many times while stationed at Camp Pendleton. The food was good (the salad was invented there) and the bar on the first floor had a lot of character. You were also unlikely to get rolled in your sleep at Caesar's.
Next day I bought a few tacos from an old woman cooking on a brazier curbside, and as I chewed the first this bum comes up to me and says, "How's Lassie taste?" He was American, a little too young to really qualify as a bum, maybe, but, man, the fucker was in sad shape. His stink stood out even among the stinks of Tijuana, and he seemed off in the eyes.
"But maybe it's Ol' Yeller today."
"You want one, say so."
"I want two." He held up a paperback book, waved it before me. "I'll trade you this for two."
I wasn't hungry anymore and took the deal. It was A Moveable Feast, by Ernest Hemingway. I'd never read him, famous as he was, and thought I might've just gotten screwed. "Is this a cookbook?"
"No. But it'll make you hungry, man."
Me and the kid from Minnesota parted ways after a few nights flopping at the Holy Order of Something-or-Other, in the Tenderloin of San Francisco. We ate supper with the Brown Brothers there, but lunched at St. Anthony's. He had money coming to Wells Fargo and missed Minnesota and certainty. I got a job handing out flyers advertising soaps, vacuum cleaners, hair-care products, mostly around Union Square. The Holy Order had good soup and great dark bread but you had to sleep with your clothes wadded under your head if you wanted to put them on in the morning. We'd pool nickels and get jugs we shared, but guys from that crowd were always after me to give them a boost into open windows visible from an alley, any alley, or keep watch on the corner while they muscled a guy in the middle of the block, any block. It was free to flop there, but I had earned $25 on my own and spent $18 to book a week in a private sleeping room on Eddy Street.
It was in a grim room on Eddy Street that I finally opened A Moveable Feast. I read it all overnight. I read it again the next day. I didn't know the names he dropped—Ford Madox Ford, Gertrude Stein, Pascin and Pound—but I knew I was getting something from a book I'd never gotten from a book before: a sense of vocation. I'd always wanted to be a writer but hadn't committed to it yet—it was all a vague sort of future I'd wander into somehow, someday. But that book shined a light, lit the path. The Tenderloin became my Paris. I stared hungrily into bakery windows and felt Hemingway gawking over my shoulder. The book fit into a butt-pocket on my jeans and I kept it with me, wore it out. I observed the California poules tricking in the rush hour on Geary Street, blowing guys while they waited for the traffic jam to loosen. I saw drunks trying to steal the shoes off each other's feet though neither could stand. I saw guys who might kill each other making bloody messes on the sidewalk while trying. Everybody who'd talk had a tale of true woe or malarkey to unload, and I was all ears.
Then I'd re-read the bit about shaving the pencils just so, the blue notebooks, the orange peelings dropped on the fire, the priestly dedication—I needed very much to devote myself to something demanding, something I would give everything to all the while knowing my everything might not be enough, but less than everything meant you wanted to lose and I did not. Hemingway could sell that to a troublesome kid, thank god.
Three years later I was at college part-time, loading trucks part-time, and writing short stories at night. I kept thinking about Hemingway. I read In Our Time, and my head turned over. I recognized the world, but not the presentation—what was he doing and how? I stumbled onto two books that helped a lot—The Apprenticeship of Ernest Hemingway, by Charles Fenton, and Hemingway: The Writer as Artist, by Carlos Baker. They didn't clear everything up, solve all the riddles, but they parted the weeds so I could see the river. I read all the Hem I could get and that was everything—the library at the university had actual copies of the transatlantic review editions he'd helped edit, and I bent my head to smell the pages. Through it all, one line from A Moveable Feast helped guide me:
"I knew I must write a novel. But it seemed an impossible thing to do when I had been trying with great difficulty to write paragraphs that would be the distillation of what made a novel."
Here he'd stated a sense of composition and aesthetics I still respond to, and I kept compression always on my mind.
In another year I could imitate Hemingway so well that a professor at the university used my stories to illustrate the uses of mimicry. I could do Hemingway in my sleep—then came the wretched, hateful time when I knew I had to drop him so I wouldn't be doing him while awake. I had to avoid him altogether and did for 20 years before I came back. I felt awful when I dropped him, an outright betrayal, but a necessary treachery, one I knew he'd understand.