The News vs. The Newsroom: Just How Awkward Was Election Night 2012?
Comparing the HBO series' depictions of last year's presidential race to what really happened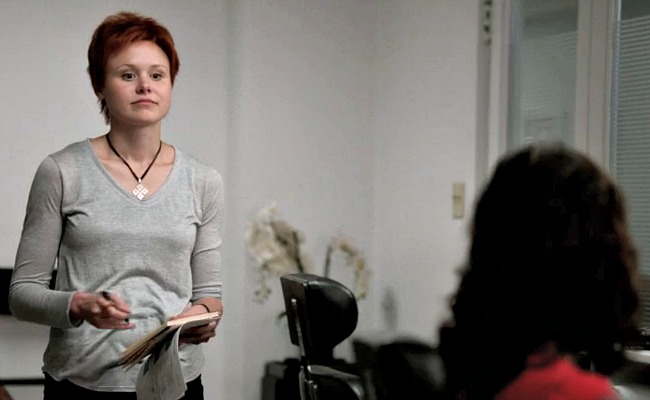 HBO
How does The Newsroom's version of news events from last year fit in with the way those events really unfolded in the media? Not always perfectly—but not always incorrectly, either. Here's how the eighth episode of Aaron Sorkin's HBO series' second season compares to the real-life news coverage of the time period it portrays.
---
The Newsroom: Elliot Hirsch's off-the-cuff election-night segment on the Decision Desk, the "entire brain of the operation," explains how ACN's team of Ph.D.s breaks down the election and polling data as it comes in. Elliot interview-ambushes analyst Kathy Ling, asking her for any available updates twice; she has nothing to offer him either time, and uncomfortably shuts him down.
The news: On the night of Nov. 6, 2012, MSNBC ran a segment very similar to ACN's that took viewers inside the network's nerve center of sorts. MSNBC's package, however, made a convincing case for pre-taping, as analysts were interviewed during what appeared to be their less stressed-out hours before the election, cheerfully explaining their roles in the network's election reporting.
Elliot's on-the-move Decision Desk interview, though—particularly its palpable awkwardness—has a distinctly smirk-y homage feel to it: On Fox News's election-night coverage, anchor Megyn Kelly famously took an unscripted stroll over to Fox's own Decision Desk to ask some analysts for updates and explanations when guest panelist Karl Rove questioned the Decision Desk's projections on Ohio's vote.
---
The Newsroom: After Jim mixes up the abbreviations for Michigan and Mississippi, ACN accidentally calls an election in the 1st Congressional District in Michigan for the Republican incumbent Dan Benishek. Decision Desk analyst Kathy Ling urges them to retract the call; she assures them that the Michigan 1st District will, indeed, re-elect Benishek eventually, but it'll be too close to call for a while. Fearing they'll lose their jobs if ACN has to issue another retraction, Jim and Maggie wheedle over whether to officially retract the call. Ultimately, they quietly pull it from the airwaves without a statement.
The news: Too close to call, indeed. We'll know more about the consequences of Jim and Maggie's decision when election night continues next Sunday, but in real life, it was an election decided almost a week later by less than one percentage point. News outlets reported the next day that Benishek had unofficially declared victory at 4 a.m. even though his Democratic challenger Gary McDowell refused to concede. After an official count showed that 48.2 percent of the vote went to Benishek and 47.4 percent went to McDowell, the Democrat finally conceded on the night of Sunday, Nov. 11.
---
The Newsroom: On election night, Don's former tennis partner John Webb, the chief of staff for a California congressman, promises Don and Maggie a "much bigger story" if they'll hold the unflattering story they're reporting about his boss. When Webb comes back to Don and Maggie, it's with a juicy tip and two sources who have promised to go on the record, so they take the story to Mac, Will, and Charlie.
"As long as it's not a potentially libelous story about misconduct in the U.S. armed forces," Charlie says, "I'm listening."
"David Petraeus is about to resign over an extramarital affair with his biographer, a lieutenant colonel in the Army Reserve," Don replies, after a long pause. "And the commander of U.S. forces in Afghanistan will be investigated with regard to a relationship with a Florida socialite who is receiving harassing emails from General Petraeus's mistress."
The news: The news of David Petraeus's resignation broke on Nov. 9, 2012—three days after the presidential election—and the story was that Petraeus had resigned already in connection with his affair with author Paula Broadwell. So even if major networks did get early, unofficial word of the CIA director's impending resignation, they apparently waited to act.
NBC Washington correspondent Andrea Mitchell, who broke the story, read the letter Petraeus had distributed at the CIA explaining the circumstances of his resignation during a special report anchored by Brian Williams. Williams's assessment: "This is clearly a way of saying to the CIA community and the public at large, 'This is not about Benghazi. This is not about anything that has happened at the CIA.' This is, sadly, about something terribly personal."
However, Jill Kelley (the Florida socialite Don mentions, who complained about receiving disturbing emails from Broadwell, who saw her as a rival) actually surfaced later on. It was somewhere around Nov. 11, a few days after the initial news broke, before she began to feature prominently in the news. Several major outlets ran stories of the "Who is Jill Kelley?" variety around Nov. 13, a full week after The Newsroom's Don and Maggie get the tip.
"Her detractors say 37-year-old Jill Kelley of Tampa is nothing more than a name-dropping, social-climbing, bored socialite," said ABC's Brian Ross on Nov. 13. "But she somehow got close to two of the most powerful men in the country, and they are paying a price for it."