The News vs. The Newsroom: Election Night 2012 Was Weirder in Real Life
Comparing the HBO series' depictions of last year's presidential race in its season finale to what really happened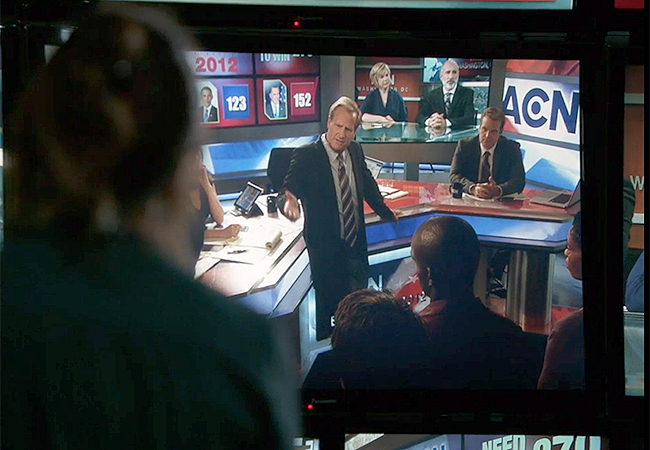 HBO
How does The Newsroom's version of news events from last year fit in with the way those events really unfolded in the media? Not always perfectly—but not always incorrectly, either. Here's how the final episode of Aaron Sorkin's HBO series' second season compares to the real-life news coverage of the time period it portrays.
---
The Newsroom: At an election-night watch party, Rebecca Halliday and Leona Lansing giggle incredulously over news that a pregnant woman in Arizona has run over her husband with a car because he didn't vote for Mitt Romney. "They were in a parking lot, she was chasing him around a lightpole, he tried to make a run for it, and she pinned him at the curb!" Rebecca explains giddily.
"Where are you getting this from?" asks Charlie.
"Twitter," they respond before collapsing into a fit of laughter.
The news: Holly Solomon, a 28-year-old, six-months-pregnant woman in Gilbert, Arizona, was indeed accused of running over her husband Daniel for not voting against the president. But nobody would have known about it on Nov. 6, 2012—not even from early reports on Twitter. Solomon didn't allegedly hit her husband with a car until the following Saturday, Nov. 10.
As Rebecca explains on The Newsroom, Solomon chased her husband around the parking lot in a car while he ran away on foot. He took refuge next to a lightpole, and she circled it "more than a dozen times," according to an NBC news report, before she pinned him underneath the vehicle.
"Before he was ever hit, I was already dialing 911, because this did not look like the usual argument between two people," one witness said. "To get into an argument of that magnitude over an election is—is terrible."
---
The Newsroom: Jim and Maggie continue trying to cover up the fact that they preemptively called a race in the Michigan 1st Congressional District by accident and then pulled the call from the air without a retraction. As the race tightens up, Jim calls in analyst Kathy Ling and asks her if she's still confident that Republican incumbent Dan Benishek will keep his seat. "51 to 49 red," she assures him. "Or, if you want to be more exact, 50.6 to 49.4."
At the end of the episode, the Michigan 1st District vote tally is shown to be adding up in Benishek's favor.
The news: Jim and Maggie couldn't have picked a worse race to screw up: Dan Benishek's victory over his Democratic challenger Gary McDowell was eventually decided by a margin of 2,297 votes—less than one percentage point. As we mentioned last week, Benishek's campaign declared victory the next morning, on Wednesday, Nov. 7, but McDowell's campaign didn't concede until Wednesday afternoon. When all the votes were counted, McDowell took 47.6 percent of the vote while Benishek nabbed 48.1 percent.
According to Michigan news outlet MLive, McDowell's campaign referenced "discrepancies" in the Associated Press's reported numbers.
---
The Newsroom: The end of Election Night 2012 goes smoothly and upliftingly for the News Night staff. ACN calls Ohio for Obama, effectively projecting his re-election as President, then Mackenzie and Will promptly get engaged. Champagne is poured, cigars are lit. Maggie and her roommate Lisa reconcile; Reese decides that Mackenzie, Will, and Charlie will all keep their jobs; and the season closes on a shot of Maggie clicking on a yellow-flagged news alert from Beijing, China (perhaps related to a massive snowstorm that hit Beijing the first week of November, just before the Communist Party's 18th Congress).
The news: Real news outlets had a much more stressful election night than ACN's. Fox News, for instance, hosted what will likely be remembered as one of the more uncomfortable moments of live TV ever: Karl Rove, former White House advisor and Fox commentator, repeatedly refused to accept the Fox Decision Desk's call that Obama had won Ohio. "I think this is premature," he said. "We've got to be careful about calling these things when we have, like, 991 votes separating the two candidates and a quarter of the vote yet to count."
"Well, that's awkward," laughed co-host Megyn Kelly, just before she embarked on her famous impromptu journey on foot to the Decision Desk offices of Fox News. The Decision Desk, of course, stood by their call.
So many awkward moments occurred in TV news that night, in fact, that CNN compiled a highlights reel of the weirdest live-television moments of the 2012 election. Among them: Rove's stubborn refusal to accept defeat, ABC host Diane Sawyer's loopy on-air antics, and the radical Donald Trump tweet that invited some off-the-cuff snark from NBC's Brian Williams.