The Lost Art of the McCarthy Hearings
"They looked so evil I had to draw them."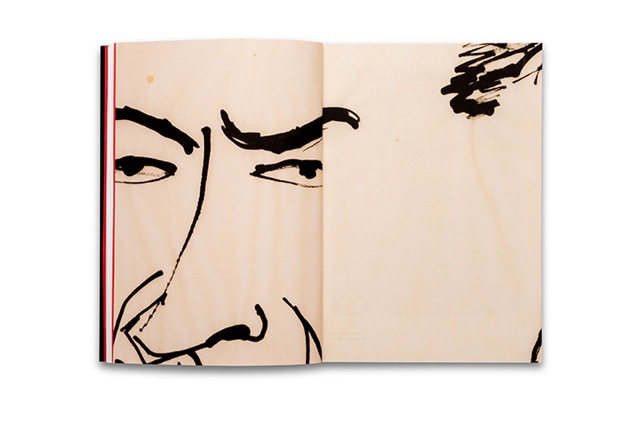 Joseph McCarthy's campaign against Communist infiltration in American life tarnished hundreds of lives, made cowards of the powerful, and cast aspersions on the U.S. military. The latter fact led to McCarthy's starring role in the first television reality show: the Army/McCarthy hearings, held by U.S. Senate's Subcommittee on Investigations to sort out accusations on both sides. It was televised between April and June 1954 to millions of enthralled TV viewers and precipitated McCarthy's demise. In the home audience was a young newlywed and artist named Arline Simon Oberman, who, while caring for her ailing mother, sketched dozens of small portraits of the various participants.
These long-forgotten sketches now offer a unique, intimate document of the moment. Recently discovered by her daughter, Emily Oberman, a graphic designer,  some of them are collected into a curiously moving limited-edition booklet titled Drawing McCarthy. It contains a foreword by Victor Navasky and is part of the "Pentagram Papers" series issued through Pentagram Design, where Oberman is also a partner.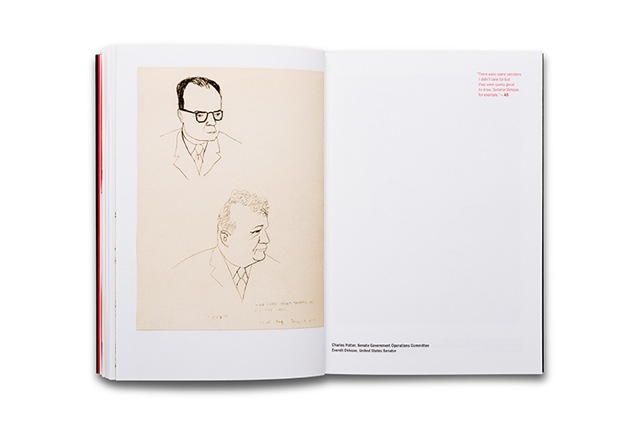 Anyone familiar with the 1964 documentary Point of Order!, directed by Emile de Antonio (clips of which are on the web) or the Oscar-nominated feature Good Night and Good Luck, about Edward R. Murrow's famous TV blast at McCarthy, will recognize some names of famous and infamous participants. But even to those for whom the hearings do not prompt recognition, these simple pencil and pen and ink renderings open a door to one of the nastiest periods of U.S. demagoguery.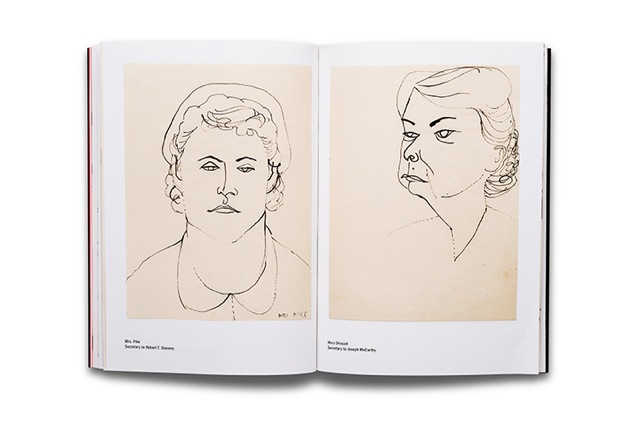 The unprecedented televised Senate hearings gave Arline Simon (her professional name) her first insight into McCarthy and Roy Cohn, his legal counsel and cohort in red baiting. "The first thing that interested me were the close-ups," she said in an email. "I was struck by the fact that they were truly two evil-looking men. It was obvious to me that these guys were bullies and liars. They looked so evil I had to draw them. I continued drawing the other participants as the hearings went on."
Emily Oberman's husband, Paul Sahre, also a graphic designer, was actually the first to stumble upon the drawings in one of Simon's packed flat files. "I heard him kvelling over something and came to see," Oberman told me. "I, like Paul, was blown away. We knew then that something had to be done with them but didn't know what."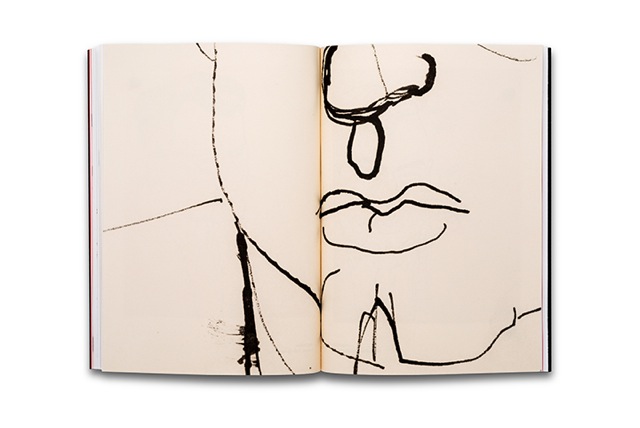 What caught their attention was how well Simon captured the evocative facial gestures that gave these portraits their emotional resonance. She was particularly tuned in when the Army's brilliant civilian counsel, Joseph N. Welch, interrogated an arrogant McCarthy. "Whenever Welch began to speak, McCarthy would respond with a creepy silly uncomfortable giggle," Simon recalled. "Weirdly, it was clear from this small and involuntary response that McCarthy was so out of control that he could not prevail. And nothing McCarthy said made sense. I still have no sympathy for him and even less for evil Roy Cohn." Despite her bias, these drawings are not partisan political cartoons, but they do subtly capture those small and involuntary responses.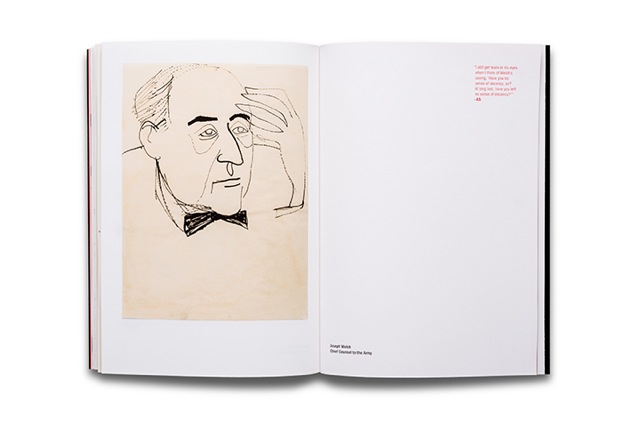 "Welch was a gentle man, calm, sincere and logical," Simon added. "He was a role model." Such is her esteem for him that she's currently working on a painting based on Welch's famous, knockout statement to McCarthy: "Until this moment, Senator, I think I have never really gauged your cruelty or your recklessness. … Have you no sense of decency, sir?"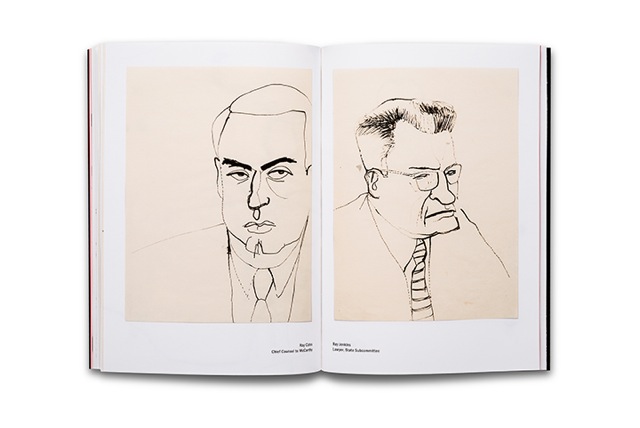 "I am pleased and proud of the drawings," 
said 
Simon, almost 60 years since the hearings. "They seem to have held up both artistically and intellectually. McCarthy and Cohn remain just as evil now as they were then. And Welsh's iconic speech and his agony over McCarthy's brutish behavior still brings tears to my eyes."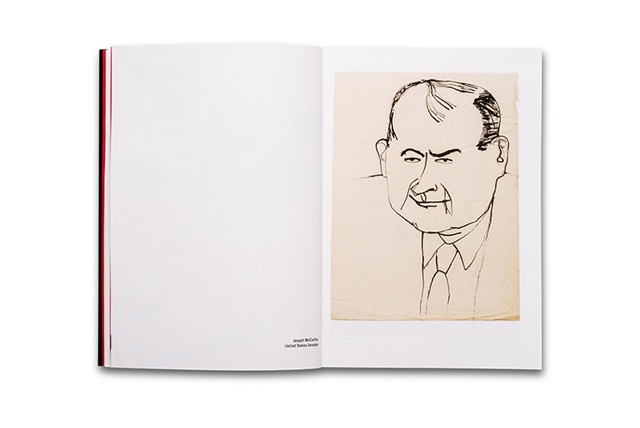 And these images remain arguably relevant today: "To see a witch hunt back then makes it easier to spot a witch hunt now," Oberman said. "And as far as the drawings themselves, the line-work feels modern, timeless and nostalgic all at the same time. My mother was live-blogging the event before there was such a thing as live-blogging."
---
Images courtesy of Pentagram.