The Depressing Familiarity of the '90s Alt-Rock Reunion Boom
Bands like Mazzy Star, the Pixies, and Sebadoh have been regrouping and releasing new music in much the same, cash-in spirit the boomers did.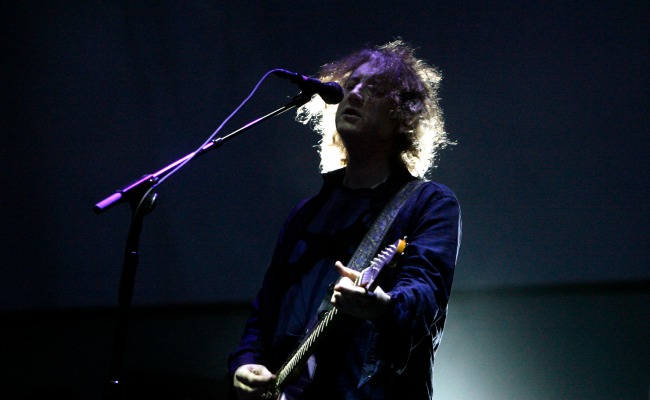 The Rolling Stones have a one-way discography.
If you listen to their old stuff—mostly the years from 1968 to 1978—you might give their new material a chance. But hardly anyone listens to anything the Stones made in the last 30 years and then rushes to pick up the band's back catalogue. The Stones' sound stagnated, and putting out albums became a formality, a concession to the system. The real action takes place on tour, where the gang regurgitates the classics. Approaching the library of a band like that, you only travel old-to-new.
This is unusual only because the Stones never really broke up (though they came close). Grizzled peers like Led Zeppelin, the Who, and the Eagles reunited their members to embark on Stones-like second careers, and a number of slightly younger bands—'80s icons like Duran Duran, the New Order, the Police, and the Jesus and Mary Chain—have also regrouped since the late '90s. Sting recently told The New York Times that the Police tour served as "an exercise in nostalgia." These bands get back together to make money from their old songs, and if they record new music, it generally emulates previous material.
Not all aging rockers fall into this pattern, of course. Elvis Costello, who has a new release this week, is an example of an artist who constantly tries to reinvent himself, often by rotating collaborators and sounds: Allen Toussaint and New Orleans soul in 2005, bluegrass, country, and folk in 2009, the hip-hop band the Roots for the new Wise Up Ghost. Every album isn't the quality equivalent of an early record like This Year's Model, but Costello fights against fossilization, and the result is that he has a two-way discography: Maybe you're not totally sold on Wise Up Ghost, but hearing Costello's strange croon rub against snappy funk beats, you can feel sparks that might compel you to try some of his other work. Some aging artists grow more content, others (also the Stooges, Kim Gordon, and Sting sans Police) more restless.
Now another wave of re-forming groups, made up of rock bands who helped define "alternative" and "indie" in the late '80s and early '90s, has arrived. This month brings new albums from Mazzy Star and Sebadoh, whose last albums came out in 1996 and 1999 respectively, though Mazzy Star toured in 2012, and Sebadoh has toured on and off since 2007. My Bloody Valentine started performing again in 2008 and put out their first album since 1990's Loveless this year. Several members of the Replacements recently played their first show together in 22 years and released an EP (previous 'Mats album: 1990 as well). The Pixies have been touring since 2004, when they also released a new song and a cover, and this year three fourths of the original members worked on a new song and a new EP. (Previous Pixies full-length: 1991.)
In returning to action, many of these bands have started to build one-way discographies of their own—a fact that may have horrified their younger selves.
In the '80s and '90s, these acts made their name by being unorthodox and challenging mainstream conventions. The Replacements were so adamantly anti-establishment that they basically destroyed their career once the market threatened to embrace their mixture of punk fervor, pop instinct, and outsider yearning. Sebadoh helped define an early '90s lo-fi indie-rock aesthetic, and in their own, quiet way, Mazzy Star's gentle drift seemed like rebellion in a world full of crunchy rock songs. The Pixies combined thunderous rock with humor and plain weirdness, famously attracting the admiration of Kurt Cobain, who liked to say he stole many of their ideas for his massive-selling Nevermind.
But these groups got back together seemingly not because they want to shake things up, nor because they have new things to say. In the media, Sebadoh front man Lou Barlow has offered the clearest explanation for the mindset that leads to a one-way discography. Spin reported him torn between contradictory impulses, feeling "honor-bound to churn out new songs rather than just trotting out nostalgic numbers night after night," but eagerly reassuring everyone that the new stuff sounds like "classic Sebadoh records." Pixies' lead singer Black Francis put the same notion to The New York Times, but sounded a little more desperate: "If we're going to keep touring... we need some kind of new story, a new life, something." Similarly, Rolling Stone reported that Mazzy Star's "impetus for finally releasing new music was simple: an upcoming tour that will kick off in November."
It's easy enough to understand why bands do this. But the results are often boring. The recent Sebadoh EP, Secrets, reprises the band's less-interesting releases from the second half of the '90s, when they toned down the experimentation and innovation that characterized their early work. Secrets contains the lyric, "the time / just happens to be now / so . . . let the new things go," and the new full-length out this week, Defend Yourself, takes this advice. There's energy, but little variation, and certainly no attempt to return to Sebadoh's early unpredictability. The upcoming Mazzy Star album, Seasons of Your Day, similarly channels the group's old aesthetic, as if the members headed right back into the studio after 1996's Among My Swan. At least Mazzy Star can simulate continuity, which is more than can be said for the Pixies' new collection. It's titled EP-1, a fittingly generic name for its generic four tunes. No one will listen to this and start looking for earlier Pixies albums.
The Replacements' Songs For Slim EP, recorded to benefit stroke-ridden former guitarist Slim Dunlap (who replaced original guitarist Bob Stinson), tries to avoid the burden of expectations by focusing on cover songs. Look, lead singer Paul Westerberg seems to say, we're still properly sloppy and uncaring, just like we were back in the '80s. But sloppiness isn't inherently interesting. There's not much of the "rock like murder" Westerberg described in his recent interview with Rolling Stone; it's the band on autopilot.
My Bloody Valentine is the only act in this recent wave that has aimed for the Elvis Costello ideal, putting out a record because the members wanted to, rather than because they needed something to promote on tour. Not surprisingly, they are also the only group whose new release, mbv, attracted enough acclaim that it might actually earn new fans rather than just placate diehards. My Bloody Valentine's '80s albums were more innovative than albums like the Pixies' Doolittle or Sebadoh's III, so even trying to reclaim similar territory would seem daring. But mbv actually attempts a few new things too. "New You," for example, sounds as if maybe the band listened to some funk in their off time, and there are strains of other dance music that poke through the album unexpectedly.
The lineage of mbv differs, too, in crucial ways from its competitors. Unlike the stars of the Replacements, the Pixies, Mazzy Star, and Sebadoh, the leaders of My Bloody Valentine—mainly the talented and erratic Kevin Shields—haven't put out solo albums. (Shields has played guitar on a few releases from other artists.) This means My Bloody Valentine has rarity as well as nostalgia on their side. And time: According to interviews, some of the songs on mbv were started during the '90s, while other parts of it bounced around inside Shields' head for 15 years.
But bands  don't need to have followed My Bloody Valentine's unusual career path in order to return with interesting material. Right now, many buzzed-about younger rock acts—Speedy Ortiz, Yuck, The Pains of Being Pure at Heart—are offering creative takes on the foundations built by this crop of re-formed bands, threatening to outdo their idols at the game they invented. Conceivably, those idols could similarly innovate on their original ideas. After all, the Stones' last truly inspired original album, 1978's Some Girls, was a fiery response to the new forms—punk and disco—that threatened to brushed them aside in the late '70s.
Then again, Some Girls was about 10-ish albums ago for the Stones. (Tattoo You, their only vital post-'78 record, fleshed out unreleased ideas from '70s recording sessions.) So reunited '90s bands should be wary. They have a while before they hit Mick Jagger's age, and that's a long time to drive in just one direction.