Seamus Heaney's Extraordinary Generosity
From their first meeting to their final letters, a poet friend remembers the Irish poet's kindness.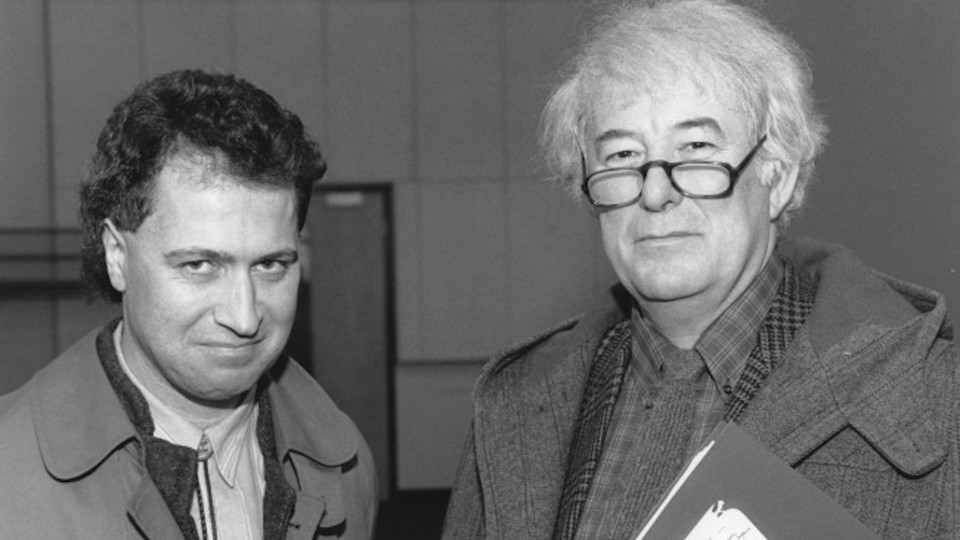 ***
How odd and "scaresome," to use a word in one of Seamus's early poems, to think of him as mere memory, that I would never get to be in his company again. You were not "only you" but "you too" when you were with him.  So many people would say the same in the media over the coming days and weeks. With him you became your best self.
***
The first time I met him was for a drink in the now-defunct Wursthaus in Harvard square after I, a young poet from Cork, rang him out of the blue with my first book. The nervousness I felt before meeting him quickly turned to ease in his company. As we finished up and he rushed off to catch a flight to a reading he asked where I was staying. Finding I hadn't figured that out yet, he gave me, without pause, the keys to his apartment in Harvard, and said he wouldn't be back for a week.
***
He came to give a reading, the first of two, at the college I teach in, Saint Michael's College, and stayed with us both times. Before a meal we went for a short walk—he didn't much like physical exercise— by Lake Champlain. In the book of photographs titled Likenesses by Judith Aronson, in which the subjects sometimes wrote about other subjects, I was delighted and honored to read Seamus's memory of that visit and walk (none of the subjects knew who wrote about whom till after the book was ready for the publisher):
Burlington, Vermont. The early 1990s. Late winter afternoon, a few hours before I am due to give a poetry reading in St Michael's College. I have come up from Harvard and my host is taking me for a walk along the shore of deep-frozen Lake Burlington, where the skaters swerve and skim "in games confederate", as Wordsworth once put it, "along the polished ice". But where Wordsworth's skaters "hissed" along, these ones produced a deeper sound, a sort of steady chthonic murmur, as if the "url" in Burlington were being "rolled round in earth's diurnal course". So we stopped and stood for a good long while, just listening, facing the old ice-music, and I knew even then that the moment would turn into one of those oddly abiding "spots of time"…

Greg Delanty is the friend I meet every time he comes back to Ireland, the one whose demotic idiom can never prevent high seriousness breaking in or out, the one who reminds you by his utter dedication to the art and his forthright, even furious enthusiasms and dismissals that a poetic vocation is being pursued in earnest. And this is also recognizably gregarious Gregory of Corkus, author of a merry work in progress, a pseudo-Greek Anthology, a cod literary game refracting strong convictions, among other things a coded "who's who and what's what in the poetry biz".

But for all the good company we've enjoyed at pub counter and kitchen table, for all the bonding and banter, the poet in him and the one in me were closest when we stood recollected in tranquility that afternoon in wintertime Vermont.

"Rum do, this art", the painter Turner is supposed to have said once. Ditto this poetry.
I will carry that little piece in my wallet for the rest of my life.
***
I wrote of Marie for the photographs of Seamus and Marie:
Marie Heaney lifts the heart. I have been fortunate enough to have often been in the Heaney household. One feels at home talking to Marie as she cultivates her plants with such certainty, fixing supports for her flowers so they can grow and blossom. She has the strength and humility to allow you to be yourself, to blossom into your best self; to laugh, gossip, curse, give out about the poetry world, be concerned about friends, chat about her two sons and her daughter, to have a laugh. She is naturally modest of talking about her own work: her work in publishing, her fine writing in Over Nine Waves: A Book of Irish Legends. She is also a marvelous cook and if you're lucky in the midst of lively table-talk, she might sing. She can also be very witty and that is caught in these photographs. The playfulness between her and Seamus is evident.

Both Marie and Seamus make everyone feel special. I have often realized this when I hear other people talking about a night spent in the Heaney household, how they felt at home. When I am in the Heaney's' company I could stay there forever. All this, of course, will embarrass her, but to finish and to quote a poem "The Clothes Shrine" of Seamus:

As if St Brigid once more
Had rigged up a ray of sun
Like the one she'd strung on air
To dry her own cloak on . . .

Marie is the light beam where we hang our heavy wet coats and are made light of.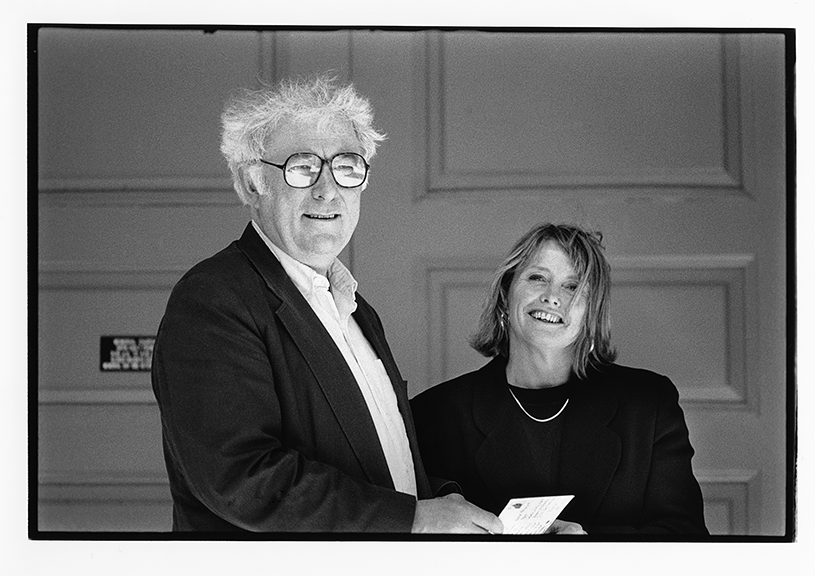 © Judith Aronson
***
Seamus and I talked in the phone regularly. We'd chat about whatever he was up to at the time, about Catherine, his daughter, and Michael and Chris, his sons, or Anna Rose, his grandchild, who he dubbed Hosanna. One Christmas he left a beautiful message on our answering machine. How I wish now it hadn't been erased by mistake.
And there would always be the Christmas card from Marie and Seamus with a poem of Seamus's.
***
He would frequently send cards and letters (commending on poems, or perking me up from some literary disappointment, or telling me of the latest trip or reading). The most memorable card was a post card with a scene from Saint Lucia, which was sent while he and Marie were visiting Derek Walcott and Sigrid Nama. When I read it, I saw the stamp was of Derek Walcott. Seamus himself wrote a little parody verse of Yeats's poem "The Stolen Child" set in Saint Lucia and Seamus, Marie, Derek and Sigrid each signed the card with  love, with "wish you were here." It is now in The National Library of Ireland with my papers.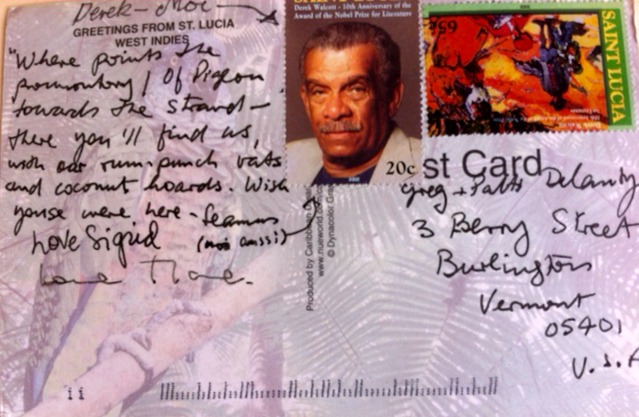 Courtesy of the author
***
I once mentioned to Seamus I was in financial difficulty, and a day later I opened overnight letter from Ireland with a four-figure check in it. When I tried to pay him back sometime later he refused to take it.
***
At the launch of my Collected Poems, 1986-2006 we had a dinner of 12 people in The Tulsi Restaurant on Baggot Street, and when I went to pay the bill I found Seamus had already paid for everyone.
***
He sent a letter sent to me about my latest book The Greek Anthology, Book XVII which will be called just Book Seventeen in the US edition. The letter is framed on the desk I work overlooking Lake Champlain:
I heard the thump of a heavy envelope on the hall floor, and my heart leapt up when I discovered Book XVII and I read those first fine, careless, confident, sagacious, rapturous lines... Never mind the feet of Mount Parnassus. You are well up the leg of Parnassus by now, maybe even at the mount stage. The book has freed and founded you at once—it gets in all your voices, the extent of your knowledge, the intensity of your commitments, the delight of your skepticism, the weight, as Shoneen Keogh would say, of your passion, your rage for justice, your gumption and humor, your stylistic agility. The scope of your imagining. All of which reminds me, as I said before, of Berryman's Dream Sings, but also of Kavanagh's conviction about the strength of the comic vision. Your string is not slack—the poems have spring as well as fluency and flyness—but the true note gets played as if it were "a moment's thought"…
Later in the letter he said: "I am very touched by the work of Heanius (one of the many poets of the Book XVII). In fact I'm inclined to repeat here the words that Philip Larkin wrote to me about my essay on him in his 60th anniversary festscvhrift: he was grateful, he said, that I could treat him 'as a poet'—and he put the inverted commas round the word—and not as some versified John Osborne or cut-price Betjeman. 'Your tendresse and seriousness are gold bar, salt of the earth treasure to me. I rejoice for you and hope the book will get a great glamorous success.'"
***
When Marie and Seamus stayed with us in my home in Derrynane, County Kerry, we visited various public houses: the Blind Piper, Freddie's, The Beach Bar, Brides, An Siopa Dubh/The Black Shop. In all the bars people were excited he was in the establishment. One night, as we left The Black Shop, having been sitting privately talking and laughing in the corner of the pub, everyone stood up and applauded Seamus.