Let's Abolish the Emmy Awards: A Brave Idea From 1956
Telecommunications scholar Stuart W. Hyde advocated replacing the Emmys with a National TV Festival. After last night's ceremony, his ideas may be worth revisiting.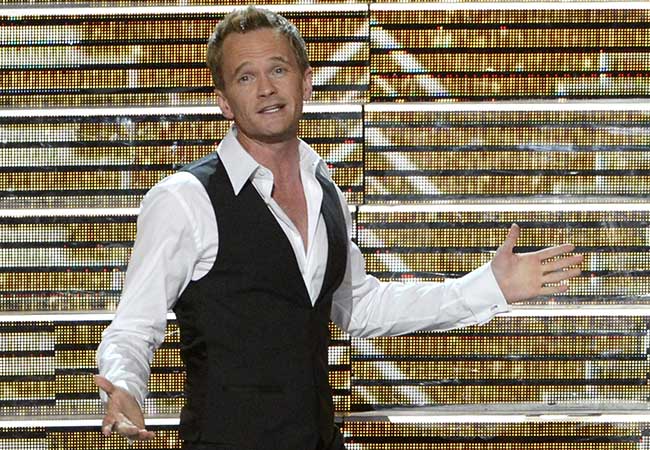 Last night's presentation of the 65th annual Emmy Awards was, according to the Internet at large, a bust.
The ceremony was boring; the jokes weren't funny; the wrong people won the awards. "Nobody ever gets one of these three-hour statuette dispensaries completely right," wrote The Washington Post's Hank Stuever, but this year's Emmys "poked along as flatly as possible. The banter had no flair for comedy." Host Neil Patrick Harris's opening monologue was "the peak embodiment of 'giving people exactly what they do not want,'" wrote The Daily Beast's Kevin Fallon, and after Jeff Daniels shocked TV audiences by beating the likes of Jon Hamm, Kevin Spacey, and Bryan Cranston in the Best Actor in a Drama Series race for his role in The Newsroom, one deadpan headline on The Atlantic Wire read, "The Internet Is Mad Jeff Daniels Won Best Actor."
"An awards show filled with skits about how bad awards shows are gave awards to people who talked about how bad the show turned out, while everyone on Twitter had decided that hours earlier," Stuever concluded. "These days, that's entertainment." To recap: The Emmys this year were a surprising low in bad awards shows, even for an awards show that understands how bad awards shows are.
So here's a brave, radical solution that's all of 57 years old: Let's just give up on the Emmys entirely.
In 1956, Stuart W. Hyde strongly believed that the Emmys were inherently terrible and wrote an article about it for The Quarterly of Film Radio and Television titled "Another Look at the Emmy Awards." Hyde (then an assistant professor of telecommunications at the University of Southern California, who would later go on to write the popular textbook Television and Radio Announcing) argued that the Emmys, just seven years old at the time, were failing to live up to their own lofty goals and were instead destroying the ambitions of the creators who would drive television forward by arbitrarily anointing one TV program the "best." In place of the Emmys, Hyde suggested, America needed a weeklong festival of TV watching.
One of the chief evils of the Emmy Awards, Hyde proclaimed, was its use of categories, which was "totally inappropriate to television."
"Television is virtually everything there is—politics, athletics, music, drama, comedy, interviews, documentary, and special events. It is, in short, everything and anything that one chooses to place before a camera," he wrote. "Through the use of the category, the entire television industry has been misrepresented to the nation; and the real achievements of the pioneers in the field have been neglected. Shows that have, in actuality, virtually nothing in common have been lumped together."
Today, some might say Hyde's last point still stands. Is it fair, for example, to pit the sometimes gritty, often discomforting Girls, which has become something of a comedy in name only, against laugh-out-loud fare like Modern Family and The Big Bang Theory?
The Emmys' own charter, Hyde noted, laid out some seriously lofty ideals for the prize. Directly from the text, he quoted its mission statement:
To hold forums for exchange of ideas on matters concerning the advancement of television. To provide a meeting place where educators and leaders in public life can discuss the types of information the public should get; art forms which will come into existence through television, and other matters.... To encourage research and accomplishment by presentation of awards. To cooperate with organizations having similar aims.
"Notice here," he wrote, "the emphasis on ideas, on advancement of the medium, on information, on art forms, and on research and accomplishment. Can any objective reader fail to be impressed by the clear statement, contained in the next-to-last line, that the yearly Emmy awards are designed to 'encourage research and accomplishment'?"
And yet the show was destined to undermine those goals, according to Hyde, by insisting that each category had to have a "best."
"Aside from the obvious fact that one category may have in it several excellent shows, whereas another may have no shows of an excellent nature"—a fact that seems especially relevant in the current "golden age of television"—"this system of awards cannot possibly carry out the intention of the Academy to 'encourage research and accomplishment by presentation of awards,'" he wrote.
He continued:
To say that one show or one person is better than several competing shows or persons is decidedly not the same thing as saying that the show or person has carried out significant research or that it has made an accomplishment worthy of note.
In place of the broken Emmy Awards, then, Hyde proposed the establishment of a National Television Festival Week that would "be held early in the year [and] would feature the reshowing of the best example of each program on the air."
He also proposed that all available stations could produce a "lengthy documentary" showing the previous year as seen through TV footage—that would include sports, news, science, "irregularly scheduled operas, stage plays, 90-minute spectaculars, and other significant productions of the year."
A festival week would certainly eliminate the possibility of stiff, unfunny banter between presenters and lifeless punchlines from hosts. But given today's sprawling selection of TV programming, Hyde's festival would probably have to be extended to Festival Fortnight or Month or even Festival Season. Binge-watching all the best TV of the year would be… well, awesome, at first, yes, but after a while, pretty impractical—and, as NPH's joyless opening Emmys segment demonstrated, potentially nightmarish.
But there's one component of Hyde's proposal that's worth considering. If the Television Academy were to insist that there still be an Emmys ceremony every year, he bargained, the least they could do would be to revamp the criteria. The Emmys could work, he wrote, provided that
the Television Academy give awards for one reason only: for significant contribution to the advancement of the art or science of television. Awards would be granted, then, not because a given television program was adjudged "better" than others in its category but, rather, because a particular person or program had pioneered in the discovery of some new fact or technique of television production; because someone … had helped expand the present limits of the medium; because … someone had placed on television a program of importance to the public, of a nature which was previously thought to be unproducible; or because ... someone had produced a great work of art on television.
If they'd been conducted according to Hyde's logic, last night's Emmys might have recognized House of Cards for decisively proving that the television medium can exist without the television set. Or they might have honored the fourth season of Arrested Development for its audacious, unprecedented format that our own Christopher Orr says is "not a series, or a movie, or even a mini-series, but rather a single, eight-hour work of dada televisual art." Or maybe they would have honored Lena Dunham or Mindy Kaling for bringing a new type of female character—the sitcom antiheroine—to the small screen. In a year when nobody can figure out how this guy beat out the guys playing Walter White and Don Draper—two of the defining characters of this generous age of TV drama—for a Best Actor trophy, a new standard might be worth considering.
But, then again, if the Emmys were to become worth taking seriously, there would be fewer awkward moments immediately immortalized via gif and fewer instant-classic camera-swats from a cranky post-loss Kevin Spacey, and who really wants that? Complain if you must, but know that change, if it's coming, might be at least another 57 years away.