Is James Baldwin America's Greatest Essayist?
His are some of the coldest American sentences ever written. But they're about love.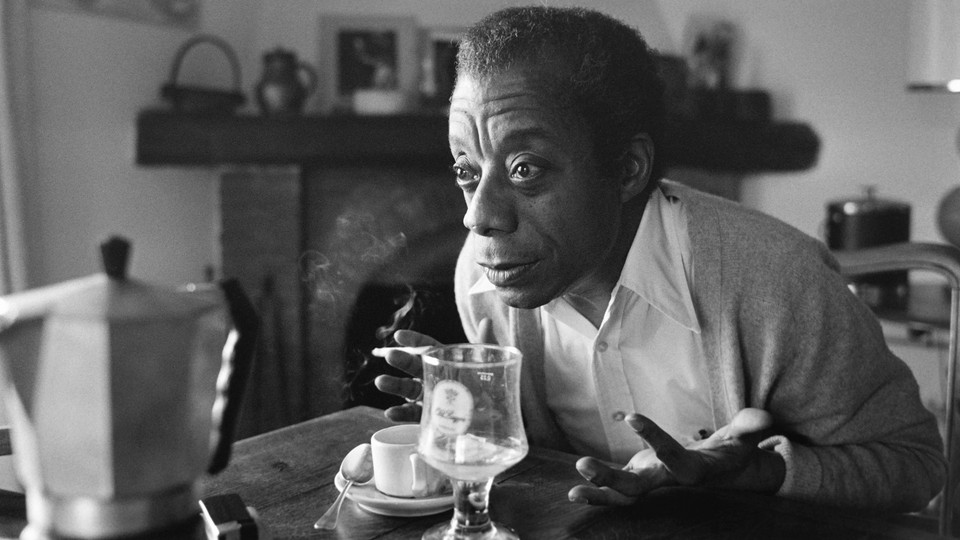 I finished The Fire Next Time on a plane to Greenville, South Carolina. I am here to give a talk tonight about the legacy of the Civil War. I probably should not have read Baldwin before coming into the backyard of John Calhoun and Pitchfork Ben Tillman. I'm all on fire and resolved to bring some of that fire forth tonight.  I have come to places like this before. I have never shrunk from speaking my piece, but I dislike making people directly uncomfortable and have a tendency in person to complicate things that I know are not complicated at all. I am resolving to move away from that. Manners have their place. I should not conflate them with cowardice.
I want to thank everyone who pointed me toward how much Baldwin really does embrace love. I am remembering what I, myself, loved about him as a young man. I came to college a total Malcolmite. I kind of still am. But Baldwin was among a set of influences that talked me out of my younger self. He is tough to pin down, because he understands the anger in black people, he feels it himself, and fears it. There is something of the atheist about him, though he does not directly say it. His encounters with racism leave him on the edge of violence and hatred, but The Fire Next Time is all about why one should walk back, all about why you should never judge yourself by the standards of the owner of the boot presently on your neck.
That is how Baldwin got me. He revealed to me that black nationalism is, itself, a kind of philosophical integration. If you listen to any of Malcolm's speeches they sound like they are straight out of the Enlightenment, and Malcolm himself uses the American revolution and the nationalism of whites around the globe as a model. Baldwin's reply is not to interrogate black nationalism in isolation, but to interrogate nationalism—and the nation—itself. He hates the hypocrisy and self-congratulation of white liberals and though he loves hard, though he deeply understands that race is a creation, he is never blinded by love:
The real reason that nonviolence is considered to be a virtue in Negroes—I am not speaking now of its racial value, another matter altogether—is that white men do not want their lives, their self-image, or their property threatened. One wishes they would say so more often.
More:
Now, there is simply no possibility of a real change in the Negro's situation without the most radical and far-reaching changes in the American political and social structure. And it is clear that white Americans are not simply unwilling to effect these changes; they are, in the main, so slothful have they become, unable even to envision them. It must be added that the Negro himself no longer believes in the good faith of white Americans—if, indeed, he ever could have.
More:
Most of the Negroes I know do not believe that this immense concession [Brown vs the Board] would ever have been made if it had not been for the competition of the Cold War, and the fact that Africa was clearly liberating herself and therefore had, for political reasons, to be wooed by the descendants of her former masters. Had it been a matter of love or justice, the 1954 decision would surely have occurred sooner; were it not for the realities of power in this difficult era, it might very well not have occurred yet. This seems an extremely harsh way of stating the case—ungrateful, as it were—but the evidence that supports this way of stating it is not easily refuted. I myself do not think that it can be refuted at all. In any event, the sloppy and fatuous nature of American good will can never be relied upon to deal with hard problems.
More:
I cannot accept the proposition that the four-hundred-year travail of the American Negro should result merely in his attainment of the present level of the American civilization. I am far from convinced that being released from the African witch doctor was worthwhile if I am now—in order to support the moral contradictions and the spiritual aridity of my life—expected to become dependent on the American psychiatrist. It is a bargain I refuse. The only thing white people have that black people need, or should want, is power—and no one holds power forever.

White people cannot, in the generality, be taken as models of how to live. Rather, the white man is himself in sore need of new standards, which will release him from his confusion and place him once again in fruitful communion with the depths of his own being. And I repeat: The price of the liberation of the white people is the liberation of the blacks—the total liberation, in the cities, in the towns, before the law, and in the mind. Why, for example—especially knowing the family as I do—I should want to marry your sister is a great mystery to me. But your sister and I have every right to marry if we wish to, and no one has the right to stop us. If she cannot raise me to her level, perhaps I can raise her to mine.
These are some of the coldest American sentences ever written. When I was a young nationalist, this was the one that really shook me. "I don't what your sister—but if we wanted each other, no one has the right to stop us." It was something I'd never seen before—the black pride of nationalism fused to the undeniable morality of integration.
I don't want to cherry-pick here. On the contrary, my point is that after all of this—after all his hard talk—Baldwin is still talking about love. These essays are amazing acts of intellectual and emotional courage. I got off the plane here in Greenville and called my agent (who knew "Jimmy" as she called him) and asked, "Does anyone still write like this?" The question was rhetorical. No one does. No one had. No one will.