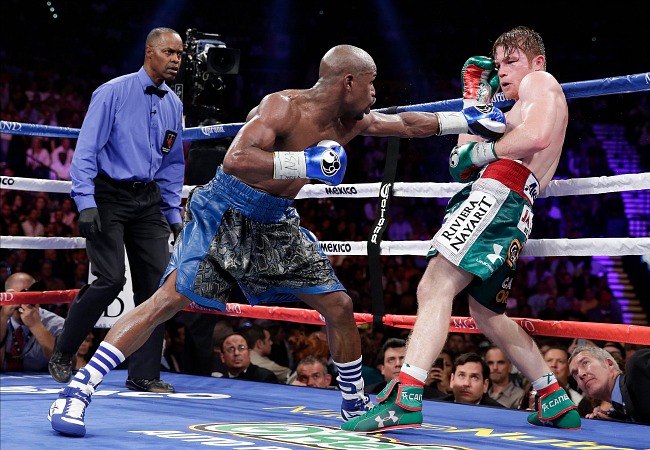 And Floyd Mayweather Jr. has won yet another boxing match. The American boxer hasn't lost in 17 years, and he handed 23-year-old Mexican superstar Canelo Alvarez his first loss in Saturday's super welterweight mega fight. Mayweather, who was guaranteed $41.5 million, is now 45-0. 
The fight followed a script similar to previous Mayweather bouts. He sized up his opponent early, peppered him with quick jabs, and then used a variety of combinations to tire, confuse, and hurt his opponent. Mayweather would throw 505 punches and connect on 232 (46 percent) while Alvarez would throw 526 punches and land 117 (22 percent). Putting it simply, Mayweather landed a lot; Alvarez missed a lot. Mayweather, 36, moved like a much younger man; he dodged and darted while Alvarez punched a lot of air inside the MGM Grand Garden Arena. Alvarez looked exhausted by the sixth round, while Mayweather looked fresh and slid around the ring with ease. It was another routine win for the best fighter in the world—same script, different opponent.
But Mayweather's dominating performances might just be posing a problem. His fights seem so easy that they lack drama.
Much of this problem is of Mayweather's own making: He has had a tendency to avoid well-matched opponents in favor of more famous fighters who are past their peak. It's called "picking your opponents well," and a boxer who wants to win and have career longevity employs this strategy to good effect.  Mayweather has done this brilliantly, but on Saturday he took on a young fighter on the rise and it created worldwide interest. Judges Dave Moretti (116-112) and Craig Metcalfe (117-111) had it for Mayweather, while judge C.J. Ross had one of the crazier scores the sport has seen in years: She had it 114-114. (Most ringside journalists had Mayweather winning most of the 12 rounds; I had it 11-1.)