How Do You Place a Winning Bet on the Booker Prize? Not by Reading the Novels
Predicting the winner of a committee-given literature award is a long shot, but English betting houses think they know the secret: Focus on the reviews, not the books.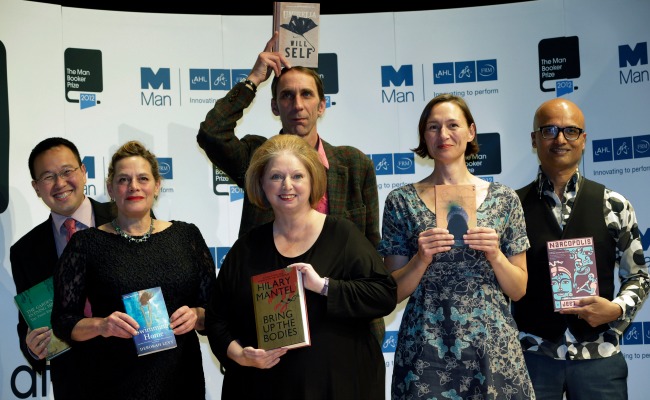 Today, the shortlist of nominees for the annual Man Booker Prize was announced. Having shrunk today from 13 down to six, the field of potential recipients of England's premier literary award will narrow down just once more—down to one—with a televised pronouncement of a single winner in October.
From this point, you could feasibly plan to read all six of the remaining nominated novels by the time the winner is announced (that is, if you read pretty quickly and ignore some of your daily responsibilities). But when the longlist of novels up for the Man Booker Prize was announced back in July, the list's 13 titles comprised 5,118 pages' worth of material.
That's a hefty reading assignment that few outside of the judging committee would even think of taking on. (Even the judges themselves might not always read every work: As A. L. Kennedy, a Booker judge back in the '90s later put it to The Guardian, "I read the 300 novels and no other bastard did.") But among those precious few power readers, perhaps surprisingly, is Graham Sharpe, the director of media relations for the English betting house William Hill.
Why? He wants people to gamble on who will win.
The slow-going, let-the-meaning-wash-over-you mentality that the Booker claims to emblematize seems at odds with the fast-talking, racetrack-influenced aesthetic of bookmaking. But betting on literary prizes persists in England, and the English media tends to frame the prize in terms of its odds.
Sharpe (whose Twitter bio includes the disclaimer "Followers 18+. Gamble responsibly") started the practice of betting on literary prizes back in the '70s, putting a highbrow, intellectual twist on Britain's national pastime of betting on silly things. That venture has since spawned similar "special bets": For those with ambition and a bankable confidence in their refined taste regarding other cultural matters, there are odds set annually on music's Mercury Prize, architecture's Stirling Prize, and art's Turner Prize as well.
The bookmakers who put out these odds, then, need a dependable, accurate method of calculating them in a way that ensures the house will still win—but also one that doesn't come with a required-reading list for potential bettors. Thus: "The most important thing to be aware of," says Alex Donohue of the Ladbrokes betting house, "is critical reception." Reading a Booker nominee, in other words, won't get you nearly as far as paying attention to the reactions of other people who do.
"We do not read all of the books and in actual fact avoid doing so in order to [not] cloud judgment," Donohue says.
While Sharpe does read the books before computing the odds, he agrees with Donohue that critics' opinions are the ones that truly matter: "I try not to permit my own opinion of the books to influence the opening odds," he says. He's learned from his mistakes, adding: "I was convinced Cloud Atlas by David Mitchell was a Booker certainty and priced it accordingly, but it was beaten."
In the nine years that Ladbrokes has taken bets on the Booker, the betting house has picked the winner successfully three times. That's a pretty good track record: If you'd guessed randomly over the past nine years, you'd have roughly a 70-percent chance of having made only one correct choice.
According to Sharpe, two of this year's Booker frontrunners—Eleanor Catton's The Luminaries, which is only her second novel, and Jim Crace's Harvest, his 11th and final one—have compelling personal narratives that may make them appealing to the Booker judges. "Crace has been knocking around for some while and could win as a tribute to his longevity; Catton is at the other end of her career but with three countries having claims on her would be a welcome winner for the organizers—pardon my cynicism," he says. Sharpe's "cynicism" is an allusion to the Booker's sometimes strained efforts to make diverse selections as evidence of its open-mindedness.
There's likely not much overlap, though, between people who care about betting and people who care about literature in England—as evidenced by the fact that Ladbrokes only saw a total of £25,000 bet on the Booker last year. A single important Premier League match, by contrast, might bring in as much as £350,000—an imbalance that would suggest the Booker odds are at best a cultural bellwether and at worst a publicity stunt.
The Booker Prize itself certainly stands to gain from cultivating speculation, though: The more people wonder who the winner is, the more they'll pay attention to the prize. The odds are even discussed on the official Booker website, complete with phrasing meant to egg on observers (Catton is "narrowly ahead" of Crace; one longshot is priced at a "very tempting" 16-1).
Publicity aside, the odds for Booker betting still have to be at least somewhat accurate. Since its odds change to reflect wagers received, Booker betting is considered what economists call a prediction market, in which bettors are rewarded for correctly calling everything from presidential elections to oil prices.
"It is easy to cherry-pick instances in which prediction markets looked bad after the fact, but when we systematically track outcomes, they are hard to beat," says Jason Dana, a visiting professor at the Yale School of Management. However, certain conditions that most literary prizes share might prevent the Booker odds from being an accurate predictor of future events. "In the specific case of betting on prizes like the Man Booker … I think that prediction markets are at their least valuable," Dana says, because, "there simply isn't as much lay knowledge about who will win to harness into a good prediction."
According to Eric Zitzewitz, professor of economics at Dartmouth College, there are some specific pitfalls of using betting odds to predict a Booker winner. "The biggest difference between a market on prizes like the Man Booker or the Nobels and markets on sporting events is the amount of data everyone has to work with. There is so much repetition in sports that analysts can work out pretty well … the probability of the Red Sox beating the Yankees on a given night," he says. Zitzewitz points to the odds themselves—those provided by William Hill, probabilistically speaking, offer a certain $1 at the high price of $1.41—as an indication that the bookmakers don't seem to know all that much for certain either.
So if winning a bet on the Booker is such a long shot, why would any rational bettor even try? Dana suggests that the answer could be just for entertainment.
"People were betting on who the next elected pope would be, presumably for fun, but that is a situation where literally nobody but an insider could really have much useful knowledge. And I'm pretty sure nobody snuck out of the college of cardinals to place a bet," he says. "The gambling houses that offer bets on current events may often be doing so for publicity."
And what is a prize without publicity? The Booker can offer a novelist instant, career-shaping acclaim, but in order to do so, the award must accumulate and retain a good deal of esteem itself. As James English argues in his 2005 book The Economy of Prestige: Prizes, Awards, and the Circulation of Cultural Value, prizes like the Booker retain their aura not despite their capability of anointing winners that disappoint the speculating masses, but because of it. Ultimately, that is, prizes like the Booker only matter to the extent that people care to let them.