An African Writer Who Doesn't Mind Being Called an 'African Writer'
NoViolet Bulawayo's Booker Prize-nominated We Need New Names serves as a reminder that spotlighting African life is different from exploitatively "performing Africa."
This post is part of a weekly series in which Atlantic staffers offer their takes on the six novels shortlisted for the Man Booker Prize.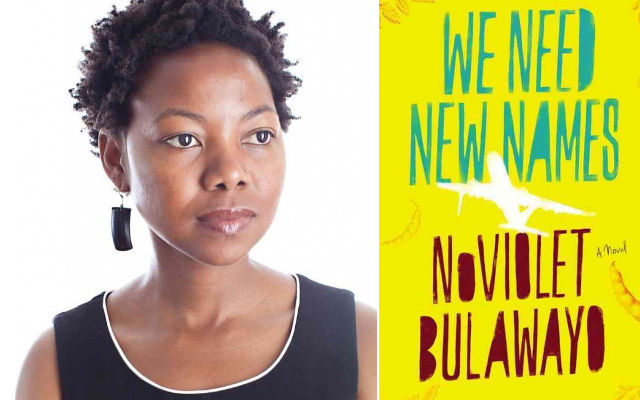 Smeeta Mahanti; Reagan Arthur Books
This year's nominees for the Man Booker Prize "could not be more diverse," according to judges. And indeed, rounding out a shortlist that includes novels by writers from England, Ireland, and New Zealand are books by a half-Japanese, Canadian-American Zen Buddhist priest; a Rome-based, London-born, New England-groomed Indian-American; and, if those aren't enough hyphenates for you, a Texas-educated first-time novelist from Zimbabwe—31-year-old NoViolet Bulawayo.
Should Bulawayo win, she would be the first black African woman to take the prize. She's already the first Zimbabwean to garner a nomination, and she won the 2011 Caine Prize for African Writing for the best short story by an African writer—"Hitting Budapest," which serves as the opening chapter for the shortlisted We Need New Names. It appears Bulawayo is well on her way to a lofty perch beside various members of the globally recognized African literati: Chinua Achebe, Mariama Bâ, Wole Soyinka, Binyavanga Wainaina, and Chinamanda Ngozi Adichie, to name a few.
Wearing the mantle of eminence and African-ness can be tricky. In an interview with The Guardian, fellow Zimbabwean novelist Petina Gappah, often referred to as "the voice of Zimbabwe," rejected the role. "I get irritated by the term 'African writer,'" she said, "because it doesn't mean anything to me. Africa is so big." In her essay "What Makes a 'Real African?'" Ethiopian writer Maaza Mengiste expressed a similar sentiment: "The question is problematic," she wrote. "It assumes a static and compressed definition of Africa. But Africa is a continent of 55 recognized states, with a population of over one billion and more than 2,000 languages. There are so many possible responses."
Bulawayo, by contrast, embraces her role as an "African writer" and, as her novel reveals, doesn't let expectations circumscribe her. "For me, I always insist that I am an African writer because it is true," she said. "I am an African. If I deny that label, my work will scream otherwise." We Need New Names, set in a colorfully dilapidated Zimbabwean township called Paradise, celebrates its African sources. The first portion of the book follows 10-year-old Darling and her friends through their days in Paradise, sidestepping broken bottles and "brownish puddles of something," racing up and down its dirt roads in search of mischief and the odd snack. Their antics range from the mischievous to the truly dangerous: They steal guavas from the tony nearby housing development; they also attempt an abortion on playmate Chipo, 11 years old and impregnated by her own grandfather.
However dire the circumstances du jour may be, Darling delivers a narration that is artfully childlike: aware of hardship, but not defined by it. In one scene, she and her cohorts encounter the corpse of a woman strung up in the branches of a tree. Darling can't get away from the grisly sight fast enough. But as she turns to leave, Bastard, the most precocious of the bunch, points out an irresistible opportunity. "Look, did you notice that woman's shoes were almost brand new?" he asks. "If we can get them then we can sell them and buy a loaf, or maybe even one and a half." The promise of fresh bread, a scent that haunts Darling throughout the book, wins out over fear, and they follow Bastard back to the dangling cadaver.
"Then we are rushing," Bulawayo writes, "then we are running, then we are running and laughing and laughing and laughing."
But does that sort of stoic cheer in the face of brutality risk conjuring up stereotypical "African-ness"? In a piece about Bulawayo, the Nigerian novelist Helon Habila alluded to a problematic tendency one critic called "performing Africa," the impulse "to inundate one's writing with images and symbols and allusions that evoke, to borrow a phrase from Aristotle, pity and fear, but not in a real tragic sense, more in a CNN, western-media-coverage-of-Africa, poverty-porn sense."
If that is a temptation some detect in new fiction emerging from the continent, Bulawayo mostly resists it. We Need New Names doesn't aspire to be a representative comment on the Third World condition, or the divide between the global North and South. Bulawayo touches on those themes, but what she achieves through Darling's thoughts and observations is a transnational coming-of-age story and immigrant's tale, as Darling realizes her childhood dream of coming to America.
In Kalamazoo, Michigan, Darling's resilience leaves plenty of room for disillusionment, too—for a view of the U.S. that doesn't measure up to her own Western-media-coverage-inspired hopes of what she would find. She describes a "strange ache" in her heart as she talks on the phone with Chipo, who recounts the routine preparations of a Zimbabwean dinner. "My throat goes dry; my tongue salivates. I am remembering the taste of all these things, but remembering is not tasting, and it is painful." Bulawayo's novel may scream Africa, but her deft and often comic prose captures memories and tastes, among them the bitterness of disappointment, that transcend borders.