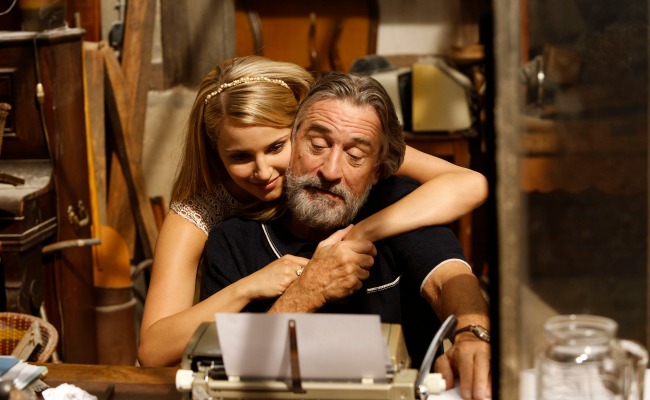 EuropaCorp; Relativity Media
A charming old house in Normandy... fingers that gently caress a vintage typewriter before settling in for a little hunt and peck--didn't I just watch this movie? It's like whatever's French for déjà vu, all over again.
Well, for a couple of minutes at least. Alas, it quickly becomes clear that this is the full extent of overlap between director Luc Besson's action-comedy The Family, and Populaire, the slight-but-delicious French romantic trifle released on these shores last week. This time around, the hands on the typewriter belong to "Fred Blake," a.k.a. Giovanni Manzoni (Robert De Niro), a former Mafia crime lord and budding memoirist relocated to France as part of the witness protection program. He and his family had initially been stashed in Paris, but undisclosed misbehaviors necessitated that they be moved, first to the Riviera and, now, to a sleepy village in Normandy. Tough life! It's almost enough to make the most law-abiding among us contemplate a career in crime and snitchery.
The Manzonis, however--including wife Maggie (Michelle Pfeiffer), daughter Belle (Dianna Agron), and son Warren (John D'Leo)--are vexed by their new accommodations. When the grocery-store locals snicker at Maggie (because, you know, the French are rude and don't like Americans), she nonchalantly burns the place to the ground; when a minor-league sexual aggressor makes a move on Belle (get it? He's French!), she beats him half to death with a tennis racquet.