Populaire: A Period Confection
The French romantic comedy about typewriting offers an innocent antidote to Mad Men.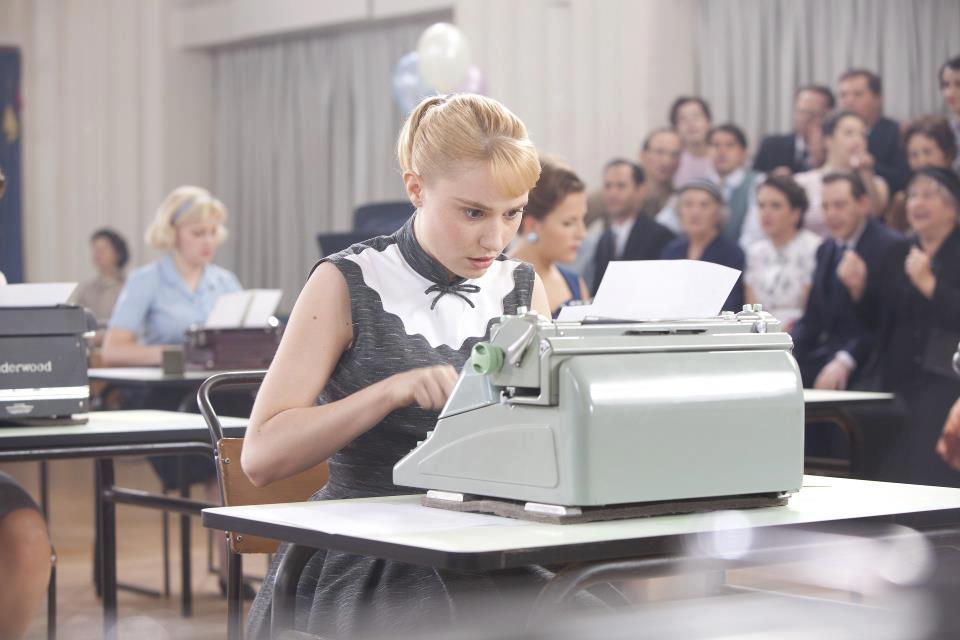 Les Productions du Tresor
It's a tad odd that the French romantic comedy Populaire, which takes its title from one (fictional) make of typewriter, should open with a long shot of another make altogether, this one genuine. (It's a lovely, unassuming Triumph Perfekt.) But the irony is deliberate—note the names in question—as becomes evident by the film's conclusion.
Populaire takes place in 1958 and '59—or, as we have come to know the era in pop-cultural terms, Right Before Mad Men. Indeed, the movie seems almost a gentle rebuke to AMC's hit drama, or at least an innocent alternative. Here, for what seems the first time in a long while, we can again enjoy the period style without the retrospective moral recalibration, the clothes and the cars without the alcoholism and adultery and existential angst.
Rose Pamphyle (Belgian actress Deborah Francois) works in her father's general store in the rustic hamlet of Saint-Fraimbault in Normandy, but she dreams of bigger things: freedom! modernity! a secretarial job in the big city! Now, it's true that for her the big city in question is Lisieux (current population 22,000), but one has to start somewhere.
So it is that Rose finds herself in the office of insurance man Louis Echard (Romain Duris), who takes one look at Rose and judges her to be unqualified for the position. (He's not wrong.) But before he can usher her out the door, Rose attaches herself to his typewriter and proceeds to hunt and peck with such carnal fervor that her careful bun of hair bursts asunder and her flowered dress slips off one shoulder, exposing a bra strap. One can only thank heaven that Don Draper isn't there to take advantage of the situation.
Not that Louis lacks an ulterior agenda of his own: He hires Rose despite her obvious deficiencies—the movie lays on the klutz jokes a bit thick—but only on the condition that the pretty young woman allows him to…. train her for a regional typing competition. She agrees, and moves, Eliza-Doolittle-like, into Louis's stately home ("It's like Gone With the Wind," she marvels) to begin her regimen. The customary script is then followed, typewriter keys clacking like tap shoes, as Rose ascends the hot-fingered ranks from a tournament in Normandy to the Championnat National de Vitesse Dactylographique in Paris to a shot at the world record in New York City. Along the way, she and Louis dance around the question—in one charming instance, literally, to Jacqueline Boyer's Le Tango des Illusions—of what their relationship is to become.
The result is a lightweight but satisfying confection that tugs playfully at memories of My Fair Lady, Breakfast at Tiffany's—it's no coincidence that a photo of Audrey Hepburn is taped conspicuously to Rose's bedroom wall—Simply Ballroom, and every underdog sports movie ever produced. The leads are neatly balanced: as Rose, Francois glows with the radiance of utter sincerity; as the uptight, controlling Louis, Duris has a Willem Dafoe-ish grimace to his smile, as if he's already trying to clear the taste of the 1950s from his mouth. (The Artist's Berenice Bejo also appears in a smaller, though crucial role.) First-time feature director Regis Roinsard keeps the film clattering along (though, at 111 minutes, it's longer than it need be), and the period soundtrack is a consistent delight.
There are of course nods to the sexism of the era, though gentle ones. ("When you hire a secretary," advises Louis's best friend, "date her, marry her, but don't enter her in competitions.") And there are winking asides as well. (When Rose asks Louis to quit smoking in the office, he replies, "Only a law could stop me, pumpkin.") Populaire may not set its sights terribly high, but it's a genial, knowing throwback—a reminder of that stylish, half-imaginary era that thrived in Hollywood before Mad Men came along and pickled it in gin.