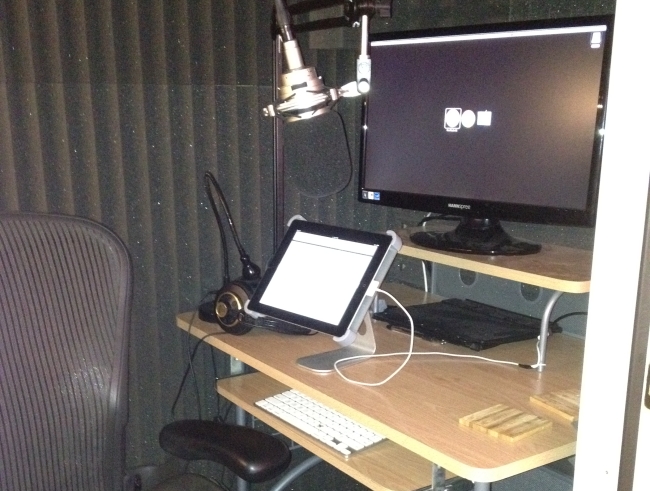 It hadn't occurred to me to narrate my own memoir. When Random House told me the audiobook of Mother Daughter Me was to be produced, I thought I'd be fine with hearing a talented stranger who reads books aloud professionally bring the book to life. But the voices of the performers the audiobook company asked me to choose from sounded, if not robotic exactly, more like the Hertz NeverLost lady than Meryl Streep—far from the voice I imagined reading my intensely personal narrative.
So, unaware of what I was getting myself into, I volunteered myself. Reading aloud over three days in a tiny, dark, soundproof, and airless recording booth turned out to be among the most fascinating and taxing experiences I've ever had. When I finished, I was spent. Yet I'd do it all again.
Before I get to why, some background: Mother Daughter Me is about a misbegotten experiment in multigenerational living in 2009, when I invited my mother to move from San Diego to San Francisco to live with my teenage daughter and me. My mother had been a severe alcoholic, and my sister and I were taken away from her when we were 12 and 10. Through the years I held fast to a fairy-tale view of our relationship that made me certain everything would work out. So did my mother. We even referred to our adventure as our "Year in Provence." What I found instead was that I was sandwiched squarely between my obligation to an aging parent—a woman I barely knew—and my responsibility for my daughter. Our Year in Provence ended after six months, when my mother moved out.
***
Before I arrived earlier this month at Mosaic Audio in Los Angeles, I had pictured a sleek, sun-drenched building containing rows of shiny, glassed-in recording studios, with a tanned receptionist issuing me a visitor's badge. Instead, my GPS led me through a residential neighborhood in the San Fernando Valley and into the driveway of a modest, single-story house.