The Small, Intense, Unfairly Exclusive World of Football Placekickers
Often, those who become great are those who can afford to.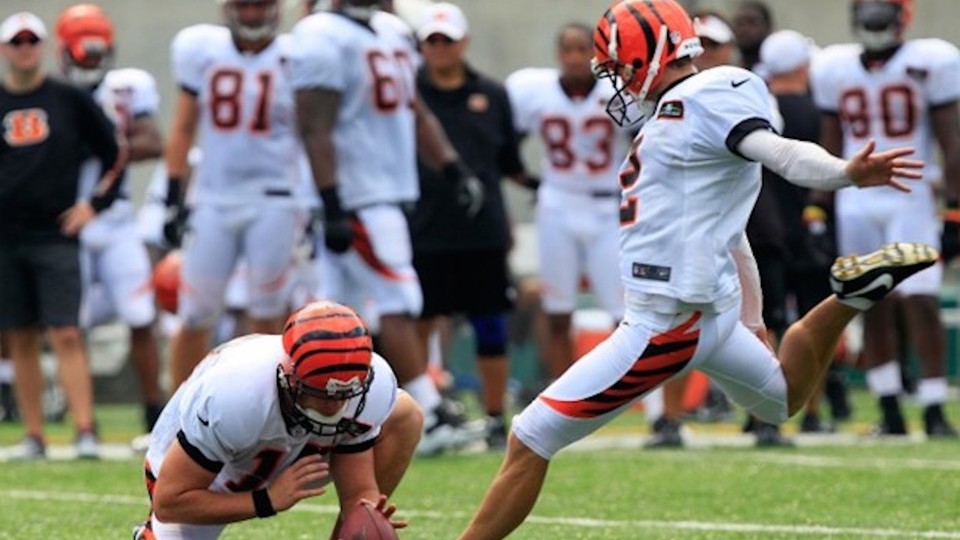 Brent Grablachoff says he isn't a yeller, but six hours into his second day in a row of coaching, he sounds like one. He's trying to pump up 18 high-school football players competing to see who can connect on the longest field goal; this contest is the grand finale of his two-day camp for teenagers who want a shot at becoming kickers and punters.
It's 93 degrees in Toms River, New Jersey, but it feels hotter on the unshaded artificial turf, and over the constant thud of high schoolers' cleats connecting with footballs, you can somehow hear Grablachoff's increasingly hoarse voice. "Fifteen minutes of chaotic kicking!" he yells, or at least tries to. "Coming your way, guys!"
He keeps moving the ball back, and as the contest progresses, he'll winnow down this already-small group to just one or two players.
In a way, it's a small-scale illustration of the years-long process it takes to become a kicker.
Most casual fans tend to only think about kickers when they materialize in an NFL stadiums on Sundays, ready to be celebrated for their clutch kicks, mocked for their misses, and laughed at for having scrawny arms on a field full of giants. But to get to the NFL, a kicker has to kick in college. To kick in college, he needs to get noticed by a college coach while he's in high school. And, crucially, to build the kind of repertoire that catches the attention of a coach or recruiter, he must spend countless hours on fields like the one Grablachoff is pacing around on, hoping to perfect the few specific motions required to execute field-goal and extra-point kicks—a process that starts as early as middle school.
Because the technique would-be players need to master is specific and totally unlike anything anyone else on a football field is ever asked to do, a cottage industry has formed to provide training—and exposure—for hopefuls chasing the dream of making it as a kicker, punter, or long-snapper.
The business is growing—but with it comes a quietly troubling tendency to award the best opportunities to those with the most cash to spend.
Grablachoff has been the head coach and owner of Kicking World, a business dedicated to training these "specialists," for six years. After a torn hip flexor ended the one-time Montclair State kicker's career, he turned to instruction. Business increased to the point that the business became his full-time job four years ago. Last year, he tutored 300 players across the country from ages nine and up, a figure he says increases by 50 each year. He charges $100 an hour for private lessons and $350 for a two-day camp, like the one in New Jersey.
His is neither the largest nor the most expensive camp.
When I was in college, reporting on Northwestern University's football team, I discovered the spectacle that is a college football practice: Coaches whir around, whistles blaring, shouting encouragement and sometimes chastising their players. Loudspeakers blast music to keep the players energized, and video cameras high above the field on cherry pickers record the whole thing for review later. But as I went week after week, I noticed some people were missing: the kickers. Sometimes I'd catch them strolling onto the field together towards the end of practice to participate in the conclusive team huddle, but never doing much of anything else.
One cold day, I assumed I'd find the team practicing in their toasty indoor facility. But when I opened the door, the team wasn't there -- just the kickers were. They were all alone on this field, nobody watching but one another as they honed their craft. Kickers and punters, I realized, exist in their own self-contained sphere, from their isolated practices to their secluded spot on the sidelines during games.
Head coaches generally don't know how to coach them. All-purpose scouts don't know what determines the best ones. And thus, there's something of a subculture necessarily built around kicking. But it didn't always exist: Grablachoff says there were "maybe three" camps when he began kicking in the mid-1990s. A converted soccer player, he made his high school's freshman team after a simple five-kick tryout.
"I made all five, and I was deemed the kicker," Grablachoff said. "Nobody really knew anything about kicking."
Now, there are 20 camps like his, and the demand grows every year.
The vast majority of us have lost the genetic lottery that would have made us good football players. If you're not a 6'5", muscle-strapped male fast enough to blow past offensive linemen while still strong enough to wreak havoc on quarterbacks, you don't become an NFL defensive end. If you're not extraordinarily athletic, you don't become a wide receiver or running back. If you're not 300 pounds yet agile, you don't become an offensive lineman. There's no taking away from the hours of weight-room workouts and practice time great players at these positions devote to their craft, but there's no denying that they have certain innate physical traits that set them apart from everybody else.
Specialists, though, tend to look more like the other 99 percent of us who aren't preternaturally gifted athletes. "We've had some cases where we've had guys who seemed like very mediocre kickers—saying it in a nice way," Grablachoff said. "But they've stuck with it, and a year later they've blossomed into very nice kickers."
In other words: They aren't born, they're built.
"[For] a lot of running backs, quarterbacks, a lot of it is natural athletic ability. You have to have some sort of height or speed requirement," Grablachoff continued. "Kicking, that goes out the window."
Chris Rubio, head coach at Rubio Long Snapping, actually argues that his students need no physical gifts to become good -- just a willingness to learn. "I teach it all," Rubio said. "In the ideal, you want someone with good hip flexibility, long legs, long arms. But it doesn't matter."
According to Grablachoff, elite kickers and punters need two things to be great: precise foot-to-ball impact and very fast leg speed. "If you can do that," he said, "if you listen to directions, you practice hard, and really stay committed to it, pretty much anybody can become a good kicker. "
But kickers can't learn the proper technique from regular high-school coaches. "It's not generic information," Grablachoff said. "It's rich information that not everybody knows about; it's something you have to do for years. Think of it like a general practitioner against a doctor who specializes in knee surgery. We know a lot about a very specific thing."
As a kid, Michael Sims never even watched football. Like many future kickers, he was a soccer player—a goalie.
But after his freshman year at Westview* High School in Thousand Oaks, California, he decided to try the oblong ball in addition to the round one. He had the strength, but not the form, so his father recruited San Diego-based Grablachoff to train him. After joining the team his junior season, a glimpse of a college bowl game gave Sims an idea.
"He happened to walk by the TV when one of the college guys kicked off," said Sims's father, Jerry, an attorney. "He said 'Play it back!' I played it back. He said, 'I can kick it farther than that.'"
Michael began working with Grablachoff twice a month. Eventually, the coach had him film a video in which he nailed a field goal every five yards from 30 to 55 yards, back-to-back -- and soon, colleges began to contact him. Less than a year after Sims played his first football game, schools were already vying for his services.
"It opened him up to possibilities he never thought about before," Jerry Sims said. "He got a ton of interest and heard from schools he didn't know existed."
Though no Division I school the Sims talked to was willing to give Michael a scholarship offer, nine Division III schools offered Sims academic scholarships. (D-III schools can't give athletic scholarships, but Sims has good grades.) He chose to attend the University of Redlands, where he'll begin school—and keep kicking—this fall.
Players don't just need camps like Grablachoff's to get better. They also need them to get opportunities at the next level. In addition to running the camps and training future specialists, instructors like Grablachoff and Rubio are also the ones coaches and recruiting services depend on to evaluate the players.
Not just anyone can spot a good kicker, after all.
"I can evaluate the kick, say 'That looks like something in a college game,' but I can't evaluate the actual motion," said Bud Elliott, who analyzes nationwide college football recruiting for SB Nation. "It's really easy to identify positive traits at most positions, but for kickers it's not just, 'Does it go far? Does it go through the uprights?' There's a lot of technical things specialist evaluators can look at."
While Grablachoff says he considers his business to deal more with instruction than other services, he also posts recaps on his website of which kickers performed well at his camps. He's not alone: Many kicking instructors produce lists of who they feel are the best kickers in the nation, and these lists often include their clients.
"A lot of recruiting services rely almost entirely on the rankings of these kicking coaches and camps," Elliott said. "Having the endorsement of a kicking coach might work more than having the endorsement of a coach at a traditional position."
The nepotistic relationship between who attends a certain service's camp and who that service touts as a promising prospect is not unique to kicking. Recruiting service Rivals recently bragged via Twitter that 75 of the top 100 players in their rankings had attended one of their camps. But their camps are free, and players have to be invited to attend. As the service tries to prove to its subscription base, its reporting, ratings, and opinions are worth paying for.
Those services also provide ratings on specialists, but since subscribers typically aren't paying to get up-to-date kicking news, they let others do the scouting.
And since college coaches often don't have the time or the expertise required to scout the specialists who will get those scholarships, they listen.
Rubio makes it clear coaches respect his opinion on long-snappers, touting how Tanner Carew, his No. 1-ranked snapper in the class of 2014, will soon replace Drew Howell, his No. 1-ranked snapper from the class of 2010 on scholarship at Oregon.
"If you go to a 'good' restaurant in New York, and it's crap, you're not going to trust those rankings," he says. "You can try on your own, but I'm almost a middle-man. I know exactly what the coaches are looking for."
That makes showing up to camp doubly important for those hoping to earn scholarships. And to get their names out, kickers will go to great lengths: Students at Grablachoff's New Jersey camp hail from as far north as New Hampshire, as far south as Virginia, and one has come all the way from California.
And the opportunities are not ample. Colleges have scholarships for multiple players at most positions, but generally only one each for kickers and punters, making the competition for limited gigs cutthroat.
Between the camps and the travel, this is not cheap. Jerry Sims says he shelled out roughly $2,500 on his son's training. But it has the potential to work out.
"We don't want kids to be dropping thousands of dollars if it's not taking," Grablachoff said. "But for those who have [the skills] already? It's absolutely worth the money." After all, the $50,000 per year in tuition a player could save by earning a full-ride scholarship dwarfs the $5,000 or so his family might pay over two years to receive personal instruction.
Last year, roughly 25 of Rubio's pupils earned scholarships, and 15 of Grablachoff's students earned full or partial scholarships to play college football—his most successful year ever in that category.
All this leads to a setup that isn't entirely fair. Kickers and punters need specialized instruction, and their positions are perhaps the ones in which players can improve the most on their natural talent through training. Those who know what to look for, in other words, are rare—so exposure to the right people is vitally important.
Training and exposure cost money—and thus, specialists have the ability to turn spending power rather than talent into athletic opportunities, arguably more so than any other athletes in any other major sports.
This fact may have something to do with another, separate phenomenon: Though it's dangerous to conflate race with wealth, it's unmistakably obvious that kickers, as a group, are overwhelmingly white. Justin Medlock of the Carolina Panthers was the first African-American NFL placekicker since the 1960s. Reggie Hodges, who punted for the Browns last season, is one of only four black punters in league history, including the late seven-time All-Pro Reggie Roby. Meanwhile, the NFL as a whole is over two-thirds black. This monochromatic tendency even extends to historically black colleges, where white specialists often stick out in team photos.
For those willing to invest the time, money, and effort to get their skills up and their names out, there are more opportunities to produce elite specialists right now than at any point in the history of the sport. But with those increased resources comes increased competition for a number of spots that generally stays constant.
Viewed one way, it's a tale of those willing to put in the most work rising to the top. But viewed the other way, it's yet another part of American life in which those with the most have the best chance at success.
Fair or not, business is booming. After New Jersey, Grablachoff is doing a camp in San Francisco; the week after that, he'll be in Hawaii, after that he's back to Southern California.
But for now, he's slowly weeding out kickers, one by one. Only two of Grablachoff's students remain in the kicking contest, and unsurprisingly, they're both dedicated to their craft: One came all the way from New Hampshire, while the other has been to this camp three years running. A duel between the two delays the ending of camp.
They match each other as the competition moves further and further back. One doinks a potential clincher from 50-yards off the upright. It takes them three tries from 53 yards before John Coleman, the third-year returner, nails a winning field goal. After some photos with the winning campers, Grablachoff's long weekend is done.
But with two full days of training done, he still hasn't given his students everything they paid for. He needs to upload their stats onto his website, so that they—and their prospective coaches—can see details on each player's abilities. And he needs to write a recap of the camp, identifying which pupils stood out— which ones could make it on the next level.
Grablachoff has good things to say about both of the last two boys in the contest, but gives fate a nudge in Coleman's direction: Coleman—who also won a punting competition—"stole the show," he writes. "If you want an intelligent, poised, and reliable class of 2014 punter/kicker, John Coleman should be at the top of your list."
---
*This post has been updated to reflect the correct name of Michael Sims's high school.