The MLS All-Star Game: A Loss for the All-Stars, But a Win for American Soccer
U.S. soccer's quality of play may still lag behind the rest of the world's, but this week, fans proved that MLS is beating its biggest competition—the NBA, MLB, and the NHL.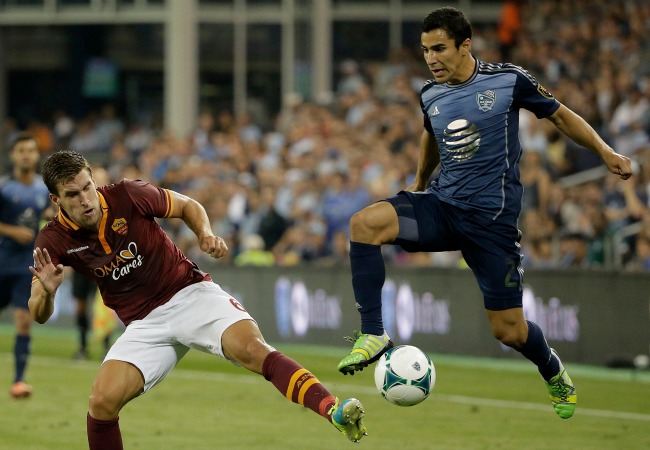 AP / Charlie Riedel
With a final scoreline reading "MLS All-Stars 1, AS Roma 3," it's technically true that Major-League Soccer lost to the Italian Serie A club in the MLS All-Star Game on Wednesday night. But while the MLS All-Star team may have been defeated, the event marked a victory for American major-league soccer itself.
Unlike other sports leagues with annual All-Star matchups, MLS does not pit its All-Stars against one another. Rather, the league invites teams from more established leagues around the globe to play against its best. This year, the powerful Roman club crushed the MLS All-Stars at Kansas City's Sporting Park.
In a way, though, MLS still won. For fans around Kansas City at least, they weren't truly competing with Roma. Instead, MLS was competing with Major League Baseball. MLB brought their own All-Star Game to town last summer, and comparing the two events was a hot topic of conversation around town all week. Which was the better All-Star event, baseball's or soccer's?
Soccer's, believe it or not, won by a landslide.
The run-up to the Midsummer Classic brought the city much more money and prestige: Dozens of bossy men in suits rolled out velvet rope and red carpet; there were parties thrown by sponsors, endless autograph sessions, and personal appearances by players. Yes, MLB had a gargantuan fan fest, and MLS had a small one. But the latter was almost all free. So were its two concerts downtown on consecutive nights--shows by Macklemore and Silversun Pickups.
And sure, baseball had far more, and far glitzier, events before the game. But every event seemed to be for VIPs--players, agents, media big shots, or anyone willing to spend lots of cash. Like, say, on tickets to the game itself. Seats for MLB's All-Star Game averaged more than $500, face value.
This week, however, fans got into the MLS version for as little as $50. And a record crowd at Sporting Park took advantage. Those fans, save for the smattering of Italians who followed their favorite team to America, were almost exclusively local, coming from metro KC, nearby Lawrence, and Topeka. Overwhelmingly, those fans were also suburbanites--soccer moms and dads with their soccer kids.
Fútbol may be the game of the masses in many countries, but the North American version has always been more bourgeois, embraced by the middle-class. (Correspondingly, there's generally less brawling or hooliganism around the game as in other nations--although New York Red Bulls fans do have a tradition of chanting something nasty during goal kicks.)
MLS also scored a breakthrough victory, in a way, by losing. Today, it takes a well-prepped team playing hard to defeat the best of MLS. The Italians clearly knew this and took the challenge seriously. It was apparent from the first minute that Roma was determined to avoid the fate of Chelsea, the Premier League powerhouse team that lost to the MLS All-Stars last year in Houston. Roma, in fact, is only the second club, after mighty Manchester United, to have beaten the MLS stars since the league switched to the "us against the world" format--i.e., bringing in teams from other premier leagues around the world--in 2003.
Yes, "other" premier leagues. According to a report by Sporting Intelligence, one that took into account a league's competitive balance, financial health, and stadium amenities, along with quality of play, MLS is the seventh-best soccer league on the planet. MLS scored high for its new stadiums--like the showplace Sporting Park--and got points for parity, too. Seven different MLS teams have won a league title in the last decade. Europe's best, meanwhile--the English Premier League, Spain's La Liga, and Germany's Bundesliga--all struggle for competitive balance.
Yes, to be fair, U.S. soccer's overall quality of play still lags behind the best of the world, but not as far behind as it once did. As last week's Gold Cup win by the U.S. Men's National Team--its fifth overall, but its first since 2007--suggests, USA soccer is steadily improving. That's reflected in the dozens of Americans playing for teams overseas, as well as in the mostly homegrown talent of MLS. Compared to the Euro powers, MLS was once akin to Single- or Double-A baseball compared to the majors. In the last few years, they've crept closer to Triple-A.
But perhaps what was most shocking about the MLS All-Star Game on Wednesday was its attendance. The game drew a record-breaking, sold-out, standing-room-only crowd of 21,175. And that's indicative of a larger trend: In 2012, MLS ranked eighth in total attendance globally--for any soccer league, anywhere in the world. More to the point, and maybe even more surprisingly, MLS also averaged more fans per game than two major North American pro sports leagues, the NHL and NBA. The fact that ticket prices come out to about half of what basketball and hockey charge likely has something to do with that. Still, it's impressive stuff for a league that's only been in existence since 1996. MLS attendance figures are expected to rise, as well. The league ambitiously plans to add four new teams by 2015, then four more by the end of the decade for a total of 24.
So, really, who cares if the MLS stars lost to AS Roma? In the broader context, Major League Soccer isn't really trying to compete with Italian Serie A. Or with La Liga or the EPL. Right now, MLS is competing with other North American pro sports leagues like the NHL and NBA--and, this week in Kansas City, Major League Baseball, too. And they're winning.