The Elvis Presley Recording That Elvis Himself Never Heard
In 1994, The Atlantic published a tribute to Presley and his version of "Don't Be Cruel," which combined the styles of his influences with his enthusiastic personality.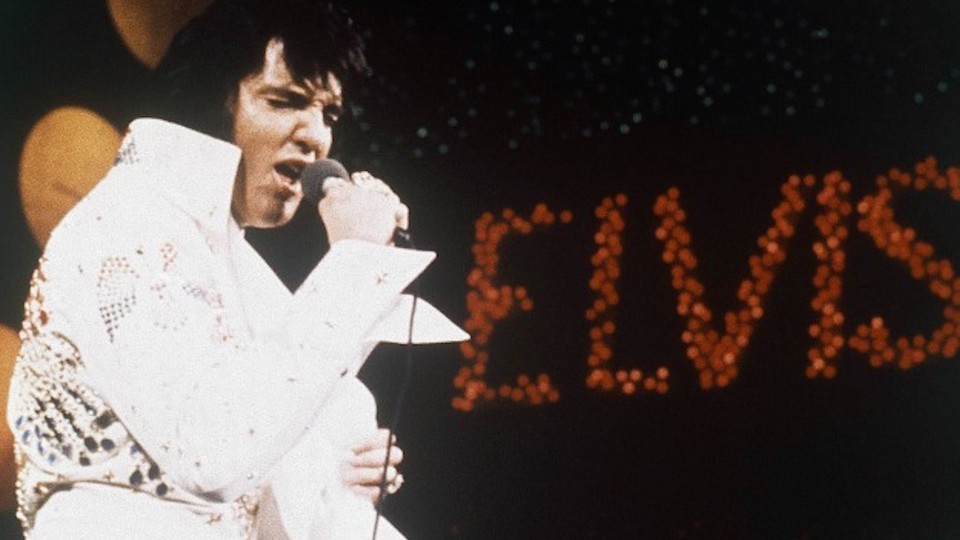 Ed. note: Thirty-six years ago today, Elvis Presley died of a heart attack at his home in Memphis, Tennessee. He was 42 years old. In the days that followed, Elvis's final single, "Way Down," topped charts around the world; 80,000 of his fans made the pilgrimage to Graceland to celebrate the man who, in the words of President Jimmy Carter, "permanently changed the face of American culture."
When Elvis first sauntered onto the American music scene, many wrote him off as a fleeting sensation: a 19-year-old who would sway his hips, make a few thousand teenage girls scream, then quickly sizzle out and disappear. But here we are, 36 years later, still celebrating the man now regarded as the King of Rock and Roll. His sound defied the categories that we'd previously used to classify music. Simultaneously, it was country, blues, soul, and a little magic dash of something else entirely new.
In October 1994, The Atlantic published this tribute to Elvis. In the essay reproduced below, Francis Davis, a jazz critic for The Village Voice and a contributing editor for The Atlantic, argues that Elvis was a mimic, emulating the styles of his favorite singers and skillfully weaving them together. However, Davis also is quick to clarify that Elvis was no impersonator. In 1994, this distinction may have been somewhat novel--but in 2013, now that singing competition shows have dominated U.S. TV ratings for a decade, we've grown accustomed to the notion of singers routinely, even exclusively, performing other artists' songs and learned how to distinguish the mimics from the impersonators. Today, I think we can even more fully understand what Davis meant when he said that Elvis was "his own jukebox." We might even say he was his own iTunes. --Caroline Kitchener
---
In Peter Guralnick's new book, Last Train to Memphis, the first half of what will be a two-volume biography, we read that as a teenager, Elvis Presley used to sing along with the groups at the all-night gospel meets he would take a girlfriend to hear. This embarrassed Presley's girlfriend, particularly his habit of "trying to hit the low notes with the bass singer [and] the high ones with the lead tenor," though we can guess that she also found this irrepressible urge of his rather endearing. Even if this is just one detail in a book that vibrates with them, it caught my eye, because it reminded me of a similar moment on what has become my favorite Presley recording -- one Presley himself probably never heard.
I found a copy of the recording in a Boston record shop in 1984, seven years after Presley's death. Then available only as a bootleg, it has since been released through legitimate channels, most recently on compact disc as The Million Dollar Quartet (RCA 2023-2-R). It was recorded on the sly by Sam Phillips, of Sun Records, in his fabled studio on Union Avenue in Memphis, on December 4, 1956, during what was supposed to have been a session by Carl Perkins, a rockabilly and guitarist whose version of "Blue Suede Shoes," a song he had written, had preceded Presley's up the charts earlier that year. As luck would have it, Jerry Lee Lewis was also at Sun that afternoon, sitting in with Perkins's band on piano. Johnny Cash, yet another of Phillips's contract artists, showed up just long enough to pose with Perkins, Lewis, and Presley, who had dropped by ostensibly to say hello, for a picture that ran in the following day's Memphis Press-Scimitar, above a paragraph describing a jam session by this "million dollar quartet." In truth, all that made the gathering newsworthy was Presley's part in it. The most Icarus-like of Phillips's discoveries wound up instigating an old-fashioned singalong. And Phillips, though he had sold Presley's contract to RCA Victor a year earlier and could no longer release new material by him, had the foresight to order an engineer to roll the tapes, strictly for posterity.
The music begins with a gospel medley, on which Lewis's boogiewoogie piano and the hepcat yowls during Perkins's guitar solos sound only slightly incongruous. Denounced as heathens by that era's guardians of public morality, Presley and other early southern rockers tended to view themselves as God-fearing men -- one of the contradictions that made early rock-and-roll so fascinating. At one point Elvis launches into a version of Ernest Tubb's country gospel tune "I'm With a Crowd, But So Alone," and his hillbilly whine draws a groan from one of the other musicians. This reaction is affectionate and a little nervous, not derisive. The music is the sort these young men grew up with, and you can tell that this is what the others suspect they must sound like to northerners.
Presley goes on to sing spirited versions of tunes made popular by Pat Boone, Chuck Berry, Hank Snow, Faron Young, and the Ink Spots, among others. All these are great fun, no matter how off-key both the instrumental backing and the vocal harmonies tend to be. But the moment I treasure comes about thirty minutes in, when Presley tells the others about an unnamed singer he heard in Las Vegas, who did "a thing on me"' on "Don't Be Cruel." Noting in passing that the singer was "a colored guy" and praising his interpretation of the song as,"much better than that record of mine," Presley remarks that "he had it a little slower than me" -- and then proceeds to demonstrate. Prefacing each chorus with an explanatory "he said," he halves the tempo and gives the song a big finish, as Jerry Lee Lewis gamely pumps away behind him.
But this "Don't Be Cruel" doesn't end there. For the next few minutes Presley keeps breaking into the song every time there's a lull. He gets laughs with his imitation of the black "Yankee" singer's attempt to give the words of the song what the singer must have thought was a genuine southern pronunciation ("tellyphone!" Perkins -- or someone-shouts in amused disbelief). He describes how the singer grabbed the microphone on the last note and slid all the way down to the floor, how on certain lines he shook his head back and forth admonishingly, and how he had his feet turned in "and all the time he's singin', them feet was goin' in and out both ways, slidin' like this." Through all of this you just know that he's illustrating the story by swooping to the floor himself, shaking his own head, and swiveling his own feet.
The unidentified singer who so enthralled Presley (and whom he sounded nothing like) was Jackie Wilson, soon to have hits himself. A month later, as if to prove that imitation really is the sincerest form of flattery, Presley concluded one segment of an appearance on The Ed Sullivan Show with a rendition of "Don't Be Cruel" that, Guralnick tells us, owed everything to Wilson's, "from finger rolls to his pronunciation of 'tellyphone' to the big pumped-up ending."
"It seemed like he had a photographic memory for every damn song he ever heard," Phillips told Guralnick. The venerable music critic Henry Pleasants once characterized Presley as a "naturally assimilative" stylist with a "multiplicity of voices" -- that is, a gifted singer with an instinct for mimicry, whose music incorporated gospel, country, rhythm and blues, operatic airs, vaudeville recitation, and sticky early-fifties pop of the sort that rock-and-roll ultimately savaged.
Pop music as it has evolved alongside audio technology has resulted in what I think of as aural culture -- similar to but finally distinct from the oral traditions on which folk music once depended. Aural culture takes the form of teenagers' uninhibitedly singing along with records (if only in the privacy of their bedrooms) and imitating the sounds on them. Rock-and-roll has been aural culture from the beginning, and the Elvis captured that afternoon at Sun -- already famous, already in movies, perched at No. 1 on the pop charts for the fourth time that year, but still only twenty-one--sounds like a kid emulating the vocal mannerisms of his favorite singers, less for the delectation of anyone who might be listening than for the thrill it gives him to hear those familiar voices vibrating in his own throat. He's his own jukebox.
Although he emulated other singers' styles, Presley was no impersonator. His own personality emerged whether he was singing country, rhythm and blues, or pop. The key to his originality may have been his enthusiasm for so many different kinds of music and his refusal to distinguish among them.