The Appetizing Aesthetics of a KIND Bar
Radical transparency comes to snack-wrapper design.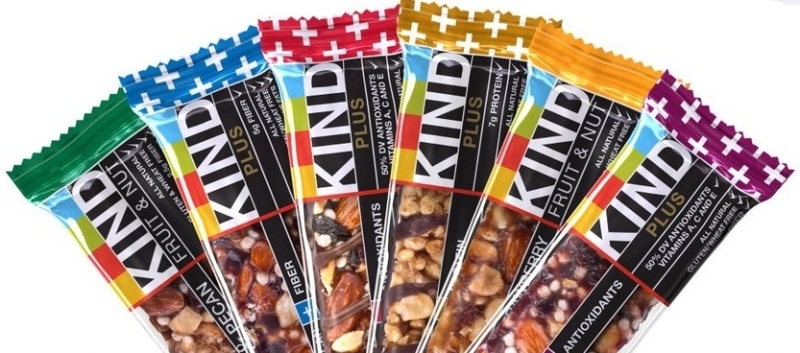 KIND Healthy Snacks
It's 4:30 in the afternoon and I'm beginning to feel the urge to eat— again. I get up from my desk and walk to the office pantry, which—save for a few stale Goldfish Crackers—is bare. The urge turns into desire that becomes full-bore hunger for something to get me through the rest of the afternoon until dinner. But it can't be just anything off the rack. It must be healthy and tasty, sweet not sugary.
Fruit!? No, there's no place to buy really fresh fruit in the neighborhood. But in the deli across the street, next to the overly ripe bananas, are rows of "healthy snacks," isolated from the more popular unhealthy products. Which to choose? Scanning the wrappers, there's one showing a mountain climber, one with an amber wheat field against a green background, and one with Paul Newman and his daughter together as in a Grant Wood-like tableau. All are worthy contenders. Instead, I head for the label that's the least visually detailed and yet gets my appetite going the most—the one for a KIND Bar.
The partly transparent wrapper design, with its simple type logo, small but readable texts, and subtle geometric spots of color, is what catches the eye and makes this mouth water. It's a key ingredient in the marketing plan to convey KIND's  rejection of healthy-snack clichés.
I don't usually send fan mail to companies (usually just complaints with the request for free samples), but I wanted to understand this one's rationale for spare but evocative packaging. So, I contacted Marc de Grandpre, senior vice president of marketing at KIND Healthy Snacks, to discuss origins and raison d'etre for the brand that was founded in 2004 by entrepreneur Daniel Lubetzky.
Lubetzky, I was told, was frustrated by the lack of healthy and tasty snack choices. "Bars back then were slab bars," De Grandpre said in an email, "made of macerated ingredients blended all together, or energy bars that lacked taste." So Lubetzky set out to bring together what de Grandpre says, "many would consider opposites: 1) healthy and tasty product offerings, 2) convenient and wholesome products, and 3) and overall economically sustainable and socially impactful company." The KIND bar, as a result, is not an undifferentiated slab but a textured amalgam of nuts and fruits bound together with honey.
The idea was to use ingredients "you can see and pronounce," de Grandpre says. "This philosophy drove the design of the packaging from the very beginning as we wanted the ingredients to be the hero. That's why KIND bars and KIND Healthy Grains Clusters both feature transparent wrapping—so you see the quality ingredients you are getting before you purchase." That part lures me in. Even before I see my favorite words "chocolate and cherry," I see the chocolate drips and cherry bits, which is far more appetizing than a processed photograph or drawing of the same thing.
The idea of transparency affects other parts of the bar's identity. It's "why we avoid fluffy product names and idyllic scenes," de Grandpre says. If a bar is made up of apples, cinnamon, and pecan, "we're going to call it Apple Cinnamon Pecan, not apple pie. We'll also make sure that whatever the name is reflects the first ingredients listed on the nutrition panel."
The name also has a seductive quality. The word "kind" is warm, even selfless. When people are kind they are not just good, they are benevolent. De Grandpre has an even slicker explanation: "Some may think of kindness as only something you show others, but when we created KIND, we wanted to remind people that it's good to be kind to yourself, too." The KIND name was chosen as a way to inspire others to do "the kind thing for their bodies, their taste buds and their world." Okay, a bit predigested, but I buy it.
My only problem with KIND is my problem, not theirs. Like those fatty potato chips that you can't only eat just one of, I find I must have a second bar to satisfy all my 4:30 urges and desires. But thanks to its graphic identity and packaging, at least I know what I'm putting in my stomach.