On Herman Melville's 194th Birthday, a Trio of Theories About Moby-Dick
Celebrate the legacy of a great American novelist with selected excerpts from essays from The Atlantic's archives.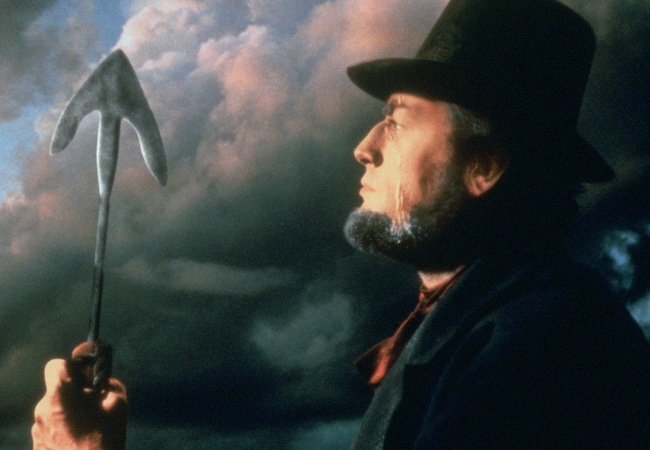 On this day in 1819, Herman Melville was born in New York City. Readers remember Melville as a great American novelist -- the greatest American novelist, perhaps -- but before he became a writer, he was an adventurous young man who spent years sailing around the world. (Those adventures included a stint in jail for participating in a mutiny aboard a whaling ship, three weeks living among "cannibals" in the South Pacific, and a vicious campaign against Christian missionaries in Hawaii.) After finally settling down into adulthood, Melville's early years would inspire much of his writing, including his greatest work, Moby-Dick.
As unbelievable as it sounds today, Moby-Dick met mixed reviews from critics when it debuted in 1851. Decades passed before America fell in love with Melville's masterpiece, but by the time The Atlantic published a pair of critical essays analyzing the novel in the 1940s, it had assumed its rightful place within the pantheon of American literature.
To celebrate Melville's birth, we've selected passages from those essays that explain three theories why Moby-Dick remains "one of the great books of the world."
It's Not A Story -- It's A Myth
It is generally recognized that the canons of the ordinary novel do not apply to Moby-Dick. If we applied them we should be forced to put it down as an inept, occasionally powerful, but on the whole puzzling affair. This was the opinion up to two decades ago. During those decades we have discovered Moby-Dick to be a masterpiece. What caused this shift in perspective? To put it simply, we discovered how Moby-Dick should be read. We must read it not as if it were a novel but as if it were a myth. A novel is a tale. A myth is a disguised method of expressing mankind's deepest terrors and longings. The myth uses the narrative form, and is often mistaken for true narrative. Once we feel the truth of this distinction, the greatness of Moby-Dick becomes manifest: we have learned how to read it. (Clifton Fadiman, 1943)
...Or Maybe Not?
Since some very intelligent persons have taken Moby-Dick for an allegory it is proper that I should deal with the matter. They have regarded as ironical Melville's own remark; he feared, he wrote, that his work might be looked upon "as a monstrous fable, or still worse and more detestable, a hideous and intolerable allegory." Is it rash to assume that when a practiced writer says a thing he is more likely to mean what he says than what his commentators think he means? I don't know how critics write novels, but I have some notion about how novelists write them. They do not take a general proposition such as Honesty is the Best Policy or All is not Gold that Glitters; and say: Let's write an allegory about that. A group of characters, generally suggested by persons they have known, excites their imagination, and sometimes simultaneously, sometimes after a time, an incident or a string of incidents experienced, heard, or invented appears out of the blue to enable them to make suitable use of them in the development of the theme that has arisen in their minds by a sort of collaboration between the characters and the incidents. (W. Somerset Maugham, 1948)
Melville Didn't Worry About Pleasing His Audience
If he composed Moby-Dick in the way he did, it is because that is how he wanted it. You must take it or leave it. He would not be the first novelist to say: "Well, I might write a more satisfactory book if I did this, that, or the other as you suggest. I daresay you're perfectly right, but this is how I like it and this is how I'm going to do it, and if other people don't like it I can't help it, and what's more, I don't care." (W. Somerset Maugham, 1948)