No, NBC's Premier League Deal Doesn't Mean America Loves Soccer Now
There's talk that the EPL's debut on NBC marks the arrival of soccer in the U.S. But that overestimates both the impact of the TV deal and American enthusiasm for the game.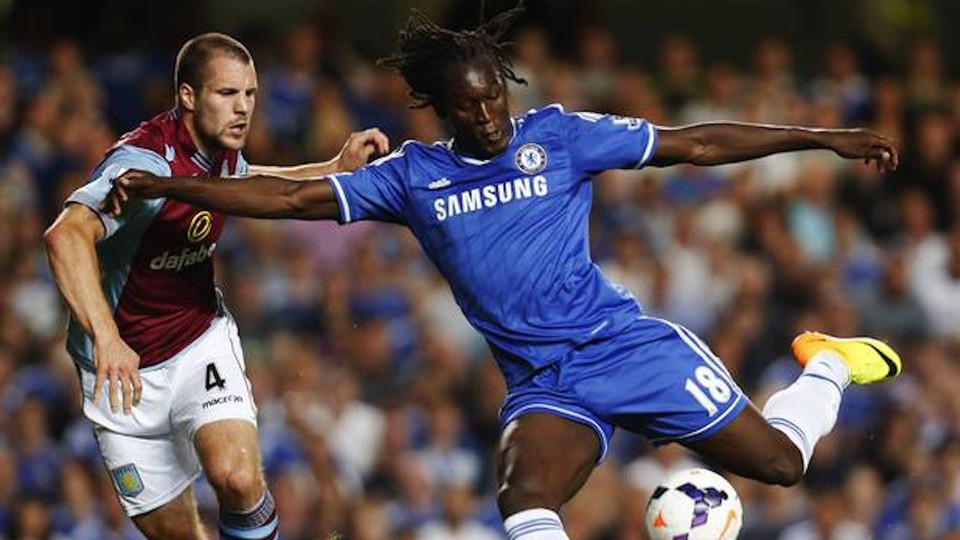 AP / Lefteris Pitarakis
Last weekend, on August 17, NBC launched its new coverage of the English Premier League, after paying $250 million for the television rights to every soccer match played in the EPL over the next three years. Fox had been paying a third of that price to air a much smaller slate of games than NBC will. NBC's execs seemed to have made a big gamble, betting that flooding the American market with English soccer would draw casual viewers in, boost NBC's ratings, and increase the sport's exposure in the U.S. The reward was the highest overnight rating in U.S. history for a Premier League season opener.
"Highest rating ever" may sound pretty impressive, and with last week's talk about record viewing numbers, making history, and "new milestones," you'd be forgiven for thinking this is a new era for soccer and America. Indeed, some commentators expect this new coverage to send it hurtling past America's big four sports -- football, basketball, baseball and hockey -- to claim the top perch. Brian Ross at Huffington Post predicts that within 10 years "the NFL will be the No. 2 league in American sports."
Don't start trading in your Peyton Manning jerseys for Wayne Rooney ones yet, though. The importance of NBC's new TV deal has been overstated. It probably won't mark soccer's long-awaited elevation in the U.S. sports scene -- America isn't as ready for soccer as some optimists are hoping.
While NBC's opening-weekend numbers were worth boasting about, they weren't exactly earth-shaking: The headline game last weekend got a 0.8 overnight rating, which means 0.8 percent of households had their TVs tuned into the game (equating to 792,000 viewers). Across the whole weekend, viewership figures were up 78 percent on the previous year. (And though NBC put out a press release to announce its opening-weekend ratings, the network has stayed quiet thus far on this weekend's viewership numbers.)
Seventy-eight percent is, of course, a hefty increase, but not all of it can be attributed to Americans suddenly discovering that soccer is awesome. One reason why these numbers shouldn't be shocking is that NBC's sports network, NBCSN, has twice the reach of Fox Soccer -- 80 million households have access to NBC's sports programming, as opposed to the 40 million with access to Fox Soccer. Given that there were many more potential viewers, plus NBC's big advertising "blitz," it would have been indicative of a big flop if ratings hadn't gone up this year. In other words, the first weekend's numbers don't mean NBC's bold move has been resoundingly validated; they just mean it hasn't been a bad decision.
For some perspective, the average NFL game has around 16.6 million viewers. But comparisons to the NFL will make any sport look unloved. The EPL sizes up better next to the NHL, which got a 2.0 overnight rating for its season opener last year, and which often doesn't clear one million viewers even through the first playoff rounds. The first MLB game this season drew a 1.5 rating, also not vastly different from figures for the EPL opener. NBC's opening weekend numbers, then, didn't leapfrog any of the big sports, even if they do show that the EPL is nipping at the heels of the stragglers.
So why do some pundits expect soccer to take off, leading NBC's gamble to pay off handsomely? According to Patrick Rishe's Forbes article "Why The EPL On NBC Will Accelerate Soccer's Popularity In The United States," there is "potential to tap into a huge source of soccer enthusiasts." The thinking seems to be: Now that NBC has swooped in with expanded coverage, this dormant reserve of fans can awaken at long last.
Who are America's soccer fans, though? An ESPN sports poll found that soccer has already made the jump to being one of the most popular American sports among two key groups -- 12- to 24-year-olds and people of Hispanic or Latino heritage. Asked to choose their favorite sport to watch, 13.7 percent of the 12- to 24-year-olds picked professional soccer. This was second only to pro football. For Hispanic and Latino Americans, though, soccer was a clear No. 1, with 26.8 percent of the vote. Over the last decade, the Hispanic and Latino population has accounted for over half of all American growth, and is expected to more than double again by 2060. And the kids of today will be the key age groups networks will be trying to woo in just a few years. In the future, then, TV will be catering to young adults who grew up watching -- and loving --professional soccer.
Pollster Rich Luker also discussed with ESPN why he believes the trends that had been holding soccer back were now shifting to drive it forward. According to Luker, the forces of cultural diversification, Internet access, and globalization have benefited soccer above other sports, and kids today are no longer stigmatized by peers for playing the game. Rather, he said kids "gain cachet and social currency by knowing about the sport."
It's true that Americans -- especially young Americans -- are more familiar with and fond of soccer today than they used to be. By 2006, according to a report from FIFA, the United States had the highest youth enrollment in soccer in the world, among both boys and girls, and according to The New York Times, high school soccer participation doubled in the years between 1990 and 2010.
But if statistics and demographics tell the story of soccer's future, they don't tell us much about today, or even the near-term. When asked for the time frame of soccer's break-through moment, Luker didn't talk about a moment, he talked about decades: "One more generation," he surmised.
It's worth noting, too, that participation in youth soccer leagues has plateaued since 2000, and even started falling since a 2008 peak. (Of course, playing a sport isn't the same as watching it.)
So even if soccer is on the up, there still likely won't be a sudden burst onto the scene coincident with NBC's new EPL coverage. The rise of soccer, if it materializes, will be more like a slow, monotonous, boring chipping-away at the dominance of the bigger sports. (In fact, if NBC's EPL deal poses a threat to any other league, it might be America's homegrown pro soccer league: Major League Soccer is far from the same level of quality as its English counterpart, and while optimists are hoping for cross-promotion between the EPL and MLS, both of which are televised by NBC, pessimists expect the EPL coverage to divert attention from MLS.)
This doesn't mean that NBC's gamble was a bust; actually, it wasn't much of a gamble to begin with.
Instead, Fox's deal had been a bargain, and NBC was willing to pay more because, frankly, the EPL is worth it. No, soccer isn't huge in America at the moment, but 1.46 billion people follow the EPL globally. A 2011 study found that it wasn't just the most watched soccer league in the world -- it was the most watched sports league in the world. It's a prestige brand that, as Luker pointed out, is only becoming more popular with globalization. Luker's study also found that two longtime EPL stars are in America's top 50 most popular athletes -- David Beckham and Cristiano Ronaldo (though neither one still plays in the English league).
More importantly, though, it's a seller's market across the board when it comes to sports television rights. The new NFL television deal is a 63 percent increase on the current contracts, to $3.1 billion per year. MLB's recent TV rights deals have more than doubled the price tag to a yearly sum of $1.5 billion. The NBA contract is up for renewal soon, and expectations are that networks could end up shelling out double to show those games, too. So NBC's deal isn't a radical move; rather, it's in step with trends across other sports.
And lastly, while the first weekend ratings are more than respectable, they aren't as impressive as they look. Businessweek calls strong numbers in August "scoring on an empty net" -- pointing out that the EPL likely brought in high numbers last weekend because it didn't have much competition from other sporting events. The bigger test will be seeing whether ratings can build on this positive start, and climb throughout the year.
That won't be easy. As Jason Sudeikis's Ted Lasso, a clueless NFL coach hired to manage the wrong kind of football team in a funny new NBC promo, will tell you, there aren't playoffs in the EPL -- no exciting knockout rounds to send ratings through the roof. Added to that, just as the EPL reaches its final weekend climax in May, the NBA playoffs will be in full swing. And there's a downside as well as an upside to the EPL's Saturday morning kick-offs: Games will benefit from avoiding competition with major sports at prime-time, but the potential audience will be smaller.
Soccer has an opportunity to grow in popularity under the NBC deal, but it has headwinds, too. The NBC deal itself is a step up from Fox's package, and earned the network glowing reviews for presentation. But it is just a step, not a leap. Boring as it may be to admit, the new coverage isn't a revolution for American sports, or for NBC. It's not "betting big," or going "all in." It's just a TV network grabbing a piece of the world's most-watched sports league and paying something close to market price for it.