Folk Music Isn't What It Used to Be—and That's More Than Okay
The Newport Folk Festival, held last weekend in Rhode Island, keeps traditions alive while simultaneously pushing the boundaries of what "folk" means as a genre.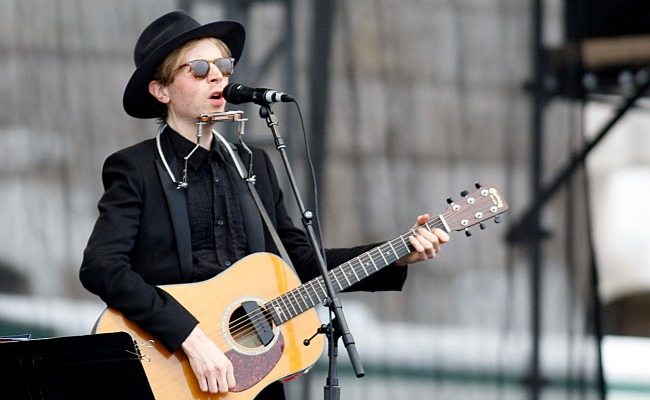 In The Interestings, Meg Wolitzer's best-selling portrait of a post-'60s generation, folk music exists as a symbol of nostalgia. Susannah Bay, a long-haired former folk icon, is left behind as the times go a-changing, abandoning the peace and love themes of her heyday to try to keep up with the changing trends of the next decades. On a steady decline from her days playing with Dylan and Baez and bringing First Lady Rosalynn Carter to tears, Bay releases an ill-advised "disco folk" album, then more or less fades into obscurity.
Like the aging Bay, who scarcely resembles "the winsome hippie girl in the poncho" in her later years, little of the legendary Newport Folk Festival any longer looks like those early days of folk. Appreciation for the type of music it champions hasn't diminished, but it has changed. The bands and singer-songwriters who took to the festival's three stages last weekend in Newport, Rhode Island, were "folk," though they rarely played anything the fictional Bay would recognize from her own time. German audio-electronics company Sennheiser hosts additional sets that can only be listened to using its wireless headphones; NPR meticulously documents the entire weekend for live-streaming online. Still, the festival has remained true to the genre's spirit in the ways that count: I caught the occasional whiff of pot in the air, and booths hawked beaded jewelry, vegan purses, and peasant skirts. In other words, Newport was a music festival hip enough for its mostly young crowd, but also a good place to bring my mom.
The Newport Folk Festival and its jazz counterpart were first held in 1959, and it was granted nonprofit status in 2011. That summer, it sold out for the first time. This year, advertised as its 54th annual (although it didn't take place from 1971 to 1985), organizers added an extra day, fitting in more than 50 musicians, from Old Crow Medicine Show, who headlined on Friday night, to Beck, who closed out the show on Sunday.
Unique among summer music festivals, Newport is relatively small in its audience size -- about 10,000 people attended over the course of the three days -- and selective in whom its organizers invite to perform. Those who attend, as singer-songwriter Amanda Palmer marveled repeatedly during her Friday afternoon set, are enthusiastic but civilized: Alcohol is relegated to a few out-of-the-way beer gardens, and chairs are set up for the two smaller stages. The main stage looks out across an expanse of lawn and lawn chairs, although there's room for dancing up front -- a new addition that concertgoers took advantage of during the Avett Brother's raucous Saturday evening performance.
Fifty-four years after the inaugural Newport Folk Festival -- which was chaired by Pete Seeger, Theodore Bikel, and Oscar Brand -- a new guard has taken over. Today, the event's official advisers include Ramblin' Jack Elliott, but also My Morning Jacket frontman Jim James and Colin Meloy of the Decemberists, all three of whom also performed this year. Deer Tick's John McCauley, popularly referred to as the festival's mayor, has started up an insanely popular tradition of festival after-parties at the Newport Blues Café. Curious about how he sees himself within the festival's history, I asked him how the music last weekend differed from the fare of the its early days.
"I don't know," he replied, "I wasn't there."
Which is a fair answer. I wasn't there either. Neither was my mom. As the Avett Brothers sang at their headlining set on Saturday night, "It's in with the young, out with the old." In with the very young, in some cases: I spotted a little boy with his dad who knew every word to The Mountain Goats' songs, and I lost count of cute toddlers dancing in the grass.
Young people, it would seem, have opened the category of "folk" to interpretation. In the broadest sense, it's applied to any of the artists who earned a spot in the festival's lineup. To be included, it helps to have the traditional instruments -- an accordion, a fiddle, a harmonica -- although none are strictly necessary. Political idealism is encouraged, as is the ability to pair that message with a melody that's easy to sing along to (and preferably one that the festival's audience can dance to). The groups who played this year brought in influences from almost every other genre of music, mixing and matching subcategories like country (husband and wife duo Shovels & Rope), jazz (New Orleans native Trombone Shorty), and even electronic elements (Phosphorescent showed up with keyboards, a drum pad, and effects pedals). At Jim James's set, there were hints of something that one just might be able to call disco folk.
Despite how things have changed, though, the festival remains steeped in tradition. Some of the greats, like Ramblin' Jack Elliott, who played the festival in the '60s, made an appearance this year. Other, younger musicians, like Iris DeMent, simply embodied a very traditional version of folk. I didn't attend her set, but I heard her imploring her audience to "keep on the sunny side of life" as I walked past.
And reverence for folk music's earlier heroes loomed large over the festival site at Fort Adams State Park. As he stood onstage, John Darnielle of the Mountain Goats said he couldn't help thinking of "that other folk singer who was here in 1963 and influenced a lot of people's lives." (It was assumed everyone would know he meant Bob Dylan). The Lone Bellow, a relatively new Brooklyn-based band that won over fans on Saturday afternoon, paid tribute to John Prine with a cover of "Angel From Montgomery," and everyone in attendance sang along. Kanene Donehey Pipkin, who sings and plays the mandolin for the band, told me that as a someone who grew up loving the music of the '60s, playing this festival felt more special than any other show she had played up to this point.
All of this served to make what we think of as "folk" not a relic of the past, but a living, evolving tradition. Here, folk's story diverges from that of Susannah Bay -- who, later on in The Interestings, improbably finds her way to the Unification Church. Stumbling upon the cult's rural commune, she realizes that the "Moonies'" way of life has a place for people like her. "She was appreciated here, the way she'd been appreciated in the past, but now in a much smaller and concentrated form," Wolitzer writes. "She was making a decision to go where the audience was."
As I arrived via ferry at Fort Adams for the weekend, I kind of understood where Bay was coming from. At Newport, groups like the Felice Brothers -- five-time festival veterans -- attract a self-selecting crowd, those who come to the event seeking out a community of similar-minded music lovers. But other groups, like the Lumineers, the Top 40 regulars who played the main stage on Sunday afternoon, have found a much broader audience. Some diehards might say Newport diluted its brand by inviting them, but you could argue the opposite: What makes folk "folk" is right there in the name -- it's music made for everyone.