Enjoying John Mayer's New Album Does Not Make You a Bad Person
Mayer's sixth studio album Paradise Valley is out today. It's good, and separable from the artist.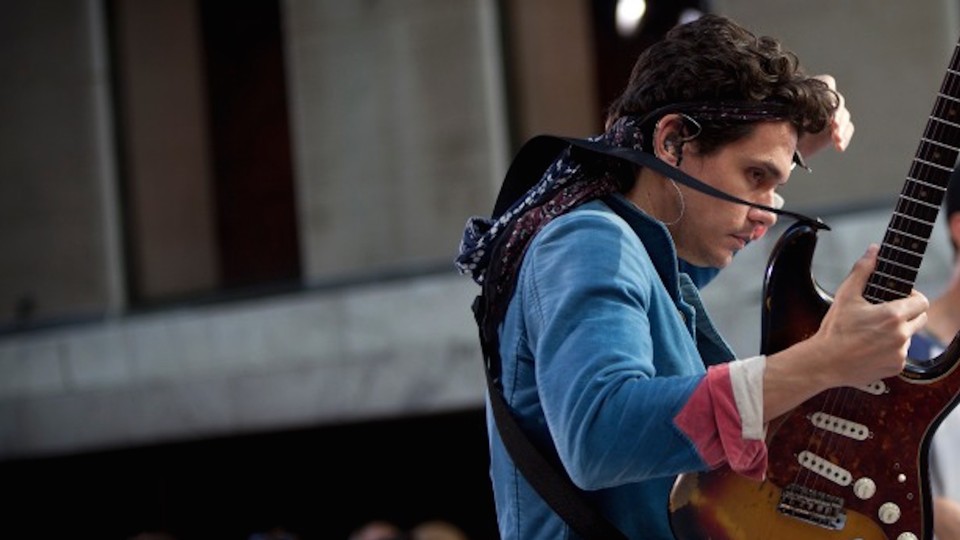 I was into John Mayer before he was big. I was into him when he was so small-time; he couldn't even afford velvet bandanas. His guitar strings were old shoelaces. He was still a kid. He was so small. He didn't even know what a bandana was. He was still in his mother's uterus, banging on the walls, screaming to be let out so he could make the world sing.
Really in 2000 I did see a Mayer double-bill at the House of Blues in Chicago, alongside Howie Day. Back then it was simpler. Day had not been accused of locking a fan in his trailer bathroom, had not been arrested on an airplane for interfering with a flight crew, and maybe best of all had not written "Collide." Mayer had not given us reason to believe he might be unabashedly racist, oblivious to the privilege in which he was drowning, or that he in any way defined and validated himself based on sexual conquests involving high-status women. They were just alone on stage with acoustic guitars. And in Mayer's case, a quiet bassist named Dave.
There were also interludes where he brought out his old sunburst Stratocaster to play "Man on the Side," "Neon," and a cover of "The Wind Cries Mary."
---
Live in Birmingham, Alabama (2003)
---
If you've never seen Mayer play blues guitar — and I say this because it's true, even though I think superlatives are the worst — you've not seen the man who is objectively the most talented guitarist in popular music. Anyone who's not in some way attracted to or impressed by his talent does not understand music. Or, or — and it really seems this does happen — they hate him too much to hear it. They hate him personally, or they get lost in the too-often sappy lyrics, or his period of faux-gravely vocal experimentation.
I've felt that same tension over the years, as Mayer's public persona has time and again had me thinking that I shouldn't support this dude. In the old debate about separating the art from the artist, Mayer's case is more nuanced because the two are so intertwined. For instance, Ben Folds is on his fourth marriage, and people still play his ballads about undying love at their weddings. He can get away with the sentimentality because he's a master of writing in third person. Apart from Mayer's forays into Folds-ish narrative-songs like "Walt Grace's Submarine Test, January 1967," his lyrics are often viscerally, clearly autobiographical. If you want to distance yourself from John, it's difficult to listen.
---
From Born and Raised (2012)
---
You can enjoy Mayer's sixth studio album, Paradise Valley, though. If you hate him, or you're just embarrassed to be associated with him — you can still enjoy it. Even for as much personality and intimacy goes into Mayer's songwriting, liking this album is not an endorsement of Mayer as a person.
Not to dig at old sores, but since we're talking about the filter through which we listen to Mayer's music, let's remind ourselves of the 2010 Playboy interview. For many this took Mayer's public persona beyond the cheeseball celebrity-typical-narcissist and into hateful elitism. He says he's since repented, reexamined, etc. Here are (to be fair, without context) a couple of the salient moments — beyond just the timeless, enigmatic reference to dating Jessica Simpson as "sexual napalm."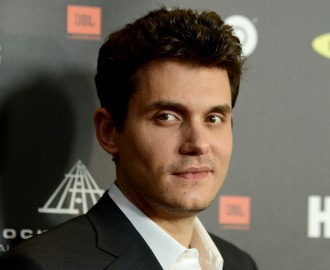 Mayer attends the Rock and Roll Hall of Fame Induction Ceremony at the Nokia Theatre in Los Angeles. (Jordan Strauss/Invision/AP)
---
On "Why black people love me": "Someone asked me the other day, 'What does it feel like now to have a 'hood pass?' And by the way, it's sort of a contradiction in terms, because if you really had a 'hood pass, you could call it a n---a pass. Why are you pulling a punch and calling it a 'hood pass if you really have a 'hood pass? But I said, 'I can't really have a 'hood pass.' I've never walked into a restaurant, asked for a table and been told, 'We're full.'"
On his feud with Perez Hilton: "I remember seeing Perez Hilton flitting about this club and acting as though he had just invented homosexuality," he said. "All of a sudden I thought, I can out-gay this guy right now. I grabbed him and gave him the dirtiest, tongue-iest kiss I have ever put on anybody -- almost as if I hated f--s."
Mayer's appearances in support of the new album conjure prepackaged disaffection. He wears at least one scarf tied around his head, several dangling necklaces, a lot of denim, canvas, and vests. On the album cover, he appears to have at least one blanket over his shoulders, staring off into mountains with a dog that may or may not be his. Maybe the dog helped him when he got bit by a rattler down by the old swimmin' hole. It's a carefully cultivated look for the boy from Connecticut.
Mayer seems to be taking on the wandering western air of his predecessor in guitar style, Stevie Ray Vaughan. It's a clear morph from earlier bro dude and subsequent ponytail, tattoo, sleeveless rock-star images. But it's come incrementally, via 2012's folk-rock-themed album Born and Raised. Even as he's shown he's still not above taking jabs at a barely-20-year-old national treasure of an ex (Taylor Swift), Mayer has taken up steel guitar and truck and boots and all things aesthetically wholesome.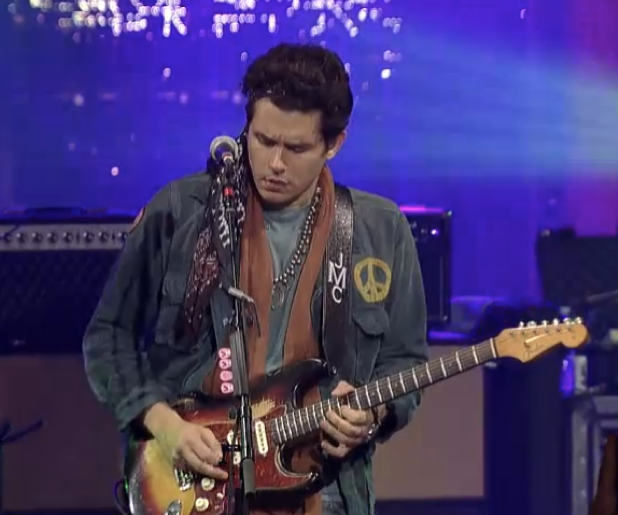 On Late Show With David Letterman, August 19, 2013 (CBS)
---
It could feel like a reaction; a little surreal. The important part though is that, intentionally or not, Mayer is embracing a persona that comfortably distances him and us from the Mayer of 2010. I mean, he literally underwent surgical removal of a growth on his vocal cords. Call it fake or forced, but in trying to separate artist from art, he's giving us the out.
From Paradise Valley (2013)
---
The track from the new album that feels the most genuine is "Who You Love." It's a slow duet between Mayer and his significant other, the excellent Katy Perry. She sings in her real voice, without any "California Girls" synthetics, "My boy ain't the one that I saw coming, and some have said his heart's too hard to hold; and it takes a little time, but you should see him when he shines, cause you never want to let that feeling go."
Holding people like Mayer and Howie Day accountable as public figures — who should exercise their celebrity responsibly or have the public revoke it — can and will be a discussion for another time. In the moment, though: This album features strong guitar work without feeling indulgent, a folksy warmth that feels experimental but not forced, and engaging melodies that catch without feeling manipulative. Trust whatever you want about Mayer as a person. Believe that he's been held sufficiently accountable for oblivious behavior, gained perspective and changed; or don't. When it comes to the music, as Mayer and Perry sing together, "You love who you love."