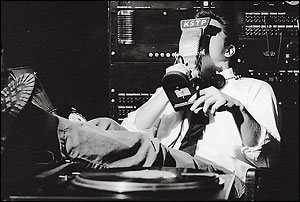 Back in 2000, when for odd reasons I was spending a lot of time driving back and forth through northern Minnesota, I learned about and became fascinated with the St. Paul-based radio humorist / interviewer / musician T.D. "Tommy" Mischke. I wrote an article about him in the magazine, source of the picture above.
In the years since then, Mischke has had various up-and-down adventures with radio management, his audience, the Internet, etc. I've chronicled several along the way, for instance this in 2010 (when he came back to the airwaves); this also in 2010 about some of his phone-call riffs; this in 2009 with links to some previous installments; and, by one of his fans, this long interview about Mischke and his career. 
Word out of The Cities yesterday is that Mischke is again leaving radio. His is a genuinely original talent, and I hope he will find the right next outlet for it. Meanwhile you can find an archive of many of his shows, plus links to his CDs, at this slightly out-of-date but still functional Mischke Madness site.
We want to hear what you think about this article. Submit a letter to the editor or write to letters@theatlantic.com.
James Fallows
is a staff writer at
The Atlantic
and has written for the magazine since the late 1970s. He has reported extensively from outside the United States and once worked as President Jimmy Carter's chief speechwriter. He and his wife,
Deborah Fallows
, are the authors of the 2018 book
Our Towns: A 100,000-Mile Journey Into the Heart of America
, which was a national best seller and is the basis of a forthcoming HBO documentary.