End of an Era: Tommy Mischke Leaves the Airwaves
A genuinely original talent calls it quits, at least for a while.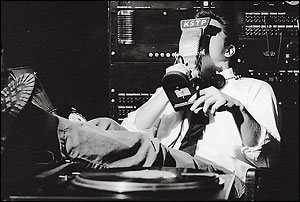 Back in 2000, when for odd reasons I was spending a lot of time driving back and forth through northern Minnesota, I learned about and became fascinated with the St. Paul-based radio humorist / interviewer / musician T.D. "Tommy" Mischke. I wrote an article about him in the magazine, source of the picture above.
In the years since then, Mischke has had various up-and-down adventures with radio management, his audience, the Internet, etc. I've chronicled several along the way, for instance this in 2010 (when he came back to the airwaves); this also in 2010 about some of his phone-call riffs; this in 2009 with links to some previous installments; and, by one of his fans, this long interview about Mischke and his career.
Word out of The Cities yesterday is that Mischke is again leaving radio. His is a genuinely original talent, and I hope he will find the right next outlet for it. Meanwhile you can find an archive of many of his shows, plus links to his CDs, at this slightly out-of-date but still functional Mischke Madness site.