Donovan McNabb Is Right: He Belongs In the Hall of Fame
The just-retired Eagles quarterback's lack of a Super Bowl victory and a few mediocre years shouldn't overshadow his overall impressive record.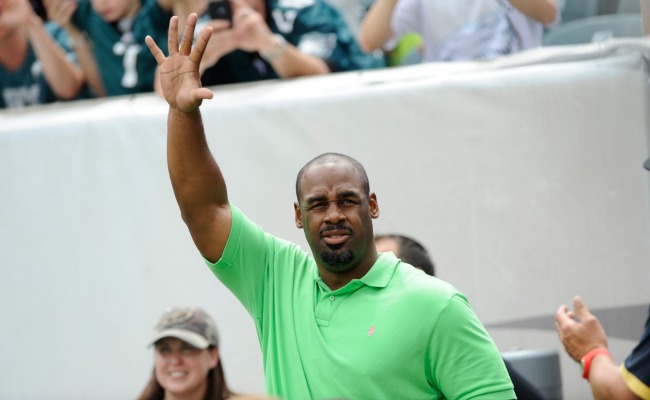 AP / Michael Perez
Donovan McNabb started his own campaign for the Pro Football Hall of Fame last week on the day the Eagles retired his number. He won't be eligible for four years, but it doesn't hurt to start early. "If I had a vote," he told reporters, "I would vote [for me]."
So would a lot of other people who saw him play. But many in the football press who disagree.
Most of these objections were summed up by Paul Domowitch of the Philadelphia Daily News. "You can play the numbers game to make a case both for and against McNabb being Hall of Fame-worthy," Domowitch wrote, before opting to make the case against.
But the case for, I'd argue, is more persuasive.
I won't go into all statistical reasons for why McNabb was a top-tier QB, but here are a few. On the important metrics of yards per throw and interception percentage, McNabb's career marks are excellent (7.0 and 2.2 percent, respectively). He has one of the best touchdowns-to-interceptions ratios of any modern passer (234 TDs to 117 interceptions, exactly 2-to-1). Only three quarterbacks in NFL history have passed for more than 35,000 yards and also rushed for more than 3,000, and McNabb is one of them. The other two are John Elway and Fran Tarkenton, and that's pretty good company.
The statistics in which McNabb lags, the ones that critics point to, are largely arbitrary and irrelevant to quarterback greatness—career completion percentage, game-winning drives, fourth-quarter comebacks.
A stronger argument still is that McNabb was a winner. He led the Eagles to five conference championship games—four consecutive—and at the end of the 2003 season put them in the Super Bowl against the New England Patriots. His team lost that game 24-21, but that was hardly a disgrace: McNabb had a pretty good Super Bowl, passing for 357 yards and three touchdowns. If he had had the Patriots' defense instead of the Eagles', Philly probably would have won.
It shouldn't matter much that McNabb doesn't have a championship ring. There are several great quarterbacks who never won a Super Bowl. Hall of famers Fran Tarkenton and Jim Kelly, for example, lost eight Super Bowls between the two of them. Dan Marino was beaten in the 1985 Super Bowl by the San Francisco '49ers, 38-16, and he didn't play nearly as well in defeat as McNabb did. Dan Fouts and Warren Moon both failed to reach the big game, and they both have a bust in Canton.
Here's an interesting comparison. Eli Manning has won two Super Bowls. His career record as a starter is 78-57 for a won-loss of 57.8%. McNabb was 98-62, 61.25%. In 137 games, Eli has thrown 211 touchdowns and 144 interceptions; in 167 games Donovan threw for 234 TDs with just 117 interceptions. In other words, through most of his career, McNabb was a more effective quarterback than Eli—except for those two Super Bowl wins.
So between the two, if you were voting who would you pick for the Hall of Fame? There's no established criteria here, so you can use your own standards. Me, I would vote for both.
Then again, I may be biased. McNabb has always been a favorite of mine. Back in 1998, writing for ESPN Magazine, I touted McNabb, who had just played his final year at Syracuse, as the best college quarterback in the nation and hassled my editors into putting him on the cover of the first fall issue as the NFL's coming superstar.
He never quite made it to that level, which is to say that I don't think there was a time when he was ever the best quarterback in the National Football League. He was, at his best, very very good. Good enough for the Hall of Fame.
In the interest of further disclosure, I feel I sort of owe McNabb a little bit of a boost in his legacy campaign. You may recall when 10 years ago, Rush Limbaugh, who had been inexplicably hired by ESPN as a football commentator, stirred up a huge fuss when he remarked that he "never thought McNabb was that good a quarterback" and that McNabb had been "overrated ... What we have here is a little social concern in the NFL. The media has been very desirous that a black quarterback can do well—black coaches and black quarterbacks doing well.
"There's a little hope invested in McNabb, and he got a lot of credit for the performance of his team that he didn't deserve. The defense carried this team [the Eagles]."
I found myself in the improbable position of defending Limbaugh at Slate. Basically, I still think he was right when he said that McNabb got the credit for the performance of the team, particularly Philadelphia's defense. At least it was that way through the 2002 season and the first few games in 2003. But Donovan got better after that—much better. In 2004 he threw 31 touchdown passes against just eight interceptions, and ran for seven more TDs. He passed an average of 8.3 yards/throw. It was one of the best seasons ever for an NFL quarterback.
For the last eight years of his career, he averaged 7.5 yards/throw, compared to 6.6 yards/throw in the first five. And from 2004 to the end of his career in 2011, he turned in a truly outstanding TD-to-interception ratio of 147-to-68.
Regarding the larger issue of race, I don't think I can say it better than I did a decade ago: "Limbaugh is being excoriated for making race an issue in the NFL. This is hypocrisy. I don't know of a football writer who didn't regard the dearth of black NFL quarterbacks as one of the most important issues in the late '80s and early '90s.  ...
"To pretend that many of us didn't want McNabb to be the best quarterback in the NFL because he's black is absurd. To say that we shouldn't root for a quarterback to win because he's black is every bit as nonsensical as to say that we shouldn't have rooted for Jackie Robinson to succeed because he was black. (Please, I don't need to be reminded that McNabb's situation is not so difficult or important as Robinson's—I'm talking about a principle.)"
I'm dredging up this old controversy now because it's easy to forget that just a few years ago there was a lot of pressure on Donovan McNabb to make it as a black quarterback. Things have eased up a lot with the coming of Washington D.C.'s Robert Griffin III and Seattle's Russell Wilson. Since I wrote that piece, Warren Moon became the first black quarterback to be inducted in Canton. Donovan McNabb should be the second.