Crazy Talk: How One Direction's Movie Defends Boy Bands' Female Fans
The Morgan Spurlock-directed documentary One Direction: This Is Us skirts the sexism often plaguing conversations about the act's global following.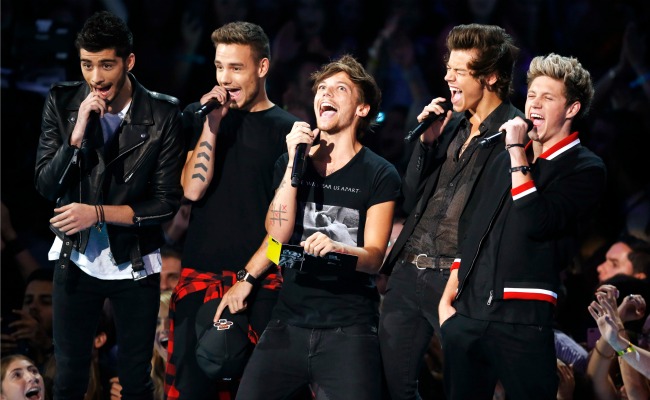 Reuters / Eric Thayer
The best moment of One Direction's new 3-D tour documentary, This Is Us, happens early in the film: Simon Cowell, who formed the massively popular boy band on his X Factor competition in 2010, looks straight into the camera and declares, "These girls are crazy about One Direction, and I have no idea why."
But wait! Instead of rolling another montage of screaming teens pushing past barriers and forming mobs at arenas, the camera cuts to a laboratory where a scientist breaks down the boy-band sensation with a biology lesson. Armed with illustrations of the brain, he explains that hearing music you like releases dopamine, a neurotransmitter that activates the mind's pleasure centers (a process also responsible for runners' high and certain addictions). "The girls are not crazy," the scientist says. "The girls are excited."
When people talk about One Direction's enthusiastic and mostly female following, the Directioners, "crazy" come up often. This Is Us rolls clips of morning news hosts marveling at the mania surrounding the band, throwing out phrases like "One Direction fever" or "One Direction hysteria" as if a spike in hormones or an illness is solely to blame for the band's multi-platinum success—something that happens to young girls, instead of something they choose. Between tour footage and candid interviews, This Is Us showcases the boys' behind-the-scenes lives, but it more convincingly comes to the defense of their female fans by legitimizing and respecting their interest.
The film couldn't have done so at a better time. Earlier this month, British broadcaster Channel 4 aired its own documentary called Crazy About One Direction that did pretty much the opposite. Its characterization of Directioners as borderline stalkers (one featured teen spoke of visiting the bands' childhood homes and infiltrating their hotel) drew ire from fans who both felt misrepresented and believed the filmmakers exploited their interview subjects, like one girl who admitted she got braces to look more like a band member. (Oddly, some fans also spread rumors that 42 Directioners had committed suicide in response to the film's portrayal, though investigations by Channel 4 found no record of such deaths).
The British GQ came under similar fire this summer when it chose Niall, Zayn, Liam, Harry, and Louis as their September-issue cover stars. In the story, GQ called Directioners and other boy-band fans "rabid, knicker-wetting banshee[s] who will tear off [their] own ears in hysterical fervour when presented with the objects of her fascinations"—girls who "don't care about history" and were "almost literally" turning themselves "inside out" in response to the "hormone bomb" of the boys' arena show. Many chastised the article for its sexist language, while a vocal few responded with violent Twitter threats concerning the sexualization of the young men themselves (the cover line for 19-year-old Harry Styles, the floppy-haired Taylor Swift ex, reads "He's up all night to get lucky"). GQ rounded up the tweets, citing the reactions as further proof of Directioner hysteria.
It's okay to wonder why One Direction is such a phenomenon. After all, not many talent-competition acts—let alone ones that finished third—achieve enough success to transcend their reality show identity. It's the rare performer who, like Taylor Swift or Justin Bieber, embodies the right combination of radio-friendly hits (written by themselves or others) and personal charisma (however misunderstood by non-fans) to speak teens' language internationally. And while Amanda Hess in Tomorrow makes a great case for why gay One Direction fan fiction is a healthy outlet for teen girl sexuality, it's definitely perplexing to see fans trying to get Louis Tomlinson's girlfriend kicked out of university because they believe Louis is in a secret relationship with Harry. "These guys have gotten so huge in such a short amount of time—why?" asked This Is Us director Morgan Spurlock of Super Size Me fame. "What makes them more special than any other people?"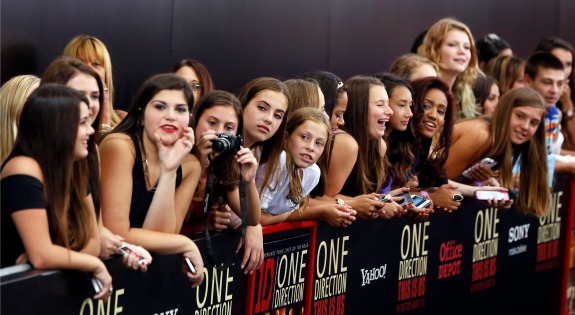 Reuters / Lucas Jackson
To find out, Spurlock went straight to the source, asking girls attending the hot-selling Take Me Home tour not what they love about One Direction, but why they love the band in the first place. Their answers are short on spectacle: "They sing our feelings," says one. "They know what we want to hear," says another. "They always make fans laugh," adds one more. Yes, the guys are also cute and frequently shirtless, but the selected live performances featured in movie seem like they were chosen to back up the girls' claims. The (arguably problematic) ballad "Little Things," for example, is highlighted here as a self-esteem-boosting ode to girls who "never loved" their stomachs, thighs, and dimples, and the pulsing show opener "Up All Night" is about staying out late in pursuit of monogamy and romance, not debauchery.
Some critics have argued the recent wave of biographical pop docs—Justin Bieber's Never Say Never, Katy Perry's Part of Me—are just gifts for fans, simple branding exercises designed to keep their flames of devotion burning. But if you read other reviews closely, it's clear the genre has a tradition of convincing skeptics that its performers have merit. This Is Us is no different, and Spurlock—who made unsuccessful bids to direct the Bieber and Perry movies—rationalizes Directioner dedication by tackling haters' complaints one by one in the first few scenes. Think boy bands are gimmicky? During rehearsals, members of One Direction openly mock the pop-and-lock choreography of their late-'90s predecessors. Think boy bands can't sing? Brief clips of the fellas singing a capella (and Cowell's own endorsement) say otherwise. Think boybands are artless manufactured record-company products? Well, maybe—the guys were near-strangers when Cowell recast the solo X-Factor eliminees as a group—but footage of the boys goofing around on- and off-stage suggest the lads have chemistry even a major-label marketing team couldn't cook up.
Sure, there are times when This Is Us does indeed feel like an extended commercial. The narrative arc repeatedly circles a few key messages, often in ways that feel more like stunts than acts of documentary filmmaking: One Direction wants you to know they're a bunch of normal guys, so the camera crew accompanies them on visits to childhood homes and first jobs. They have a real group dynamic— so they go on a camping trip and discuss how they never fight. And they're also nice to their moms, as we learn when Zayn Malik—the impressively coiffed one—buys his a house.
But the one theme they come back to repeatedly—and perhaps most sincerely—is that One Direction fans are the essential, dedicated volunteers that keep the boy-band enterprise going. Whether on holiday at home or huddled around a campfire, the guys rarely examine their success without crediting those buying records and concert tickets for saving them from post-X Factor irrelevance. Where Bieber's and Perry's self-congratulatory films present their followings as mere by-products of the stars' accomplishments, This Is Us suggests the opposite. It's fitting that Louis Tomlinson, the prettiest one, calls the band's relationship with supporters "a teamwork between us and them" right before the film segues into its final performance of "What Makes You Beautiful." The track, One Direction's breakthrough hit, serenades an insecure girl by telling her, "You don't know you're beautiful." If fans didn't know how One Direction felt about them, they certainly do now.