Althea Gibson's Unfinished Legacy for Black Tennis Players
She broke barriers by rising to the top in 1957, but since then the sport has become exclusionary in new ways.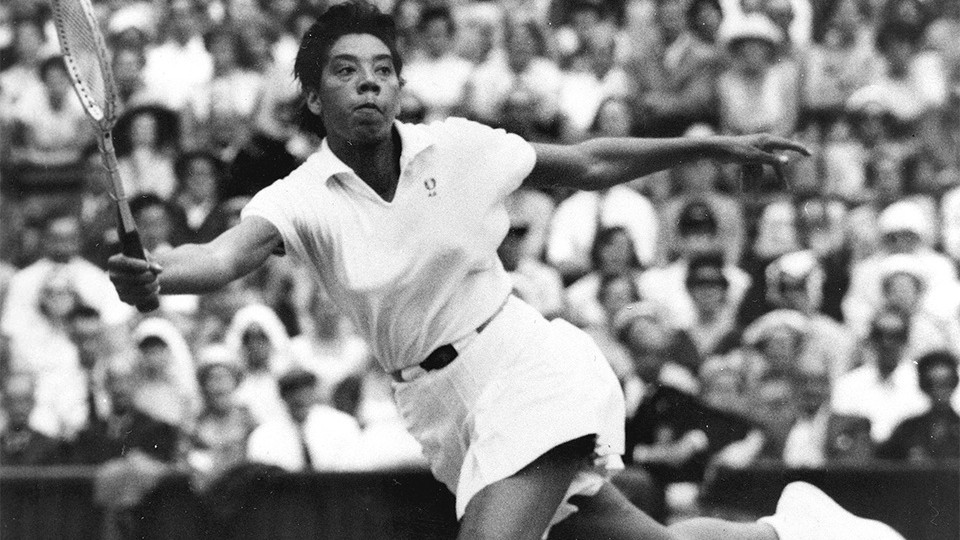 Legendary tennis commentator Bud Collins once wrote that no tennis player had ever overcome more obstacles to become a champion than Althea Gibson. This year, rightly, the U.S. Postal Service is marking the U.S. Open tournament with a first-class "Forever" stamp honoring the African-American tennis great from the 1950s.
Gibson, born in South Carolina in 1927 and raised in Harlem, won the women's singles titles at Wimbledon and Forest Hills (at the U.S. National Championships, the forerunner of today's U.S. Open) in 1957 and repeated both feats in 1958. She was the first black champion, male or female, at those tournaments. At a time when top tennis was remained an amateur sport largely played at private clubs that excluded blacks (and in many cases Jews as well), Gibson had to fight just to be allowed to play in the United States' national championship at all.
But that realm of prejudice and privilege provided a paradoxical opportunity for Gibson. Gibson overcame the initial barrier to entry when she became the first African-American allowed to play at Forest Hills in 1950, and from that point on, she faced a pool of rivals that was limited by geography and wealth.
Tennis, whose most prestigious events were open only to amateurs (as they would be until the "Open" revolution of 1968), was the preserve of a close-knit community of the socially prominent and those able to attract their patronage. A disproportionate number of its top American players were from Southern California. The sport's lack of professional opportunities—especially for women—discouraged participation by the athletically talented looking for a chance to cash in on their skill someday; Gibson herself even had a professional golf career in the absence of a similar women's professional tennis tour at the time. Gibson, at 5'11", was tall for a woman player at the time (and taller than many of the top women's players even today), and her strength and athletic ability allowed her to overcome the poor quality of her initial instruction in the game. As the Postal Service puts it, Gibson "was fast, had a long reach, and relied on a booming serve and precise volleys," as well as the determination necessary to win her first major championships at the age of 30.
By comparison, though, today's "open" world of professional tennis may actually be more "closed" to those—like Gibson herself—without the resources or the time to devote to a full-time, top-flight immersion in the sport starting at a very young age.
Gibson played decades before the pipeline to the top tennis ranks became populated by, as The New York Times recently put it, "teenagers ...who practice five or six hours a day; who are home schooled in South Florida condominiums into which their families have moved from the suburbs of Boston or Lisbon or Moscow to allow them to play high-level tennis."
Given such an environment, it is likely no coincidence that Gibson remains among the very few African Americans to have ever won Wimbledon or U.S. National/U.S. Open titles. Only Arthur Ashe among the men and the Williams sisters among the women have matched that record; there are virtually no promising prospects among the American men and few—if any—among the women who are likely to add to that roster of champions (apologies to Sloane Stephens if or when I am wrong). So when the Postal Service says that Gibson "blazed a trail for a future generation of African-American players, such as Arthur Ashe and sisters Venus and Serena Williams," the "such as" is tantamount to "all" when it comes to listing those who followed her trail to the top.
But whatever obstacles big-time tennis continue to present to minority youngsters trying to emulate Gibson's success, the stamp honoring her is certainly a welcome recognition of a great champion. So buy the stamp, and maybe use it to mail letters to Time-Warner Cable and CBS urging them to resolve the dispute that will otherwise prevent so many cable subscribers from watching the finals of the U.S. Open this year—where the odds-on favorite Serena Williams could honor Althea Gibson's legacy by hoisting a trophy once again.