Alex Rodriguez: Baseball's Latest, Greatest Drug Scapegoat
Alex Rodriguez is unpopular and unsympathetic. But that doesn't mean his suspension from Major League Baseball will be fair.
Alex Rodriguez appears at a news conference following the announcement of his suspension from Major League Baseball for 211 games. (John Gress/Reuters)
There was a time, believe it or not, when Alex Rodriguez was popular. Really, genuinely, popular. Granted, it wasn't recently -- you'd have to go back to the Clinton Administration -- but as a young shortstop for the Seattle Mariners in the late 1990s, A-Rod was considered one of the game's true bright lights.
It wasn't just because of his on-the-field accomplishments, though these were remarkable: In 1996, at an age (20) when most players were in college or the low minor leagues, Alex Rodriguez was already
the best in the American League
. But A-Rod, too, was a saint: a humble, decent (Christian, natch) young man who called his mom five times a week, avoided alcohol, and worshipped his veteran teammates. "A guy this sweet," wrote Gerry Callahan in
a fawning profile
of Rodriguez for
Sports Illustrated
that year, "must be hiding some cavities."
If only Callahan knew what was coming. Seventeen years later, this very same Alex Rodriguez is the most hated player in baseball.
How hated? His fellow players
voted him as the "biggest phony"
in the majors. His own boss, New York Yankees General Manager Brian Cashman,
told the media that he should "shut the fuck up"
after A-Rod tweeted his satisfaction at being medically cleared to play. (Cashman disagreed with this diagnosis). His own fans boo him mercilessly. And
The New York Post
, its finger forever on the city's pulse, summed up its feelings for Rodriguez with this headline: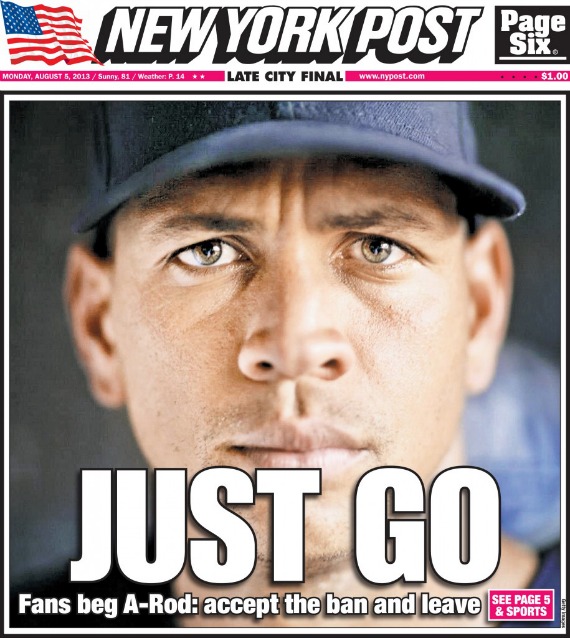 A full account of the reasons behind A-Rod's unpopularity would require volumes, but here are the highlights. First was the contract -- 10 years for $250 million -- which Rodriguez signed with the Texas Rangers in early 2001. Then there was his colorful private life: the
extra-marital affairs
, the
dalliance with Madonna
("she's my fucking soulmate dude"), the
unfortunate photograph
in
Details
magazine of Rodriguez kissing his own reflection in a mirror, and the better-left-unexplained
"centaur painting."
For all of his off-field problems, there was one thing that couldn't be taken away from A-Rod: his accomplishments on the field. But then came his revelation in early 2009 that, as a member of the Texas Rangers earlier in the decade, he had used performance enhancing drugs (PEDs). Suddenly, his once-pristine playing career came under suspicion. A-Rod being a buffoonish, narcissistic philanderer? Fine, he's a famous athlete -- it's normal. But a cheater? That was too much. For in the morality play that is 21st century baseball, any number of crimes are tolerated -- but using drugs to improve one's play on the field is not one of them.
And so this week, Commissioner Bud Selig did what fans had wanted him to do for years: He threw the book at A-Rod. Rodriguez was one of 13 players suspended for his link to BioGenesis, a since-shuttered "anti-aging" clinic in south Florida that allegedly supplied athletes with PEDs. The other 12 players, each first-time offenders, were suspended for 50 games each, as per guidelines established in baseball's (unfortunately-named) Joint Drug Agreement. Rodriguez, on the other hand,
was banned for 211 games
-- enough to keep him out of action for the rest of this season and all of next.
Never mind that Rodriguez's suspension is more than twice as long as any other non-permanent ban in baseball history. Or that, in recent baseball history, any number of
criminals, drunks, and scoundrels
have avoided any punishment from the league. Or that Alex Rodriguez -- still -- has never failed a drug test, which is (in theory) the basis for suspending players under the JDA. Or that Major League Baseball's investigation of BioGenesis relies heavily on one witness -- clinic founder Tony Bosch -- who may be slightly
less than reliable
. Or that 211 games is an arbitrary total, dependent more on the whims of the league's game schedule than any sense of proportional punishment.
Rodriguez, alone among the BioGenesis 14 (counting Ryan Braun, banned for 64 games last month), has chosen to appeal his suspension. In the coming days, then, Selig and Major League Baseball will reveal, precisely, what merited the 211 game suspension. It may be that the l
eague has incontrovertible evidence
that Rodriguez' sins were grave enough -- he is alleged to have tried to
obtain and destroy evidence
, a claim A-Rod denies -- that an ordinary 50-game suspension would be insufficient. Or, possibly, an arbitrator will determine that Rodriguez should be regarded as just another player who made an error in judgment, rather than a pariah deserving of harsher punishment.
Either way, it's hard to escape the sense that the Alex Rodriguez suspension was Bud Selig at his worst -- tackling the steroid problem by going after a player who
had basically run out of defenders
. Not that I, or anyone else, should feel sorry for him. Alex Rodriguez has lived a charmed life. Through his career, he has
earned more than $350 million
 in salary (plus more in endorsements), dated Hollywood stars like Cameron Diaz and Kate Hudson, and won a World Series -- all the while playing a children's game for a living. He's hardly a sympathetic character. But that doesn't mean that he deserves special opprobrium -- cavities or not.