1book140's August Reads: Building Stories and The Influencing Machine
Our Twitter book club's reading schedule for the coming month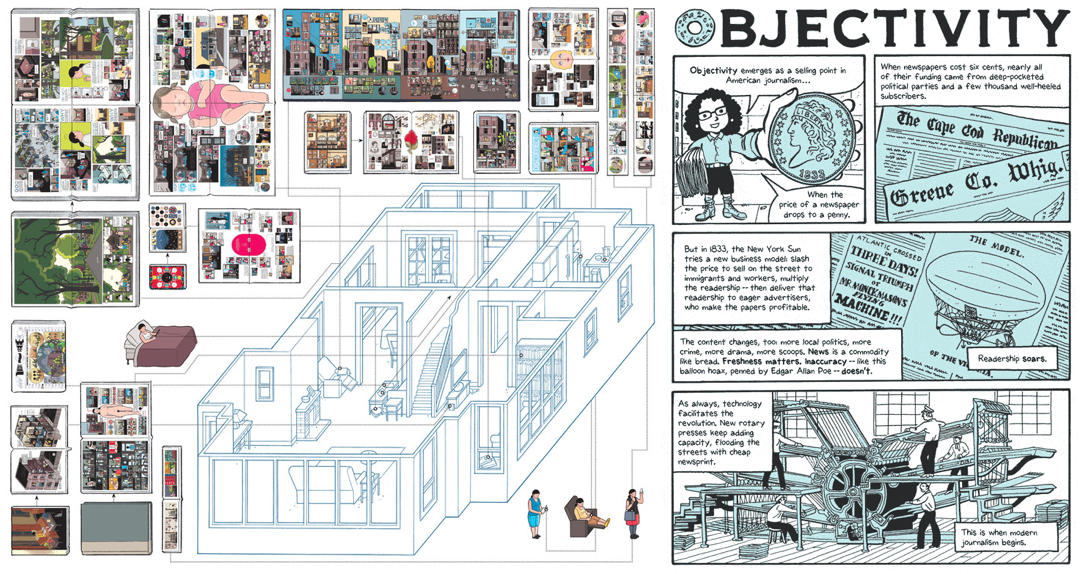 Pantheon Books / WW Norton
Last weekend, we voted on six remarkable graphic novels for our Twitter book club out of almost 40 suggestions. After a close vote, our August reads are Building Stories by Chris Ware and The Influencing Machine by Brooke Gladstone.
Building Stories by Chris Ware is a fascinating box of wonders that visually reflects on the everyday moments in the long arc of life. Inside the box are 14 printed objects to be read in no particular order: newspapers, booklets, a Golden Book lookalike, pamphlets, and a fold-out board. The collection took Ware 10 years and just won four Eisner awards at Comic-Con.
Ware's characters share the same apartment building. The architectural style frames a "watertight visual surface [that] lets him get away with vast billows of existential torment" writes Douglas Wolk in his excellent New York Times review of the collection. Building Stories makes "suffocating, grim themes look enticing and elegant," writes Lucy Davies in the Telegraph, with a wonderful, tender visual style.
The Influencing Machine by Brooke Gladstone and illustrated by Josh Neufeld offers an introduction to big questions about the role of media in society, in comic form. "She puts the 21st-century media cleverly into context, cramming her book both with history and the latest scientific research," writes Rachel Cooke for the Guardian, who calls it "subtle, interesting and comprehensive."
While Chris Ware speaks with his use of wordless space and architectural arrangement, then Gladstone, who is radio host of NPR's On the Media, is all words. At points in The Influencing Machine, she resorts to the occasional all-text page while winsomely addressing themes such as bias, war, news online, bloggers, and the history of relations between governments and the press.
How To Discuss Graphic Novels on Twitter
Joining our Twitter book club is easy. Find copies of Building Stories and The Influencing Machine, follow us at@1book140, and tweet to join the conversation so we know that you're reading along.
Discussion on our hashtag #1book140 includes general commentary and questions, both things that apply easily to graphic novels. For discussions that include details, we use a different hashtag each week to avoid spoilers.
Since this month's reads are visual, you can also add commentary by including a photo or Instagram from the page in your tweet like this: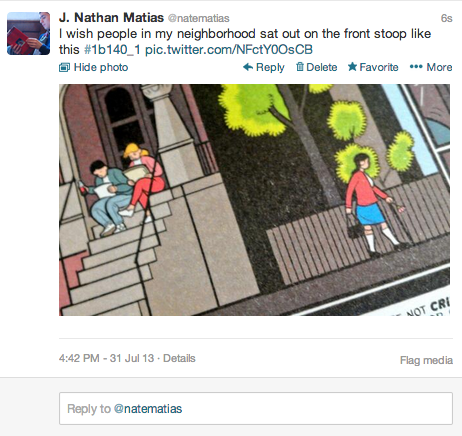 Reading Schedule
The first two weeks, we will read Chris Ware's Building Stories. Ware's box of comics has no prescribed reading order, so I have grouped them by hashtag.
Week One, use #1b140_1 as a hashtag for your tweets: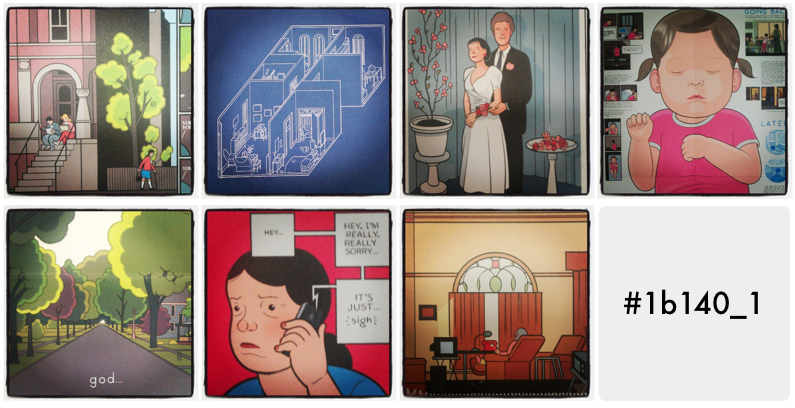 Week Two, tweet at #1b140_2: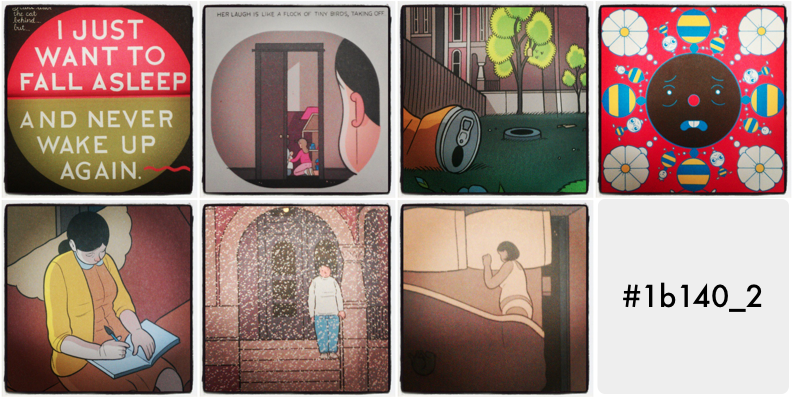 Week Three: The Influencing Machine, "In The Beginning" to "War" at #1b140_3
Week Four: The Influencing Machine, "Objectivity" to "I, Media" at #1b140_4