1book140: Recapping Our Twitter Chat with The Influencing Machine's Creators
Brooke Gladstone and Josh Neufeld discuss the connection between comics and radio.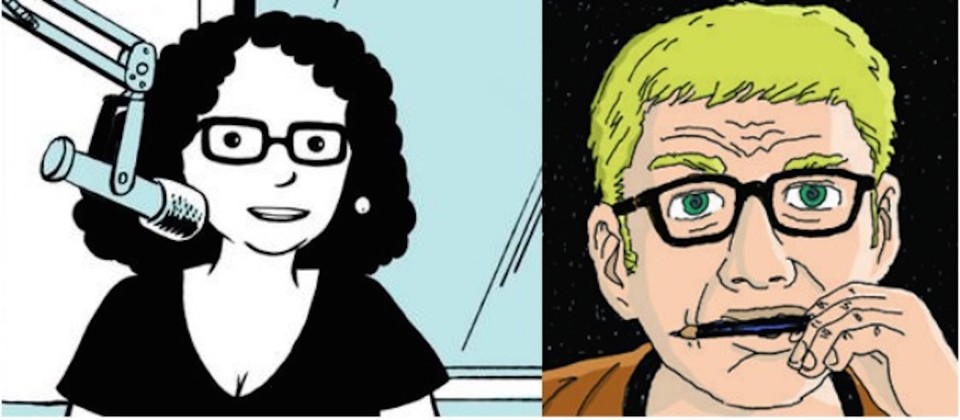 WW Norton/Josh Neufeld
Brooke Gladstone and Josh Neufeld, creators of the graphic novel The Influencing Machine, joined us for a live Twitter chat yesterday to talk about the media, comics journalism, and why radio storytellers are drawn to comics.
Brooke is host of WNYC's On The Media, an award-winning radio show where she examines and explains media news with clarity and wit. Josh is an award-winning nonfiction comics storyteller. His latest work, Stowaway, follows an Ethiopian orphan's journey to America.
The Influencing Machine, says Brooke, is "my unified theory--how the media are more a reflection of a culture (and its seamy underside) than a driver. You can see a funhouse reflection of yourself in every media mirror. That's when it becomes obvious that we've been here before."
I asked Brooke and Josh about the apparent connection between comics and radio. Ira Glass and Jessica Abel created a comic about making radio, and Glass also created Lost Buildings with Chris Ware.
"Radio is an experience of projected intimacy, which is done better with a comic than in print" says Brooke. "You can look your audience directly in the eye. Can't do that with print!"
During conversation, Josh shared photos of related panels and showed us proposed designs for Brooke's character in the book.
Brooke and Josh also discussed the connection between comics and journalism, sharing some of their top suggestions: Joe Sacco, Dan Archer, Symbolia Magazine, Josh Kramer of the Cartoon Picayune, and Scott McCloud's Understanding Comics.
During our hour-long conversation, Brooke and Josh discussed their creative process, the role that comics can play in bridging cultures, and the role of objectivity in journalism. You can read the full archived conversation, or scroll through our hashtag at #1book140.