1book140: Chat With The Influencing Machine's Creators on Twitter
Brooke Gladstone and Josh Neufeld join this month's conversation about graphic novels.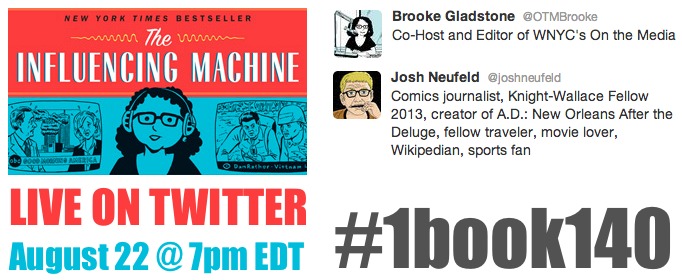 What is the media? How does it work and can we trust it? Join us at 7 p.m. Eastern Time on Thursday, August 21 for a live Twitter chat with Brooke Gladstone and Josh Neufeld, creators of The Influencing Machine.
Graphic novels are this month's theme at #1book140, The Atlantic's Twitter book club. Late last month, readers suggested nearly 40 titles, narrowed them down to six, and ultimately voted for two gorgeous and thought-provoking titles: Chris Ware's box of wonders Building Stories and The Influencing Machine by Gladstone and Neufeld.
The Influencing Machine offers an introduction to big questions about the role of media in society, in comic form. It introduces issues including bias, war, objectivity, the protection of sources, the Internet, and the relationship between government and the media. "She puts the 21st-century media cleverly into context, cramming her book both with history and the latest scientific research," writes Rachel Cooke for the Guardian, who calls it "subtle, interesting and comprehensive."
Live #1book140 Twitter Chat at 7 p.m. on Thursday, August 21
Brooke (@otmbrooke) and Josh (@joshneufeld) will join us next Thursday for an hour-long live conversation on Twitter. Participating is easy. Find a copy of The Influencing Machine and follow us at @1book140. We'll tweet out when the live Q&A begins, and you can send your questions with the hashtag #1book140. Brooke and Josh will answer with the hashtag so everyone can follow along. After the Q&A, we'll post the answers here at TheAtlantic.com.
If you're not on Twitter but still have a question, ask in the comments below and we'll include your question on Thursday.