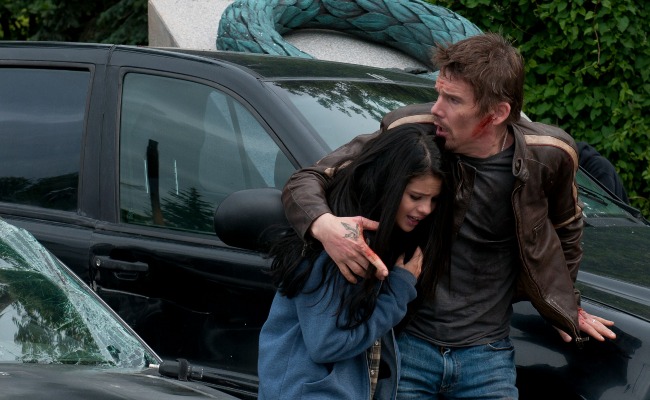 Warner Bros.
Why don't you go away, Getaway, stay away, Getaway...
Fans of the dada narrative experiment that was Arrested Development's Netflix-produced fourth season will immediately recognize the lyrics to Mark Cherry's pop-ditty-cum-Dear-Gob-letter. It was, at the time of the show's May release, both a crafty recurring gag and a remarkably insidious earworm. But who imagined that it would also prove to be a prescient work of film criticism?
I'm tempted to leave it at that when it comes to Getaway, the new Selena Gomez vehicle (as in, she stars in the movie and spends almost all of it inside an automobile). But on behalf of the morbidly curious, I will describe its manifold deficiencies--yeah, sorry about that one--at slightly greater length.
The would-be B-movie tells the story of Brent Magna (Ethan Hawke), a former racecar driver who comes home to his apartment one afternoon to discover that his wife (Rebecca Budig) has been abducted. (More felonious than the kidnapping itself is the degree to which the opening scenes pilfer, thematically and stylistically, from The Fugitive.) His cell phone rings and a cartoonishly accented man instructs him, "Listen carefully. Your wife has been taken. At 4:30 p.m., you will go to the parking garage. There you will find a very special car. You will know which it is. Steal it." The voice continues down the usual checklist: there are cameras inside the car, so Magna's every move will be monitored; if he contacts the police or disobeys any commands, his wife will be killed, etc., etc.