'This Did Something Powerful to Me': Authors' Favorite First Lines of Books
Jonathan Franzen, Margaret Atwood, David Gilbert, Roxane Gay, and other writers share their thoughts on what makes an inviting and memorable opening sentence.
AP and Library of Congress.
When I interviewed Stephen King for the By Heart series, he told me about some of his favorite opening lines in literature. Then, the author had an off-the-cuff idea.
"You could go around and ask people about their favorite first lines," he said. "I think you'll find that most of them, right away, establish the sense of voice we talked about. Why not do it? I'd love to know, like, Jonathan Franzen's favorite first line."
So I reached out to Franzen and 21 other writers. In honor of King's new novel Joyland and its nouveau-pulp publisher Hard Case Crime, there are a good number of crime writers featured in this list. Other writers I spoke to don't write crime fiction at all, preferring to focus on other brands of human mystery. Collected below, the opening lines they picked range widely in tone and execution--but in each, you can almost feel the reader's mind beginning to listen, hear the inward swing of some inviting door.
---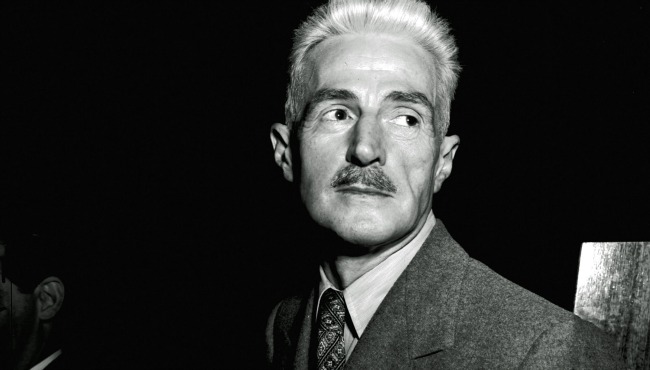 Dashiell Hammett (AP)
Megan Abbott (Dare Me, The End of Everything)
I first heard Personville called Poisonville by a red-haired mucker named Hickey Dewey in the Big Ship in Butte. --Dashiell Hammett, Red Harvest
---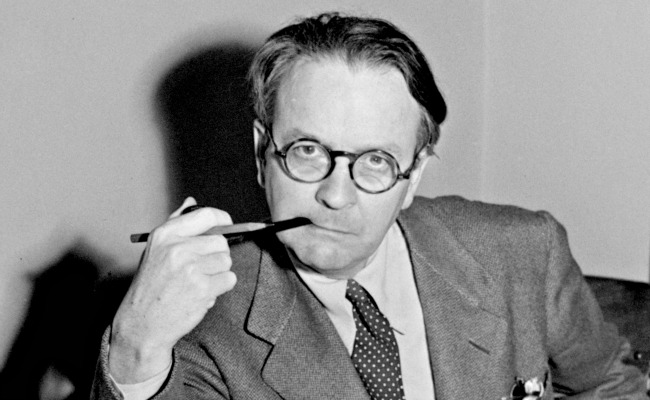 Raymond Chandler (AP)
Charles Ardai (Editor, Hard Case Crime; author of Fifty-to-One)
The first time I laid eyes on Terry Lennox he was drunk in a Rolls-Royce Silver Wraith outside the terrace of the Dancers. --Raymond Chandler, The Long Goodbye
---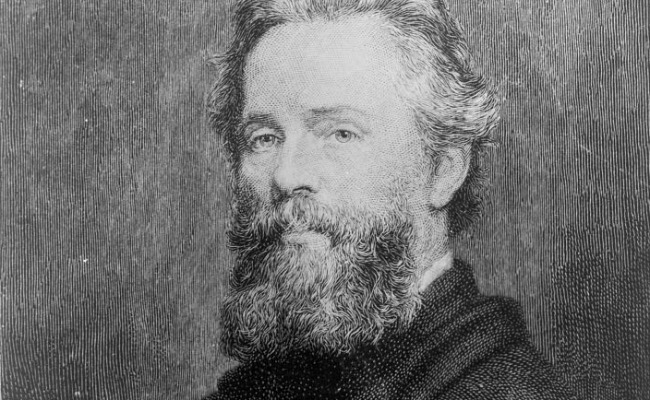 Herman Mellville (Library of Congress)
Margaret Atwood (Oryx and Crake, The Blind Assassin)
@joefassler: "Call me Ishmael." 3 words. Power-packed. Why Ishmael? It's not his real name. Who's he speaking to? Eh?

--Margaret E. Atwood (@MargaretAtwood) July 22, 2013
---
David Gilbert (& Sons, The Normals)
Call me Ishmael. --Herman Melville, Moby-Dick
Yes, yes, perhaps not the most original choice, but the power of those three words still to this day excite my blood like no other. It is both command and entreaty, a rechristening by way of pen scratching into paper. A second before this person was likely a John or a Philip, a Henry. A strange kind of pause lingers. An end before the beginning.
---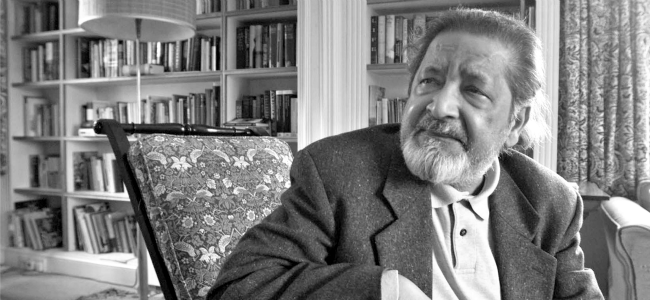 V.S. Naipaul (Reuters)
Peter Blauner (Slipping Into Darkness, Slow Motion Riot)
The world is what it is; men who are nothing, who allow themselves to become nothing, have no place in it. --V. S. Naipaul, A Bend in the River
---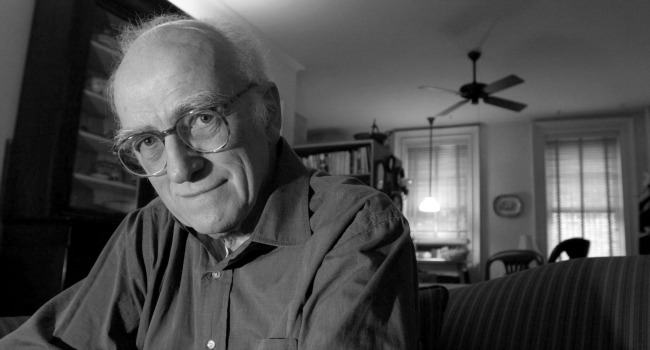 Donald E. Westlake (AP / Louis Lanzano)
Lawrence Block (A Drop of the Hard Stuff, When the Sacred Ginmill Closes)
When the car stopped rolling, Parker kicked out the windshield and crawled through onto the wrinkled hood, Glock first. --Richard Stark, Backflash

When the guy with asthma finally came in from the fire escape, Parker rabbit-punched him and took his gun away. --Richard Stark, The Mourner

When the woman screamed, Parker awoke and rolled off the bed. --Richard Stark, The Outfit

When the bandages came off, Parker looked in the mirror at a stranger. --Richard Stark, the Man with the Getaway Face

When the knock came at the door, Parker was just turning to the obituary page. --Richard Stark, The Jugger
All five of these are opening lines from the Parker novels, by Donald E. Westlake writing as Richard Stark.
They're all my favorites.
---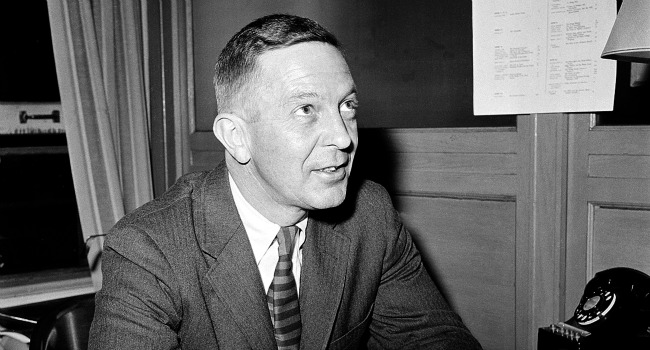 John Cheever (AP)
Ethan Canin (America America, The Palace Thief)
This is being written in another seaside cottage on another coast. Gin and whiskey have bitten rings in the table where I sit. --John Cheever, A Vision of the World
I know that's TWO sentences. But pretend there's a semi-colon in there.
When I was in college, this particular opening did something powerful to me. I remember reading it aloud to a friend, marveling at the ennui of the first sentence and the dark draw of the second. It comes fairly late in Cheever's opus, and I think he was growing grim by then. I can see those rings.
Anyway, it may not be the opening of 100 Years of Solitude, but it sure meant a lot to me when I was just becoming interested in writing.
---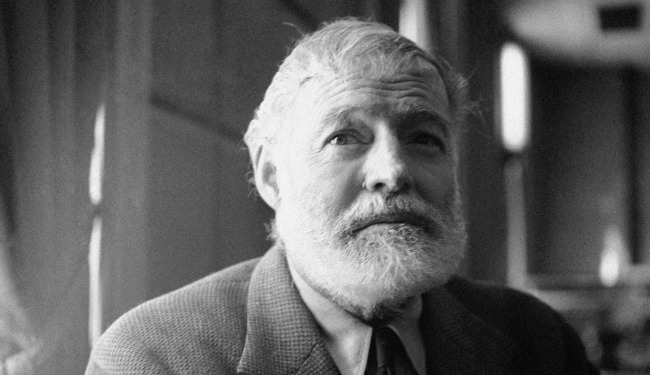 Ernest Hemingway (AP)
Ron Carlson (Oakpine, The Signal)
My choice is a famous sentence, that opening of Hemingway's The Short Happy Life of Francis Macomber. It reads:
It was now lunch time and they were all sitting under the double green fly of the dining tent pretending that nothing had happened.
Years ago, I relished it as a reader, but since I've come to admire it as a story writer. He was so smart to put so much in the bank with that sentence. It suggests the inventory that he'll draw from as the tale unfolds. He's rich. I also like that detail of the "double green fly of the dining tent," offering us the specific place, a real thing, the beginning of the grounding credibility which was so often the earmark and method of his work.
---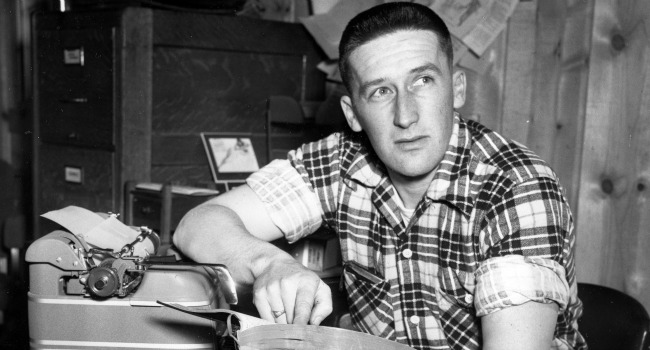 Mickey Spillane (AP)
Max Allan Collins (Road to Perdition, Ask Not)
Below is my favorite passage from Mickey Spillane, the much derided bestselling author who was attacked in the 1950s in The Atlantic and elsewhere. From One Lonely Night:
Nobody ever walked across the bridge, not on a night like this. The rain was misty enough to be almost foglike, a cold gray curtain that separated me from the pale ovals of white that were faces locked behind the steamed-up windows of the cars that hissed by. Even the brilliance that was Manhattan by night was reduced to a few sleepy, yellow lights off in the distance.
---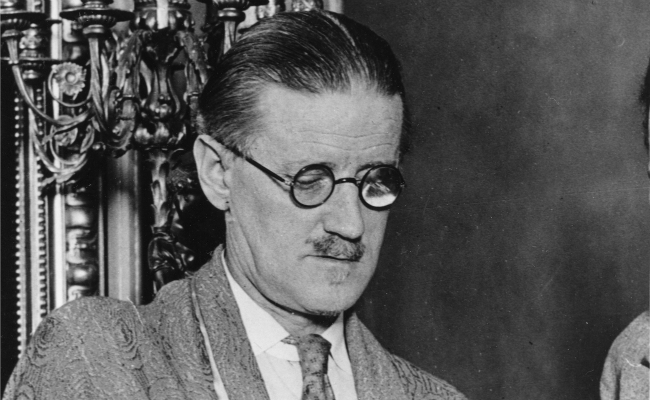 James Joyce (AP)
Lydia Davis (The Collected Stories of Lydia Davis; translator, Marcel Proust's Swann's Way)
There's no such thing as favorite, since it depends on the mood that day.
But two of my favorites are the first sentence of James Joyce's Ulysses:
Stately, plump Buck Mulligan came from the stairhead, bearing a bowl of lather on which a mirror and a razor lay crossed.
And the first four lines of Shakespeare's "Sonnet LXXIII":
That time of year thou mayst in me behold
When yellow leaves, or none, or few, do hang
Upon those boughs which shake against the cold,
Bare ruin'd choirs, where late the sweet birds sang.
The sounds and image in the first example, the interesting order of the second line in the second example.
---
Mona Simpson (My Hollywood, Anywhere But Here)
"Call me Ishmael" comes to mind. Or the first line of Tristram Shandy or David Copperfield. Maybe really my favorite first line is the first line of A Portrait of the Artist as a Young Man, which, for me, is the best line in the book, the way the best line of Ulysses is the last:
Once upon a time and a very good time it was there was a moocow coming down along the road and this moocow that was coming down along the road met a nicens little boy named baby tuckoo. . . --James Joyce, A Portrait of the Artist of Young Man
---
Franz Kafka (Zenodot-Verlagsgesellschaft-mbH)
Jonathan Franzen (Freedom, The Corrections)
Someone must have slandered Josef K., because one morning, without his having done anything bad, he was arrested. --Franz Kafka, The Trial (Franzen's translation)
The method of the whole novel is here in a nutshell. You think you're being introduced to the persecution of an innocent man, but if you read the chapter that follows carefully, you see that Josef K. is in fact doing all sorts of bad things in his life. If you then go back and reread the first sentence, it becomes significant that the very first impulse of the narrator (who is aligned with Josef K.'s point of view) is to blame somebody else.
---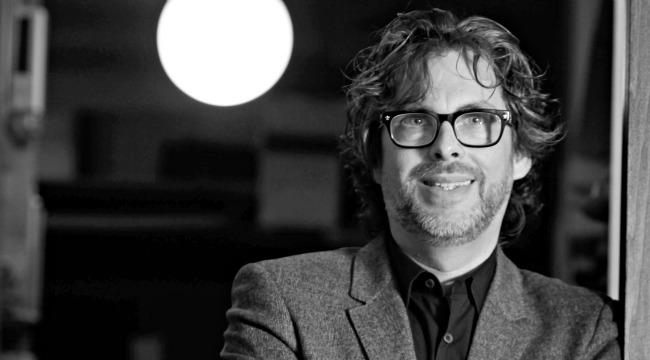 Michael Chabon (AP / Seth Wenig)
Roxane Gay (Ayiti)
My favorite first line varies but today it's from Michael Chabon's The Amazing Adventures of Kavalier and Clay:
In later years, holding forth to an interviewer or to an audience of aging fans at a comic book convention, Sam Clay liked to declare, apropos of his and Joe Kavalier's greatest creation, that back when he was a boy, sealed and hog-tied inside the airtight vessel known as Brooklyn, New York, he had been haunted by dreams of Harry Houdini.
I love this sentence because it does so much work. The sentence is a story in and of itself and reveals Chabon's amazing talent for long, meandering sentences that are satisfying in both sound and substance.
---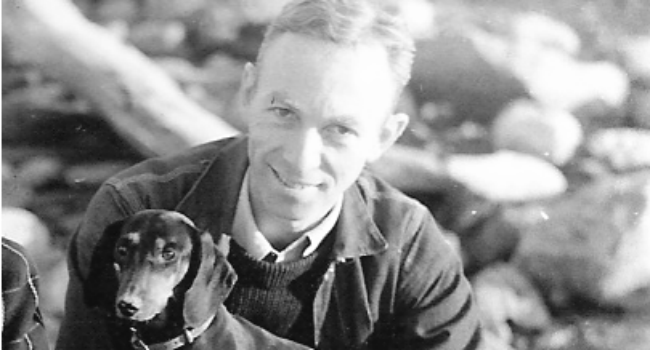 E.B. White (White Literary LLC)
Andrew Sean Greer (The Impossible Lives of Greta Wells, The Confessions of Max Tivoli)
"Where's Papa going with that axe?" said Fern to her mother as they were setting the table for breakfast. --E B White, Charlotte's Web
Not the way you'd think a children's book about a pig would open, and it instantly sets the central fear at the heart of this story: death.
---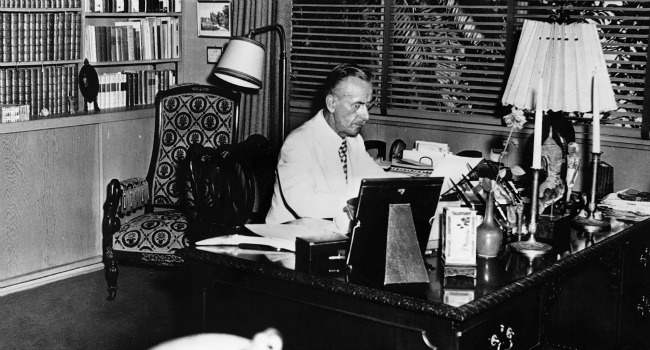 Thomas Mann (AP)
Paul Harding (Tinkers)
At the moment, the sentence would be the opening of Thomas Mann's The Magic Mountain:
An ordinary young man was on his way from his hometown of Hamburg to Davos-Platz in the Canton of Graubünden.
What an unassuming, declarative sentence to begin one of the greatest novels. It is deliberate and embodies from the start the ideal stated in the foreword that the story shall be told, "at length, in precise and thorough detail"--for when was a story short on diversion or long on boredom simply because of the time and space required for the telling?
Thomas once chided his brother Hermann for chasing after "mere effect." With an opening sentence like this, and 700 pages to follow, how can the reader help but trust that the substance and delight of the story will be in the telling?
---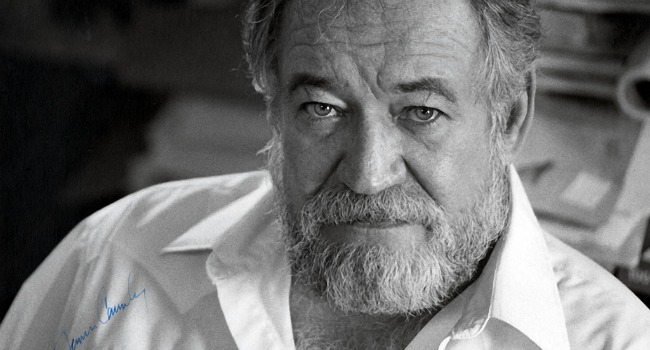 James Crumley (AP / Bill Wittliff)
Jason Starr (The Pack, Cold Caller)
When I finally caught up with Abraham Trahearne, he was drinking beer with an alcoholic bulldog named Fireball Roberts in a ramshackle joint just outside of Sonoma, California, drinking the heart right out of a fine spring afternoon. --James Crumley, The Last Good Kiss
---
Laura Lippmann (The Girl in the Green Raincoat, What the Dead Know)
There's no accounting for laws. Or the changes wrought by men and time. --James Crumley, The Wrong Case
Everyone else chooses The Last Good Kiss, with the gorgeous run-on sentence about Abraham Trahearne and the alcoholic bulldog. But this is my favorite. There's a simplicity to it, a snap. Also an echo of Marjorie Morningstar, which is probably coincidental, but I knew Jim Crumley just well enough to venture a guess that he probably read Marjorie Morningstar. Heck, it was probably under the mattress where his aunt hid her Mickey Spillane novels.
---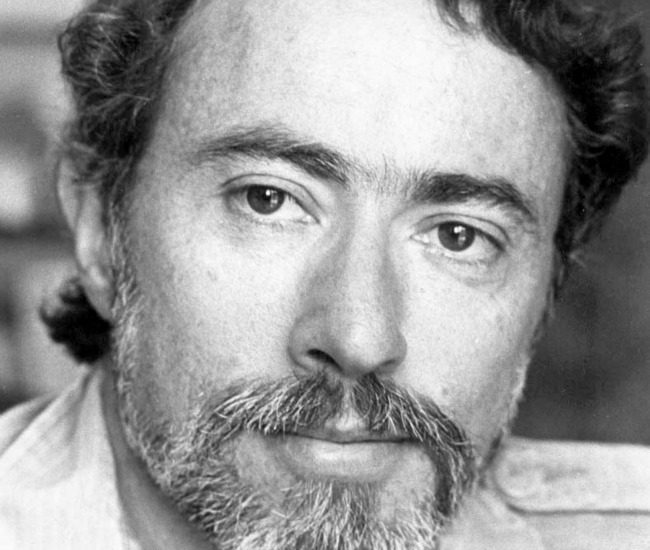 J.M. Coatzee (AP)
Anthony Marra (A Constellation of Vital Phenomena)
I have never seen anything like it: two little discs of glass suspended in front of his eyes in loops of wire. --J.M. Coetzee, Waiting for the Barbarians
---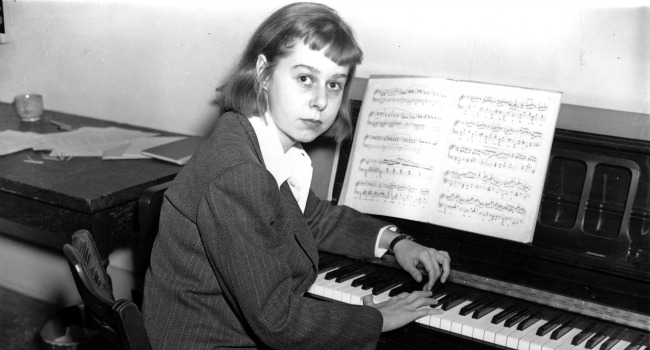 Carson McCullers (AP)
Ayana Mathis (The Twelve Tribes of Hattie)
I couldn't choose only one, so here are two.
Up from the skeleton stone walls, up from the rotting floor boards and the solid hand-hewn beams of oak of the pre-war cotton factory, dusk came. --Jean Toomer, "Blood-Burning Moon," from Cane
And
In the town there were two mutes, and they were always together. --Carson McCullers, The Heart Is A Lonely Hunter
---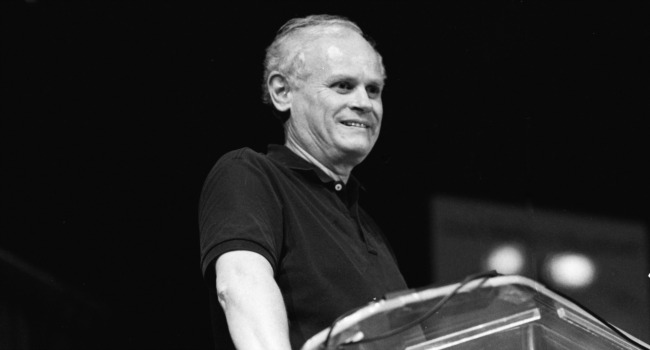 John Gregory Dunne (MDC Archives)
S.J. Rozan (Ghost Hero, The Shanghai Moon)
My favorite line is from John Gregory Dunne's True Confessions, a bleak, dark story about how you can't keep pretending:
None of the merry-go-rounds seem to work anymore.
---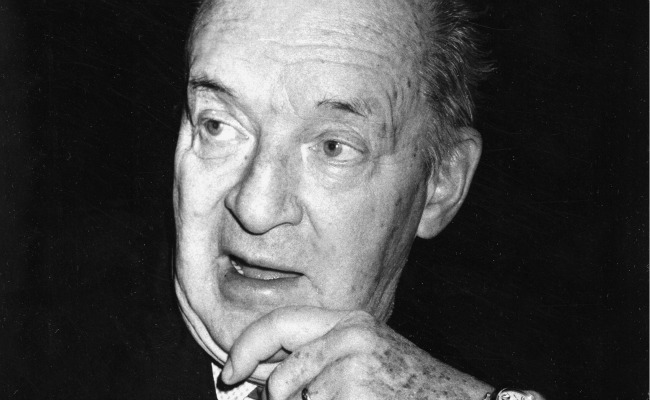 Vladimir Nabokov (AP)
Jonathan Santofler (The Murder Notebook, The Death Artist)
Lolita, light of my life, fire of my loins.
From, of course, Nabokov's Lolita, one of the greatest novels of the 20th century, and a line that practically sums up the entire novel that follows. The novel is one of the examples I always use when someone says they do not read crime fiction, only literary fiction. "Oh," I say, "So you have never read Crime & Punishment or An American Tragedy or Lolita? The first about a brutal senseless murder, the second about a social climbing murder and the last, Lolita, a jailhouse memoir written by a pedophile and a murderer." That usually shuts them up.
---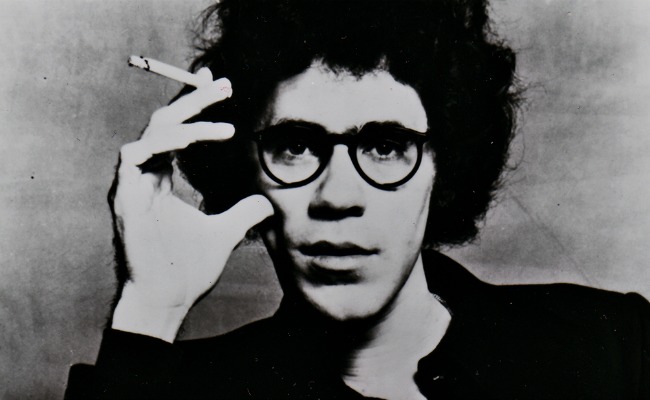 Joe Brainard (Penguin Books / Wren de Antonio)
Justin Torres (We the Animals)
I remember the first time I got a letter that said "After Five Days Return To" on the envelope, and I thought that after I had kept the letter for five days I was supposed to return it to the sender.
Joe Brainard wrote an entire book of first lines, each a miniature story unto itself and each beginning with the two words of the title, I Remember. The first sentence is such a shot of language--so playfully inviting, so rhythmic, so balanced, so damn charming--that you instantly thirst for another, and you take it, and another, until you've finished off the bottle, and you're drunk on the man's soul.