The 'Vicious Competition for Credit' Over Launching Madonna's Career
Reggie Lucas worked in the studio with Madonna as she recorded her self-titled album, which turns 30 this week. But he says he hasn't gotten his full due.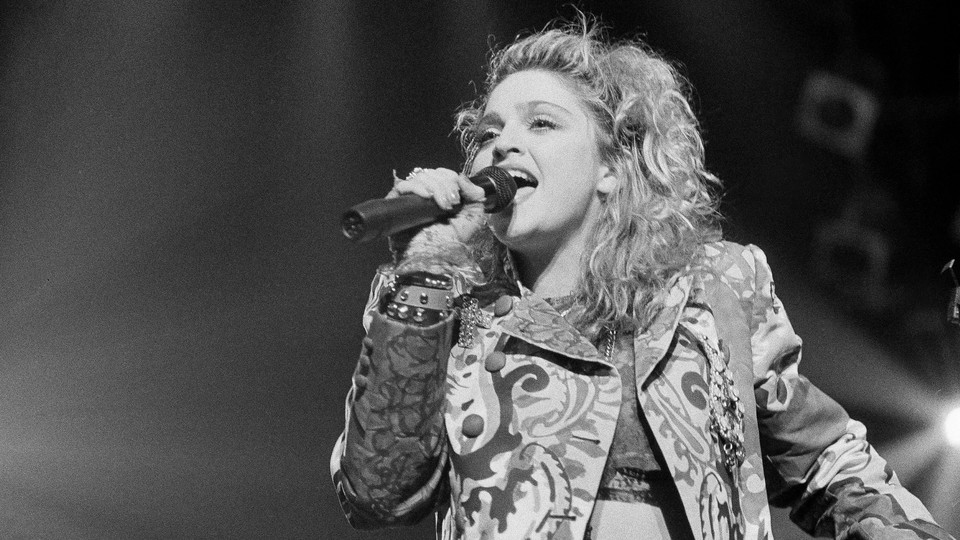 On July 27, 1983, the world would be introduced to a budding superstar from the streets of New York City (by way of Bay City, Michigan) named Madonna. On that date 30 years ago, Sire Records released her debut, Madonna. The record would go on to sell more than 10 million copies worldwide and spawn five singles, including the hits "Holiday," "Lucky Star," and "Borderline."
Behind the boards during recording was producer Reggie Lucas, who had seen success working with Lou Rawls, Stephanie Mills, Phyllis Hyman, and Roberta Flack, among other artists. Later in the process, Madonna brought in DJ John "Jellybean" Benitez to assist.
In the years since the album's release, Madonna's become a household name, one of music's most influential artists ever, and a source of controversy—including among her collaborators. I spoke with Lucas about recording Madonna, about what made its singer so novel, and about who he think really deserves credit for the album that served as a launchpad for one of the greatest pop acts in history.
---
Your background was primarily as an R&B and jazz artist. How did that influence you creating the songs for Madonna? Because she was a different kind of artist.
Well, she was a white artist wasn't she? [laughs] It was the main thing that made her different. When I came to the Madonna record, I came with two things. The first thing was I brought a lot of success and a solid background as a hit producer and songwriter within the R&B world, but it was also with the skill as a composer and rock and roll guitarist. Madonna was simply the first opportunity that I had to play around with other musical interests that I had. You couldn't make the first Madonna record for Phyllis Hyman. I couldn't make Miles Davis music for Roberta Flack. Miles was the one place where I got it all out of my system, and that was the beauty of Miles.
As a producer, you understood that your first job was to support people to achieve that end. You challenged the artist just enough to bring out the best in them and introduce them to audiences that they normally wouldn't be introduced to. When I did "Physical Attraction," that was just it. She was a little different. Madonna was wilder in terms of her look and image; I don't know if her music was that much wilder than anyone else back then. I think her music was sexually freer and it predicted what was going to happen in the future. She was definitely an innovator when it became to being more suggestive, which was pretty cool. I thought it was great.
So—mixing that with my musical background, Madonna's first album was really a hybrid of her interests and mine. "Physical Attraction" was our starting point with that style. It did pretty well and she began to move forward with her career and sound.
How did that dynamic work in the studio?
She had a lot of material that she had written and collaborated with other people on in the course of being signed to a record label. When she met me, "Everybody" was about to come out and she had written "Lucky Star." My role had been as a creative songwriting record producer. [Musician James] Mtume and I typically wrote a good percentage of the material we produced for Stephanie Mills, Phyllis Hyman, and those artists. So that's what I ended up doing for Madonna. I would write songs and ask her, "What do you think of this?" "Physical Attraction" and "Borderline" were done specifically during the production process and for her. They weren't demo songs that I was shopping around.
Madonna and I had an enormous amount of freedom. They would tell us to make the record and we went and made the record. I think, in retrospect, we were happy to come up in an era where the record company played a very small role in creative supervision. Our creative process was very independent.
Did you guys have a set routine that you followed every day coming into the studio?
She was diligent, it was a pretty good experience. She wasn't the type of artist that you had to go and look for. She wanted to be successful. She was always there when she needed to be. I was used to being in charge of things so I was always there at the studio ready. I made sure everything moved smoothly for her so that the process surrounding being in the studio was fairly transparent to her. She had to come in focused on her music and performing as an artist and it helped my focus as well. The musicians I worked with were guys I had worked with for years. We worked out of Sigma Sound Studios, a studio I worked out of for years as well. She brought some very good people into the situation. It was very comfortable making the record.
We made usage of synthesizers and drum machines. That was the first record that I ever recorded where I used a drum machine. It was one of the big transitions for me. We used Moog and Arp synthesizers, and that was relatively new technology back then. It gave the music a new sound. Madonna was an artist that knew what she wanted, but she wasn't a record producer. So it was my responsibility to create a sound for her. She would be there interactively. If she didn't like something she heard, she would say so and I would change it. The funny thing that happened on this record is when we got into the studio together we established this mini-Moog bass sound for her as her key sound. And she stuck with it for a long time.
Were there any challenges in working with a low budget and trying to break a new artist on a new label, Sire Records?
It wasn't really difficult at all. Sire wasn't a new label. It was an independent record label that was acquired by Warner Brothers. It had an enormous amount of success with the English punk sound and dance music. Sometimes things just have a flow to them. Madonna's record had a flow to it. Michael Rosenblatt was always there and I worked with him from the label. He was great, he was a real pro. He knew how to be an A&R person for a record. He didn't interfere, but he wasn't so distanced from it that he didn't have an idea of what was going on.
Michael is probably an unsung hero of launching Madonna's career. If you can believe it, Warner Brothers had very limited interest in Madonna when she was first signed. You know what they thought? They said that Madonna is this new white artist that wants to sing black—so what they did was send her to the black radio stations when her first record came out, and that's how they promoted her at first. They just treated her as a black artist. I guess they kind of envisioned her as Teena Marie. Madonna had an intense interest in black music, but she wasn't Teena Marie. She was something different. But she did it and she went to the black radio stations and held her own. Frankie Crocker was playing her records in New York.
When you bring up the fact that Madonna was pushed toward a black audience, it would explain why "Physical Attraction" and songs like that were at top of the Billboard Black Singles Charts.
You can't make this stuff up. Warner Brothers really didn't know what to do with her. See, there was a subtext to Madonna that had to do with her personality. She looked like a punk rocker to a lot of people. When people at record companies, law offices, and managerial places first saw Madonna before she became an established artist, a lot of people were put off by her. They thought she was too crazy and too weird. Being a music person and a human being, I don't operate that way. I thought she was cool and different. I didn't really know if she was going to become a big star, but I thought she had something valid to say and I could help her with it. Warner Brothers didn't get it right away, but Michael Rosenblatt did.
When she took off, there was an immediate, massive shift to move in and establish business relationships with her. In the beginning, she was just this little dance artist that Frankie Crocker gave a few spins to, and some DJs out in San Francisco, and she starts creating this buzz. Then, people at the record label started putting two and two together and got five. They immediately did a 360 and welcomed her with open arms.
Many people think other famous producers launched Madonna's career. What are your feelings about that?
I've refrained over the years in addressing aspects of Madonna's career because I'm not a person who likes negative discussions. But what I will say is that in Madonna's ascent to fame and fortune, there's been a pretty vicious competition for credit in being involved. In other words, someone will say, "I launched Madonna." If I talk to a lot of people today, I will say I was Madonna's first producer. I produced six of the eight tracks on her first record. I would say nine times out of 10, their response will be, "Oh yeah, I thought Jellybean did that." But Jellybean didn't do that. Jellybean was a remixer, and we didn't have time to remix records. It wasn't something that I was interested in doing. Somewhere in this process of publicists and personal relationships, somehow he came out as the guy.
I was a traditionalist and probably a little naive at the time, but I started out working for Billy Paul. Billy and his wife Blanche were like parents to me. They took me under their wing. I was a little kid. They took me on the road. They looked after me. They supported me. I joined Miles Davis's band. Miles introduced me to the world of big-time jazz success. I played at the greatest halls in the world and stayed at the finest hotels. Miles was like a surrogate father to the guys in the band. You got credit for the work you did. You were a member of Miles's band. When I worked for Roberta Flack, Stephanie Mills, and Phyllis Hyman, we made the records and people would say, "Oh, you produced that record." You produced one good record for Stephanie Mills and take her from selling no records to selling gold records; they would call you back and treat you better.
So this Madonna record was my first and worst introduction to the notion that you wouldn't have a linear continuation with someone who you've had success with. It totally blindsided me. I understand it a little bit better now, but not really. Just for the record, one tires in a lifetime of hearing someone taking credit for something that you've done. Jellybean produced "Holiday" and he remixed a couple of tracks, but remixing tracks for radio isn't the same thing as producing one of the major breakout pop stars of the 1980s. Now there's Wikipedia and you'll always find these distortions in Wikipedia. My kids find this stuff and they fix it for me. [laughs] I don't think there's really ever been someone to clear this up. Madonna certainly hasn't helped at all. I think if it were left up to Madonna, she wouldn't talk about anybody.
The bottom line is that, I think, the kind way that Madonna has always tried to refer to me is that I was just an R&B producer. There are two things that I dislike about that. First thing is, that it treats being an R&B producer as pejorative, as if it were something less than being a pop or rock producer. Second thing is, that I didn't make an R&B record for her. I made a crossover pop record of the highest order. So the notion that she similarly dismissed me because I was just an R&B producer is offensive on multiple levels to me.
It's hurtful because I didn't understand it. I did the same thing I always did. I came in and worked my ass off to support the artist and cast them in a good light. Everybody but her reciprocated by saying they liked the record, and let's make another one. Between her and Jellybean, they try to pretend the records I did weren't any good. It's almost like I was fired or something. I wasn't fired. I finished the record, I put it out, and they took it and put it out and sold a bunch of records. And everybody else ran around trying to take credit for it because it was so big that they couldn't help themselves.
Talk me through the process of making some of the songs you were involved with on the album.
I'd write songs and put them on a little cassette player with me singing, and I can't sing. I'd ask Madonna if she liked them, and she said, "Yeah, it sounds cool. Let's do it." I did the demos for "Physical Attraction" and "Borderline" and she brought in her demos for her songs to the studio. And we did what we did to them. Probably the most interesting one was "Lucky Star." If you heard the original demo for "Lucky Star" and you heard what it came out like, they're the same song, but barely. We really put a lot of creative energy into that one and it came out beautifully.
I must say, Madonna was great to work with in the studio. She really put in the work. She was a creative person. And it was one of the many reasons why it was disappointing not to be involved in subsequent projects. It's just one of those things. Look, she picked one of my good buddies, Nile Rodgers, to do the next record. She couldn't have picked a better person.
I always had a pretty casual process of making songs, but with some formality. I kind of inherited how Miles Davis used to operate. So we would come in and the songs were simple they didn't require a lot in the way of charts. I would write out a little chord sheet, but the musicians were so good they would learn these things. They were really used as templates to try to find in the studio what we wanted to do with the songs. I'd make a lot of creative decisions and creative additions and subtractions to whatever was going on in the studio. We didn't spend a lot of time messing around either. I think that's the trick.
When you make a pop record, you don't want it to sound sterile. You want to bring some of the improvisational excitement of jazz, but without the actual 15-minute saxophone solo. You can't have a 15-minute saxophone solo on a Madonna record. You have to find a way to build in this excitement in a way that just works. Being a member of rhythm sections as a guitarist was always helpful to me in terms of understanding how music works from a production-quality standpoint. When you're a member of a rhythm section, you know when the music is a dud because you're right there as it happens. I always felt that I was always in tune to the level of energy, precision, and crispness of rhythm section performances. And I think that's the key to so many records.
As you look back 30 years later, how do you feel about the impact the album made on popular culture after it was released? It's regarded as one of the most important pop albums from the 1980s.
Well, I don't know. I think everybody involved in the arts has a tendency to take themselves a little bit too seriously. I made a great record, and a lot of people liked it. It sold a lot of copies and launched careers and created opportunities for people. And that's what you want to do. That is supposed to be the outcome of your good work. I don't think it changed the nature of life in America or anything like that. [laughs] It was just a good record.