The Lesson of the L.A. Angels: Don't Pay Big for MLB Stars After They're 30
Hefty contracts wooed Albert Pujols and Josh Hamilton to Los Angeles, but their disappointing play has only served to warn against investing in players past their primes.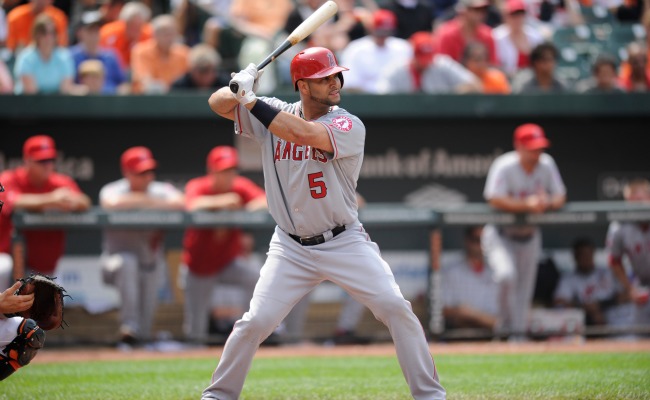 AP / Nick Wass
On June 16, Mariano Rivera struck out Albert Pujols to nail down a 6-5 win for the New York Yankees over the Los Angeles Angels.
It was nothing terribly surprising; Rivera has more strikeouts and more saves than any closer in baseball history. But what was unusual about this particular at-bat was what followed: a loud cacophony of boos and cat calls. Pujols looked puzzled. In his 11 seasons with the St. Louis Cardinals, he had never been booed.
As of July 23, Pujols is hitting .254 with 17 home runs and 59 RBIs. He isn't having a terrible season, by any means. But these are not the numbers the Angels fans were anticipating -- and they're not what Angels management thought they were getting two years ago when they signed him for a staggering 10-year, $250 million-plus contract.(He'll be paid $16 million for this season.)
And Pujols' disappointing performance accounts for only half of the Angels' fans frustration: Josh Hamilton, who agreed last December to a five-year deal worth $125 million ($17 million this season), is hitting .223 with 14 home runs and 41 RBIs. The Angels, for the second season in a row, have tied their future to players who were more than 30 years old and thus not likely to get better -- and even if the Angels themselves haven't learned from their mistakes, it's likely other franchises will.
All season long, the Angels have lingered a good 10 or 11 games in back of the Oakland A's, a team whose entire estimated 2013 payroll is only $27 million more than the Angels are paying Pujols and Hamilton this year. Meanwhile, Hamilton's former teammates, the Texas Rangers, are just three games in back of Oakland in the AL West andeight games ahead of the Angels, and the St. Louis Cardinals are not only leading the National League Central Division but have the best record in baseball. As Alden Gonzalez, the Angels beat writer for MLB.com, phrased it, "It is with great shock, disappointment and - in many ways - amusement that a star-studded Angels team fresh off a second straight offseason splash, finishes the first half in grave danger of missing the playoffs for a fourth consecutive year."
What the Angels thought they were buying when they acquired Pujols in 2011 was the best player in the game and perhaps the best hitter in baseball history. That sounds like an exaggeration, but from his rookie season in 2001 through the 2011 season, Pujols was indeed both. In 10 of his 11 seasons with the Cardinals, he drove in more than 100 runs; he missed the triple-figure mark by just one in 2011 with 99. He hit 445 home runs, compiled a batting average of .328, and led the league in runs scored five times and OPS (combined On Base Percentage and Slugging) three times. He was named National League MVP three times, unanimously in 2009. As Pujols soared, baseball analysts were fond of comparing his numbers - making due allowance fordifferent conditions in earlier eras -- with those of Babe Ruth, Lou Gehrig, Ted Williams, and just about any other great hitter -- and pointing out that Pujols measured up to all the greats.
Josh Hamilton may have been a riskier investment for Los Angeles than Pujols, despite his .305 batting average and his 140 home runs with the Rangers. He led the league in RBIs in 2008 (130) and in batting in 2010 (.359); in 2010, he was voted the American League MVP and went to the Angels with three Gold Gloves. He was coming off a 2012 season in which he hit 43 home runs and drove in 128 runs. What made the acquisition of Hamilton more questionable was his much-publicized history with drugs and alcohol, includingrelapses in 2009 and 2012 followed by public apologies. (He is currently required to submit urine samples three times a week for drug testing.)
Still, judging from their statistics and all-around ability, Pujols and Hamilton seemed to be the closest thing baseball offered to a sure bet.
Or were they?
Back in the 1980s, Bill James published several studies which found that most baseball players peak before their 30th birthdays. James published his findings in his 1988 Baseball Abstract: "If you must assign a five-year peak period to all players regardless of description, the best shot would be 25 to 29."
Pujols turned 33 in January. Hamilton's 32nd birthday was in May.
Based on recent history, the Angels could reasonably expect several more good seasons from both, but there was never any reason to expect they would get better -- and they haven't. Pujols batted .357 in 2008, but since then his average has declined a whopping 102 points. Hamilton's drop-off has been even more drastic, from .359 in 2010 to three straight seasons under .300.
Part of this can be attributed to physical ailments. Pujols has been suffering for the past year-and-half from plantar fasciitis, a painful inflammation of connective tissue in the bottom of the foot; he has been unable to play first base and relegated to designated hitter. Hamilton has been plagued by a swarm of nagging injuries, most recently ankle problems, and his playing status is currently listed as day-to-day.
Bad luck for Pujols, Hamilton, and the Angels? Yes. But as Branch Rickey famously said, luck is the residue of design. Which means, by definition, that bad luck is, too, and the simple fact is that players in their thirties are far more susceptible to injury than players in their younger years.
It's entirely possible that players with track records like those of Pujols and Hamilton, who led their former teams to a combined five World Series in the last eight years (one against each other, in 2011), can turn their seasons around and perhaps even the arcs of their careers. But the odds aren't in favor of that. Only one player in baseball history got better in his thirties: Barry Bonds. And he had some artificial help.
What's more likely is that baseball will look back on Pujols and Hamilton as a cautionary tale against spending much of a team's resources on free agents who have passed their physical peak.