Red Smith and Horse Racing: A Sportswriting Love Story
A new book of the iconic journalist's columns reminds us of his long and great love of the sport and the characters it spawned.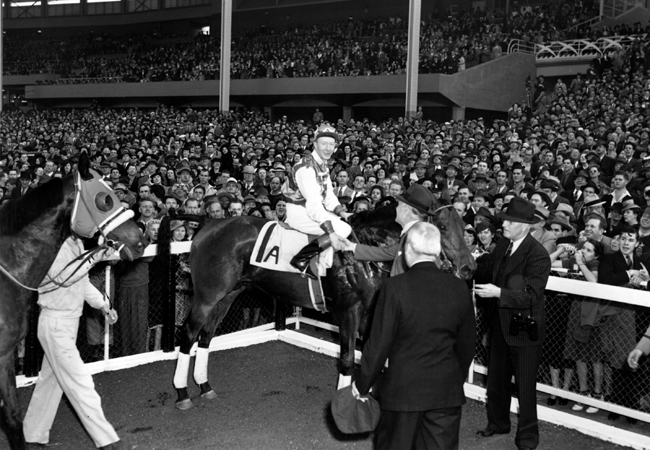 Just in time for another season of long odds and short fields, there's a new book out that highlights some of the best newspaper columns of iconic 20th-century sportswriter Red Smith, who wrote for decades for the New York Herald Tribune and, later, The New York Times. There are probably a hundred different reasons to read American Pastimes: The Very Best of Red Smith (Daniel Okrent's introduction being one of them, Terence Smith's tribute to his dad being another), but let me focus briefly here upon one that is dear to my heart.
Red Smith loved to write about horse racing—the horses, the people, the tracks, the races. And he did so in a way that seamlessly bridged the great turf-and-track writing style of his youth (the poetry of Damon Runyon, for example*) with that of our own time (like the prose of Bill Nack**). Much about the Sport of Kings is timeless, and so is Smith's work.
In May 1947, for example, he wrote sardonically about the debut of Sunshine Park in Florida: "Aptly named," he declared, "because the sun has steadfastly refused to shine upon it and the nearest park of consequence is Yellowstone." What was the dusty track like in those days? In "Belmont of the Backwoods," in a tone that mirrored Runyon's, Smith explained:
[I]t has a totalizer, a daily double, touts, a 37-percent average of winning favorites, forms, scratch sheets and handicappers' cards for sale at the gate, seasoned, alert racing officials and—oh yes—horses of a sort. Which makes it as close an approximation of paradise as an honest man has a right to expect.
Part of the reason for Smith's unique status is that he lasted so long. His career spanned both the rise and the fall of racing's popularity in North America. He wrote about Seabiscuit and was still around to write about Spectacular Bid; In a June 1979 piece titled "Always Ready to Lose," Smith shared this gem: "'So your horse won't be remembered with Secretariat,' a man said to [Bid's trainer] Buddy Delp [after his horse lost the Belmont to miss the Triple Crown]. 'No,' the trainer said. 'He sure won't be. But I'll remember him pretty good.'"
Another aspect of Smith's allure was that he rarely seemed to take what he was seeing seriously. So he wrote about Jet Pilot, the winner of the 1947 Kentucky Derby, kicking a cop in the ass in the winner's circle at Churchill Downs. And, just a few days after the 1948 Kentucky Derby, Citation's Derby, he wrote a piece titled "A Very Pious Story," about a "Christian bettor." It's an all-time classic, but I'll only give you the punch line: "'Thank you, Lord,' the guy says. 'I'll take him from here. Come on, you son of a bitch!'"
Only slightly less raucous, but no less funny, was his November 1967 piece, titled "Dead Sea Downs," written in "Occupied Jordan" following its Six-Day War with Israel. The subtitle of the column—"A Racetrack Where it All Began"—led to this:
The lowest gambling hell in the world lies hard by the shore of the Dead Sea, 1,291 feet below sea level. Nowhere on the face of the earth can you get lower, not at CharlesTown or Suffolk Downs, not even at Aqueduct on a Tuesday in November. The gambling hell has no official name. Call it Dead Sea Downs or Qumran Park. It is a little Shoeless Joe of a racetrack on the desert, at present a casualty of last June's Six-Day War but in its time a center of cheerful debauchery in a region where sin isn't exactly an innovation.
But Smith could be poignant, too, especially in his coverage of the hard-working, decent honest people who animated horse racing at that time (and who, for the most part, still do today). For example, his September 1949 piece "Super," about Frank Keogh, the steward at Aqueduct, ends on a lovely note, in Keogh's own voice:
"There are plenty of headaches in this, too. Phone rings all hours of the night. Man ships in without stalls reserved, the gateman doesn't know what to do, so he calls me out of bed. Sometimes you can find stalls for a man overnight, and then the next day you can't get him out. There's one was ordered out of here last fall and he's still here with his horses. A real good stayer."
And after the 1950 Kentucky Derby, a forgettable affair won by a horse named Middleground ridden by Bill Boland, Smith described the young jockey at center of the storm in a piece titled "One Red Rose":
Boland is an immature kid with a lean, unsmiling face, ice-blue eyes, and wavy blond hair. The cameramen hollered to him and turned him this way and that and he complied reluctantly, never relaxing. They kept calling for a great big smile and he'd give them the faintest twisted grin, showing widely spaced teeth out of one corner of his mouth. He was in a hurry to get it over with. And you couldn't tell whether he was scared or bewildered or utterly indifferent.
On Seabiscuit
On March 7, 1940, Smith wrote a piece about Seabiscuit's last race titled: "The Old Man Earned His Pension." He focused on the fact that Charles Howard, the Biscuit's owner, owned another horse in that year's $100,000 Santa Anita Handicap, a colt named Kayak II, who was younger and, some believed, faster than his legendary stablemate. In fact, Kayak II had won the 1939 Santa Anita Handicap. Smith suggested that Howard perhaps coordinated the results between his two jockeys so that the fan favorite, the Biscuit, would win. The "Haas" here is Buddy Haas, Kayak II's jockey, and Smith picks up the action in the homestretch:
After that Haas came up in his stirrups, glanced to right and left as though seeking possible contention for the Howard favorite, and proceeded the rest of the way in the sedate and orderly fashion of a policeman assigned to protect a $100,000 bauble from hijackers but under no circumstances to snatch it for himself.
You can watch the 1940 Handicap here and judge for yourself. Anyone who remembers the 2003 movie Seabiscuit, based upon Laura Hillenbrand's epic book, remembers that George Woolf, played by real-life jockey Gary Stevens, played a critical  role in the Seabiscuit story. Woolf died in early 1946 after an accident in a race at Santa Anita, the scene of so many of his triumphs. And Smith, who had followed the jockey's exploits for decades, led his January 5, 1946 column, titled "Death of 'The Iceman,'" with this blunt assessment:
The fatal injury of Georgie Woolf in a spill at Santa Anita Thursday is a reminder of something which race fans forget with the greatest of ease when they boo and sneer and rail at some dusty kid who has just finished out of the money astride a horse they're betting. That is that every time one of these little guys scrambles into the saddle for a race he is literally taking his life in his hands.
Seabiscuit survived Woolf by less than 18 months. And when the world-famous horse died in May 1947, Smith memorialized him with a level of sentimentality that rarely touched his work. In "A Horse You Had To Like," published on May 20, 1947, Smith offered this:
It isn't mawkish to say that there was a racehorse, a horse that gave race fans as much pleasure as any that ever lived, and one that will be remembered as long and as warmly. If someone asked you to list horses that had, apart from speed or endurance, some special quality that fired the imagination and captured the regard of more people than ever saw them run, you'd have to mention Man O'War and Equipoise and Exterminator and Whirlaway and Seabiscuit. And the honest son of Hard Take wouldn't be last.
On Whirlaway
After Seabiscuit, the next great horse to emerge in the  the American Thoroughbred pantheon was Whirlaway, winner of the 1941 Triple Crown. (Here is video of the chestnut colt's win in the Kentucky Derby. Here is an account of his come-from-the-clouds win in the Preakness. Here is The New York Times'  coverage of his win in the Belmont Stakes). Sadly, the new book doesn't include Smith's coverage of the great horse in 1941. But it does include a great piece about Whirlaway's first son, an ultimately forgettable colt named First Whirl. In an October 25, 1946 piece titled "Love Story," Smith wrote:
Well, Whirlaway's love-child won a race the other day and that recalls a story which may or may not have been told here before but can, in any event, bear retelling because it is a tale of pure and lofty sentiment suitable to the ears of young and old. It is a yarn about horse-lovers in the strict sense of the term, meaning one horse that's in love with another horse, and not the sort of horse-lovers you see out at Jamaica, where affection is peddled at $2 a heartthrob, less taxes, take and breakage.
Whirlaway died in France in 1953 and Smith again was called upon to eulogize a great horse. On April 8th, in a piece titled "The Swiftest Halfwit," Smith wrote of the colt's Preakness win 12 years earlier:
The story was told later that Johnny Gilbert, setting the pace with King Cole, heard a rush of win and glanced to his right, and [Eddie] Arcaro [aboard Whirlaway] shouted "So long, Johnny!" "So long, Eddie," Gilbert shouted at the diminishing copper blur ahead of him. That was all. Arcaro took hold of his horse and eased him in--five lengths behind the field going away, five lengths in front coming home. "Johnny," Arcaro said to Gilbert as they dismounted, "wipe the jam off my mouth, will you? I been on a picnic."
On Citation
Sadly, the book doesn't contain more of Smith's writing about Citation, the next great horse in the line. But following Citation's majestic win in the 1948 Kentucky Derby, which the journalist called a "perfect performance, where the horse and the rider and the trainer stir all their talents together..." he wrote words every horseman or horsewoman dreams will one day be written about his or her own horse. "Citation was so very, very good," Smith wrote, "he ran his race so willingly in such tractable obedience to Eddie Arcaro's guidance, he won with such indisputable ease, that it simply must be true what they've been saying about him."
Twenty-five years later, when it came time to crown the next Triple Crown champion, Smith would write about Secretariat's win in the Belmont. "The colt was entitled to his margin and his record," he wrote. "Last Saturday belonged to him." And then, because he had seen both Citation and Secretariat at their very best, he was able to declare "striking" the parallels between the two champions. Which brings us back again, finally, to race horses and love. "Citation won his next ten starts" after the Belmont, Smith wrote, but "Secretariat's stud duties won't permit that. Love will rear its pretty, tousled head."
---
*From his masterwork "All Horse Players Die Broke," which appeared in the September 11, 1937 issue of Collier's Weekly. If you have the time, and you really want a treat, you can actually listen to the story told some 60 years ago to a radio audience by the folks of the Damon Runyon Theatre. The first paragraph of Runyon's piece tells you all you need to know:
It is during the last race meeting at Saratoga and one evening I am standing out under the elms in front of the Grand Union Hotel thinking what a beautiful world it is, to be sure, for what do I do in the afternoon at the track but grab myself a piece of a 10-to-1 shot.
**From "Pure Heart," which appeared in the June 4, 1990 issue of Sports Illustrated:
Secretariat was an amiable, gentlemanly colt, with a poised and playful nature that at times made him seem as much a pet as the stable dog was. I was standing in front of his stall one morning, writing, when he reached out, grabbed my notebook in his teeth and sank back inside, looking to see what I would do. "Give the man his notebook back!" yelled Sweat. As the groom dipped under the webbing, Secretariat dropped the notebook on the bed of straw.