Phil Mickelson Isn't 'This Generation's Arnold Palmer'—Tiger Woods Is
Mickelson certainly plays like Palmer, and comparisons have surfaced in the days since Mickelson's British Open win. But only Tiger has revitalized the sport like Palmer did.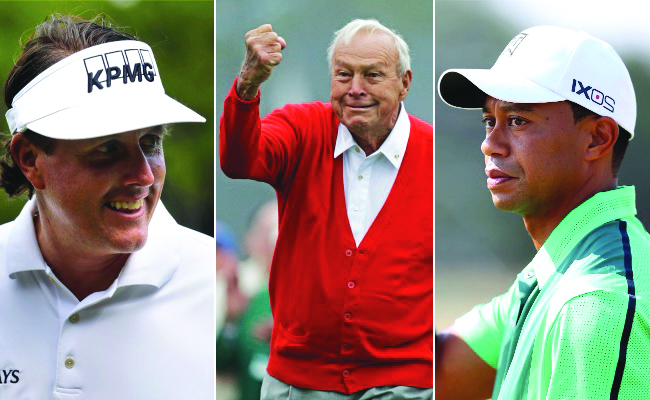 AP / Gerald Herbet, Scott Heppell, David Goldman
After Phil Mickelson pulled off one the great final-round comebacks in golf history to win the British Open on Sunday, he basked in the adulation of an overjoyed crowd at the Muirfield course in Scotland. Spectators had abandoned their fervent support of a hometown hero, Englishman Lee Westwood, to back Lefty down the stretch.
In those moments, Mickelson reminded many fans--and sportswriters--of a similarly winsome "people's champion" who reigned at the British Open more than half a century ago.
"Mickelson has been this generation's Arnold Palmer: exciting, daring to the point of self-destruction, charismatic, fan-friendly, and flawed," former Sports Illustrated veteran E.M. Swift wrote in a blog post. A New York Times article on the victory referred to Mickelson and Tiger Woods as "the Arnold Palmer and [Jack] Nicklaus of their day," and even the most casual golf fan knows that "Mickelson = Palmer" in the Times' analogy.
The comparison is easy enough to make. Both men played a high-risk style of golf, taking big gambles on key shots in search of even greater rewards. Both were overshadowed by a less emotionally available but more successful golfer. And both had overwhelming fan support, perhaps because of their image as wholesome, all-American family men.
But is Mickelson really the 21st-century Palmer? A closer look at their careers and lives suggests that while their golfing styles were of a piece, Palmer's massive celebrity appeal and effect on the sport make him more like Mickelson's chief rival, Tiger.
On the course, Mickelson reminds many golf fans--especially those from the Boomer generation--of Palmer. The King, as Palmer was known, attacked every hole of every round with the same fervor, whether he was five behind, five ahead, or tied. The defining Palmer moment may have been his final round at Colorado's Cherry Hills Country Club in the 1960 U.S. Open: Starting seven shots back of third-round leader Mick Souchak, Palmer drove the green on the par-4 first hole and birdied six of his first seven holes on his way to a final-round 65 and the victory. Palmer's lowest career moment was the flip side of that coin: Up seven strokes with just nine holes left in the 1966 U.S. Open, he refused to play it safe and finished four over par on his final nine, eventually losing a 18-hole playoff to Billy Casper.
Mickelson's career highlights--and lowlights--have followed a similar pattern. The defining shot for Lefty is probably his six-iron off the pine straw at Augusta National's par-5 13th hole in the 2010 Masters, where he scoffed at laying up and proceeded to drill a shot under a pine tree, over a creek, and onto the green five feet from the hole. Commentators had a field day at the British Open last week when Mickelson declared that "a smart shot is not having the guts to go for the big shot," and Mickelson's 310-yard three-wood shot off the fairway on the 71st hole was emblematic of that philosophy.
Mickelson's greatest heartbreak came at the 2006 U.S. Open, where he didn't have the brains to go for the "smart shot" with a one-stroke lead on the 18th tee on Sunday. Playing it safe wasn't in Arnold Palmer's DNA 40 years before, and it wasn't in Mickelson's that day, either: He ended up double-bogeying the hole when a simple par would have been good enough to win.
After that brutal loss, Mickelson said of his aggressive play on the final hole, "I'm an idiot." One can imagine Palmer making that statement to his buddies, with the same rueful grin, after blowing his seven-shot lead at the '66 Open. Palmer wouldn't win any more majors for the rest of his career, and Mickelson still has never won the U.S. Open. (It's now the only tournament he needs to win to complete the career Grand Slam. He has finished second a staggering six times.)
The swashbuckling style of both men endeared them to on-course crowds and TV viewers alike. Palmer was the most popular athlete in the world (with the possible exception of Pele) between 1958 and 1964; he was ruggedly handsome with a boyish excitement for golf that was on display every time he bounded down the fairway towards his ball after a particularly good shot. Mickelson, with his omnipresent smile and candid personality, has always been a crowd favorite, and his public struggle to play on after his wife and mother were diagnosed with breast cancer in 2009 cemented his reputation as an All-American family man. Earlier this year, he skipped practice rounds at the U.S. Open to attend his daughter's eighth-grade graduation.
But as popular as Mickelson is, he does not enjoy the universal adulation that Palmer had. The King had Arnie's Army, one of the most rabid fan bases devoted to an individual athlete in sports history. He was the first client of Mark McCormack's International Management Group, now IMG, which became one of the most sought-after sports agencies in the world on Palmer's broad shoulders. And he stands alongside child star Shirley Temple in a tiny, exclusive club as historical figures with a popular, mass-produced drink named after them.
Mickelson, while popular, cannot measure up to those public accolades. He is--and has been for the bulk of his career--the perpetual sideshow to Woods, both on and off the course. And though Nicklaus's career accomplishments outshone Palmer's, the King was second to none in public acclaim.
Mickelson's popularity may never live up to Palmer's in part because he's unlucky enough to be playing in the all-knowing Information Age. When Mickelson complained that state taxes in his home state of California were too high and suggested he might leave for greener income-tax pastures (perhaps joining Woods and many other golfers in Florida), he was excoriated by many for being out of touch with the problems of ordinary Americans. But if Palmer had made similarly tone-deaf remarks at a pre-tournament press conference, the world at large would never have known about it. And rumors--like those about Mickelson's purported degenerate gambling--would never have gained traction with the public, simply because knowledge was not the universally available commodity it is today.
Palmer's effect on golf's popularity also far surpasses Mickelson's--and is actually more similar to the mini-boom Tiger created when he burst onto the scene in the late 1990s. Palmer's popularity crested as televisions were becoming readily available--the 1958 Masters (Palmer's first win at Augusta) featured television coverage for the first time. With his go-for-broke style, rugged good looks, and legion of on-course fans, Arnie and his Army took golf out of the country clubs and onto the national stage. The resulting increase in popularity (and purses) was massive.
Woods brought about a similar groundswell of popularity in the late 1990s and early 2000s, when his trademark fist-pumps, iconic Nike ad, and overall dominance of the sport brought the game to the Millennial generation. Though Mickelson was popular then and is more so now, his presence in a tournament would never affect TV ratings or attendance the way a Tiger Woods appearance would.
To put it simply, Woods has been superior to Mickelson in the last decade or so both in trophy count and in overall popularity. Palmer, meanwhile, had the fan advantage while Nicklaus won more titles and majors in their rivalry. So even though Palmer's on-course style mirrored Mickelson's, his legacy in terms of spreading the popularity of the game is Tiger-esque.
Mickelson, though, has an opportunity to do something Arnie Palmer never could: craft a legacy in the twilight of his career. Palmer won his last major at 34, coming up short several more times over the next five years before his putter let him down for good. Mickelson, meanwhile, has won four of his five majors since turning 35. With a win at the U.S. Open, Mickelson would complete the career Grand Slam that eluded Palmer (who could never win the PGA Championship).
But even if Mickelson wins the U.S. Open or captures another Masters title to equal Palmer and Woods at four, he will never have the ineffable magnetism of the King.